A Polarized America? Not Quite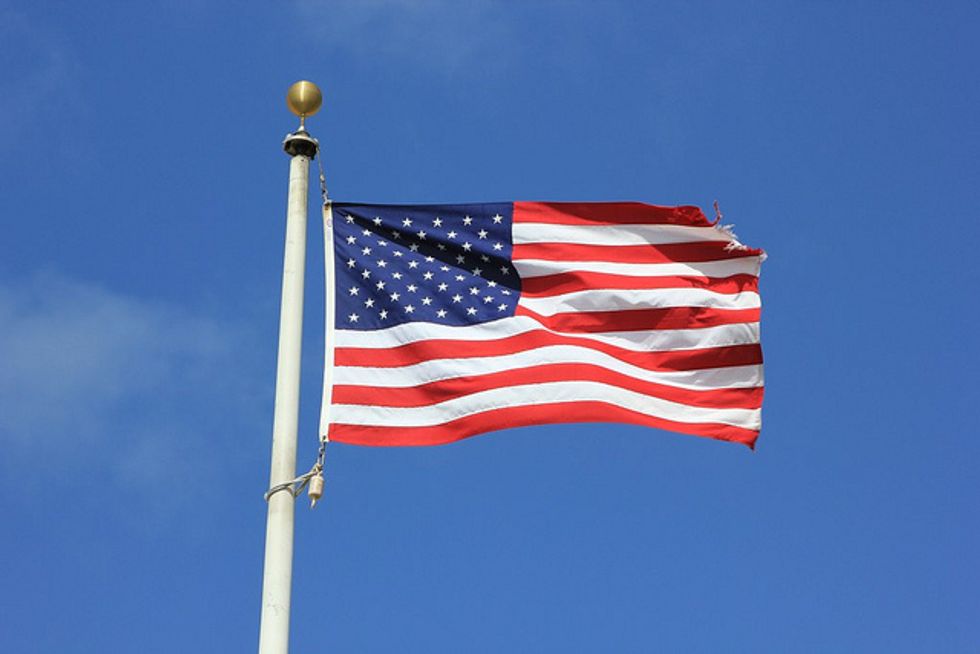 Reprinted with permission from Creators.
Modern America is sharply polarized, battered by political furies and divided as never before. Moderation is disappearing, we are told, as Americans increasingly shun people of different views. We are split between hostile groups, each with its own TV networks, fast-food chains and sporting apparel — Fox News vs. MSNBC, Chick-fil-A vs. Chipotle, Under Armour vs. Nike.
Donald Trump exploits this growing political and cultural separation. Extreme, vocal ideologues are gaining ground on both the right and the left. One-third of likely voters, a poll found, think we are on the verge on civil war.
Or maybe not. That's one picture of the nation in 2018, which fits many surface indicators. But it's an image from a fun-house mirror, composed of misleading distortions. The reality is reassuring.
To alleviate stress and anxiety, some people turn to meditation, yoga, Xanax or wine. For me, there is no better antidote than Morris Fiorina, who does us the favor of explaining why much of what we worry about is unfounded.
Fiorina, a political scientist at Stanford University and the Hoover Institution, is a calm and genial sort who regularly takes the national political temperature and finds it lukewarm. His latest book, "Unstable Majorities: Polarization, Party-Sorting and Political Stalemate," is a corrective to the fear of national disintegration.
Rabid partisanship rules in Washington debates — you've heard of Brett Kavanaugh? — but not in the electorate as a whole. In the 1950s, 75 percent of Americans were happy to call themselves Democrats or Republicans, but today, only 60 percent identify with either party.
Independents now make up a plurality of the public. Self-described moderates outnumber either liberals or conservatives.
This may not be the impression you would get from watching cable news, where the middle of the road is conspicuously devoid of traffic. But most people don't spend much time watching cable news.
Conservative Sean Hannity gets 3.4 million viewers on an average night, with liberal Rachel Maddow attracting 2.8 million — which happens to be a tiny sliver of the electorate. Nearly 230 million adults watch neither Though the nightly news shows on ABC, CBS and NBC do better, their combined audience amounts to less than 10 percent of the adult population.
Facebook is faulted for encouraging Americans to retreat into echo chambers to have their views reinforced daily. But Fiorina reports that 96 percent of Facebook users don't click on more than one opinion piece every three months. By reading this column, or any other political commentary, you mark yourself as unusual.
What has changed in recent decades is that the two parties have become more ideologically defined. Democrats used to have a conservative wing, and some liberals inhabited the GOP. Today, however, the most conservative Democrats in Congress are more liberal than the least conservative Republicans.
The overlap made it easier for members and presidents to reach across the aisle. But it's gone, and so, for the most part, is bipartisanship.
Most people are not very conservative or very liberal. But "the middle has no home in either party," Fiorina says. That's one reason more Americans call themselves independents.
Another result: "Democrats and Republicans appear to dislike each other more than they did a generation ago." Partisans are less likely to date or marry someone of the other party than they used to be — a natural consequence of less diverse parties.
But the change is not that significant. In 1939, Fiorina notes, "similar political background" was ranked 18th (and last) among desirable traits in a marriage partner. In 2008, it was 17th.
Based on its surveys, the Pew Research Center concludes, "The way that the public thinks about poverty, opportunity, business, unions, religion, civic duty, foreign affairs and many other subjects is, to a large extent, the same today as in 1987."
We think of California as uniformly blue and Texas as wall-to-wall red. But even strongly partisan places are more diverse than they appear. Nearly 4.5 million Californians voted for Donald Trump, and almost 3.9 million Texans voted for Hillary Clinton.
What gives us polarized politics is not the sentiments of the people but the two-party system. It tends to accommodate those at either end of the political spectrum at the expense of those in between.
The bad news is that our democracy does a poor job of giving the people what they want. The good news is that it's easier to fix a rotten system than a rotten people.
Steve Chapman blogs at http://www.chicagotribune.com/news/opinion/chapman. Follow him on Twitter @SteveChapman13 or at https://www.facebook.com/stevechapman13. To find out more about Steve Chapman and read features by other Creators Syndicate writers and cartoonists, visit the Creators Syndicate website at www.creators.com.