A Portrait Of Judith: Freethinker And Strong Spirit
@JamieStiehm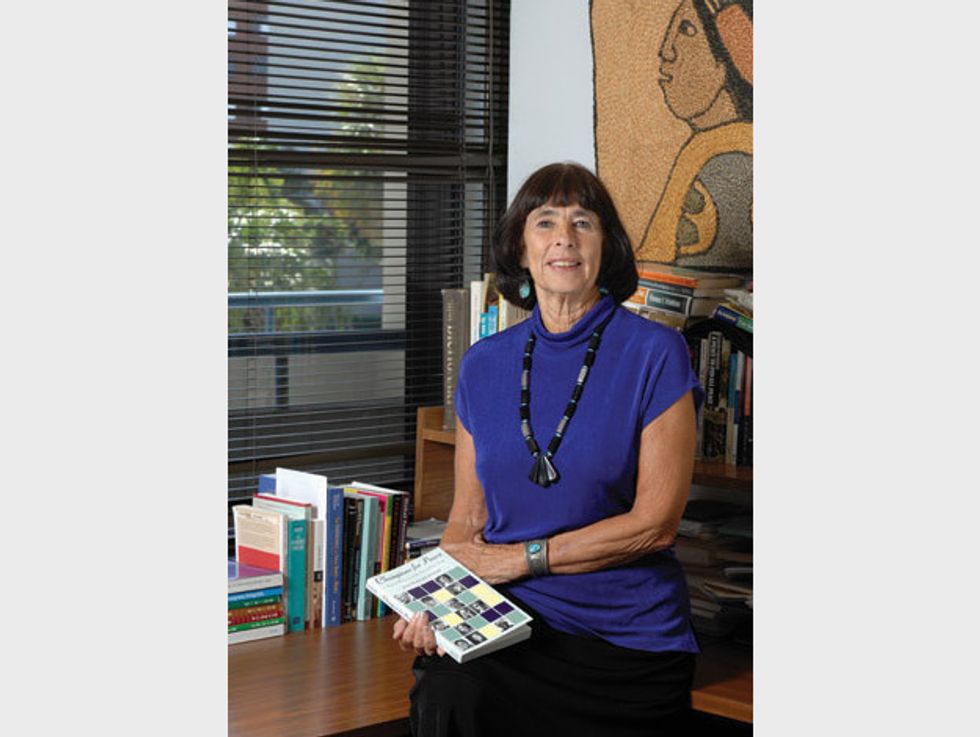 On an October day in 1935, a force was born in Madison, Wisconsin's state capital: Judith, a.k.a. Judy, a Protestant of Puritan origins, with the work ethic to prove it. As a University student in her hometown, she invited Frank Lloyd Wright to an Art League dinner. He came, wearing a cape.
It's my mother's 80th birthday, and she taught me everything I know about political dissent, the joy of being subversive. President Nixon had her name on the White House enemies list.
Professor Judith Stiehm of the long brown hair, a freethinker. She earned her Ph.D. (Columbia) while she had three daughters in the 1960s. Her idea of fun was an anti-Vietnam War protest followed by University dairy ice cream — chocolate chip with toffee. Madison was the first campus to protest. Faculty members like my parents hated the war raging. Soldiers dying. Government lying. I remember clearly that '60s spirit.
We moved to California; interesting times continued.
OK, my mother's tuna casserole was awful. She never made the PTA or Mother's Day. We "darling daughters" were never her whole world, but that grows on one. From the day the inaugural issue of Ms. magazine landed on the porch, I knew this was big. When I was 16, she and I flew to San Francisco to see "The Dinner Party," a major artwork of great women in history sitting down together, by Judy Chicago.
Life is an adventure that makes you "glad to be alive!" Accompanied by a bright smile.
To wit, my mother had a layover in Atlanta and took a taxi to the Ebenezer Baptist Church, where the late Martin Luther King Jr. preached. It was quiet, save for an elderly man glad to show a visitor around. Upon leaving, she asked his name. "Daddy King," he answered.
Breaks your heart.
I saw her testify at a Senate Armed Services Committee hearing in the Clinton years, urging Congress to lift the ban on gays. But it's not easy to be years ahead of the nation's wristwatch.
My sister and I were in New York, seeing shows, when we said goodbye to our mom, going on a United Nations peacekeeping mission to Africa. She also made it to Sarajevo during the war in Bosnia. In the U.N. coffee shop, we asked if she really had to go to Namibia right now.
I'll never forget what she said: "How did I have such unadventurous daughters?"
As the Iraq War got underway, my mother published Champions for Peace: Women Winners of the Nobel Peace Prize: "to honor those who seek to avoid war without relinquishing the pursuit of justice." I gave her a book party in Baltimore, where 75 people from four cities fell hushed as she spoke of each champion — Jane Addams and Aung San Suu Kyi among them. Peace candles and quotations warmed my friend Louise's house on a winter day.
My father Richard, a Madisonian, was a medical student arrested by the sight of her. "I passed Judy Hicks on Bascom Hall," he wrote in his memoir. "I called and asked if she knew who I was (she did). She would be happy to go out with me, but had only one night free before leaving for the summer."
So he picked her up at a picnic at the Shorewood Boat House to go square dancing near the state Capitol. Circa 1955. Judy Hicks swam across blue Lake Mendota in that era. As a married couple, my parents won the Madison mixed doubles tennis championship.
You'd never notice, but my mother caught polio when she was 4 in the mountains, which my father thinks is the cast iron of her character.
I fully expect her to live to be 100, like her grandfather Warren, a merry gentleman born in 1865. "I think so, too," she said.
The day Nixon resigned was a vindication for my mother. And she had to be there to witness it. From Santa Monica, she dashed to San Clemente. She didn't even tell us. When the disgraced 37th president landed, his supporters and critics dissolved into silence on the tarmac.
As a reporter, I had the chance to introduce Judith to Senator Robert C. Byrd, in the Capitol. "Made in her image," the senator said of me.
So what shall we Stiehms (rhymes with dreams) do to mark the day? A square dance, of course.
To find out more about Jamie Stiehm and read features by other Creators writers and cartoonists, visit Creators.com.
Photo via Florida International University