A Reading Guide To True The Vote, The Controversial Voter Fraud Watchdog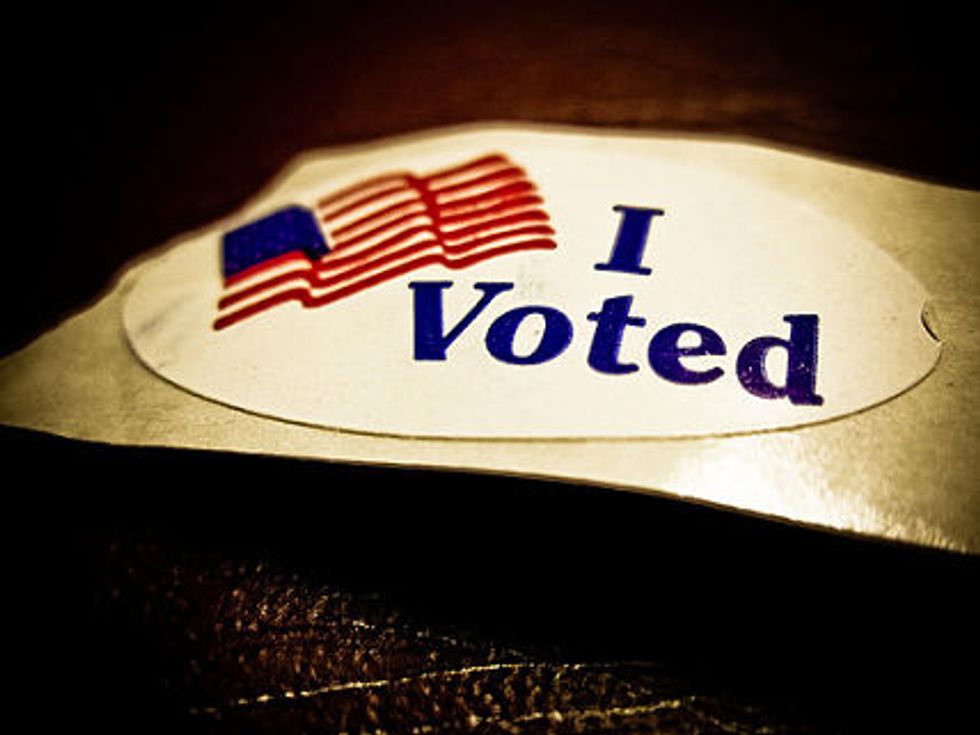 by Suevon Lee, ProPublica.
As Nov. 6 approaches, the efforts of True the Vote, a Texas anti-voter fraud group recently profiled by the New York Times, are gaining national attention.
Despite scant evidence of voter fraud, the group is laser-focused on weeding it out. It has pushed for voter-ID laws, voter roll purges and other controversial voting-related measures in a host of states. (Here is our guide to the voter ID controversy, where we note that evidence on both sides of the issue is lacking.)
True the Vote also has promised to deliver 1 million volunteer poll watchers on Election Day, though its resources appear to be quite modest.
Given its annual summits featuring conservative speakers and its hand in spurring voter integrity projects around the country, we thought we'd take a closer look at this activist group.
The basics
True the Vote is a grassroots initiative spun out of a Houston, Texas-based Tea Party organization called King Street Patriots. Its focus is on training volunteers to serve as poll watchers on Election Day and inspecting voter registration rolls for hints of inconsistency to flag to elections officials.
The group believes that citizen vigilance is necessary to protect elections from corruption and fraud.
Its leader, Catherine Engelbrecht, a former poll worker and suburban Texas mom, has repeatedly emphasized the group's nonpartisanship. "This has absolutely nothing to do with race or creed or color or party or politics, it's about principle," Engelbrecht said earlier this year in an interview to NRA News, a channel of the National Rifle Association.
But many of the group's tactics have come under fire for intimidating would-be voters and raising the specter of voter suppression. True the Vote has been backed mainly by Republican lawmakers and opposed by voting advocates that warn of minority disenfranchisement.
True the Vote did not respond to ProPublica's request for comment about these allegations.
Last year, True the Vote and King Street Patriots jointly released a blueprint for legislation to change voter registration rules. The guide's recommendations included requiring photo ID to vote, increasing penalties for forged or otherwise fraudulent voter registration applications, prohibiting same-day voter registration, allowing recording devices inside polling precincts and designating English as the "official language of Texas and the only language used on ballots."
What about funding?
So far, there hasn't been much. According to True the Vote's tax forms, the group raised $65,000 in 2010 and $137,000 in 2011.
While much of the money has come from anonymous donors, the New York Times reported that True the Vote received a $35,000 donation in 2011 from the Lynde and Harry Bradley Foundation, a Wisconsin-based organization known to award grants to conservative groups.
According to the Times, True the Vote had to return the donation because it was given on the condition that the group's application for tax-exempt status was approved by the IRS, which has not happened yet. We've asked True the Vote about this donation and it didn't respond to a request for comment.
It's really going to have 1 million volunteers on Election Day?
That is the goal, says Engelbrecht, the organization's chief: To "train, mobilize, and merge a million new election workers into the 2012 process," according to remarks she made last August during a panel hosted by the conservative group Judicial Watch.
But it's unclear how many volunteers True the Vote actually has.
While True the Vote initially focused on Harris County, Texas – the nation's third-largest voting district – they say they've since expanded into 35 states.
Michael Power, a True the Vote volunteer in Alabama contacted by ProPublica from a Tea Party Patriots group web page, said that his work involves looking out for "voters who are registered at non-residential properties, vacant lots, those types of things," or reporting fellow poll workers "who might be improperly influencing a person's ballot."
According to Power, voter rolls are purchased from the state, but also from "various companies that assemble records from the state," a strategy outlined here in this profile by ColorLines Magazine.
In interviews, Engelbrecht often discusses her observations as a poll worker during the 2008 election as her "Eureka" moment. In that year, ACORN, the Association of Community Organizations for Reform Now, became caught up in a controversy over collecting phony voter registration applications.
In recent months, True the Vote has taken up the mantle of Section 8 of the National Voter Registration Act of 1993, which requires states to maintain their voter registration rolls by removing the deceased, convicted felons or otherwise ineligible voters from their lists. (In February, a Pew Center on the States report found that 1.8 million dead people are still included on voter rolls while 2.75 million people are registered in more than one state.)
True the Vote has sent letters to 160 counties around the country alleging they have failed to update their voter rolls, according to "Bullies at the Ballot Box," a report by liberal groups Common Cause and Demos that is critical of True the Vote's methods.
Through its attorneys, True the Vote has demanded a correction and retraction of the report, which it says contains "misleading information" and "false and defamatory statements."
Partnerships
True the Vote has helped get out its name by partnering with larger, more prominent organizations. It has co-sponsored events with Americans for Prosperity, the conservative group backed by the billionaire Koch brothers and collaborated with other nonprofits such as Tea Party Patriots in places from Colorado to Alabama to host "Election Integrity" fundraisers and recruitment events.
Its mission also strongly resembles that of Republican-led political action committee Madison Project's Code Red USA, which works on "participating in election integrity efforts, and/or participating in cross community engagement."
Engelbrecht told the New York Times that her group has no connection to Code Red USA.
Connections to the Tea Party King Street Patriots
True the Vote is often referred to as an offshoot of King Street Patriots. The two share leadership: Catherine Engelbrecht, her husband, Bryan Engelbrecht, and a person named Dianne Josephs are all listed as directors on both groups' tax forms. But a True the Vote spokesman told us that despite these connections, the group keeps separate accounting structures and staff from King Street Patriots.
That is relevant because True the Vote is seeking tax-exempt 501(c)(3) nonprofit status, which is for charitable or educational organizations that can only engage in a limited amount of lobbying and can't support or oppose candidates for elected office.
King Street Patriots, by contrast, is a 501(c)(4) social welfare group, meaning it can engage in an unlimited amount of political lobbying, as long as that is not its primary purpose (the definition of which is extremely murky, as ProPublica's recent investigation into dark money groups detailed).
While it's common for c4 groups to have separate charitable arms—The Sierra Club and National Rifle Association are examples of this—they must keep their financial accounting separate, said Lloyd Mayer, a law professor specializing in nonprofits and election law at Notre Dame Law School.
"It can even share a name, but it has to have its own money. That's the key thing," Mayer said.
According to a tax filing King Street Patriots provided to ProPublica, the group received $140,722 in donations in 2010. It's received an extension on its 2011 tax filing.
'Verify the Recall'
Earlier this year, thousands of True the Vote volunteers got involved in the Wisconsin recall election through an initiative, "Verify the Recall," that sought to identify illegitimate signatures on a petition to remove Republican Gov. Scott Walker from office.
Using its own methodology, True the Vote concluded that more than 63,000 signatures were ineligible. It also identified 2,590 names that were "potentially false" based on a predetermined list of names the group believed would be used fraudulently on the petition. Organizers declined to share this list with state officials.
The Wisconsin Government Accountability Board, a non-partisan state regulatory agency consisting of six former state judge appointees, later discounted much of the group's findings and methodology, concluding they were "significantly less accurate, complete, and reliable than the review and analysis completed by the G.A.B." and that they "would not have survived legal challenge."
True the Vote's Lawsuits
Earlier this year, True the Vote teamed up with Judicial Watch to sue elections officials in Ohio and Indiana for their alleged failure to clean up their voter rolls.
In June, the group filed a motion for intervention in a lawsuit brought by the Department of Justice to halt the Florida voter purge. Should the purge stop, the group argued, "registered voter members may have their votes cancelled out or diluted by unlawful ballots cast in the names of unlawfully present aliens."
Florida elections officials originally identified up to 2,600 non-citizens registered to vote in the state. But it turns out the number was actually a lot smaller. Recently, the state reached a partial agreement with voting rights groups, agreeing to notify these flagged voters that they'll remain eligible to vote in November.
2010 election controversy
In 2010, the Department of Justice launched a probe of alleged voter intimidation efforts by True the Vote poll watchers during the midterm elections in districts near Houston.
That year, a national voter hotline received more than 200 calls alleging voter intimidation – as well as other election snafus – from several states, Texas included. It's unclear to what extent True the Vote was responsible for those complaints.
The Justice Department investigation didn't proceed any further. True the Vote didn't respond to our questions about the episode.
Photo by Vox Efx via Flickr.com