A Woman's Life, Illustrated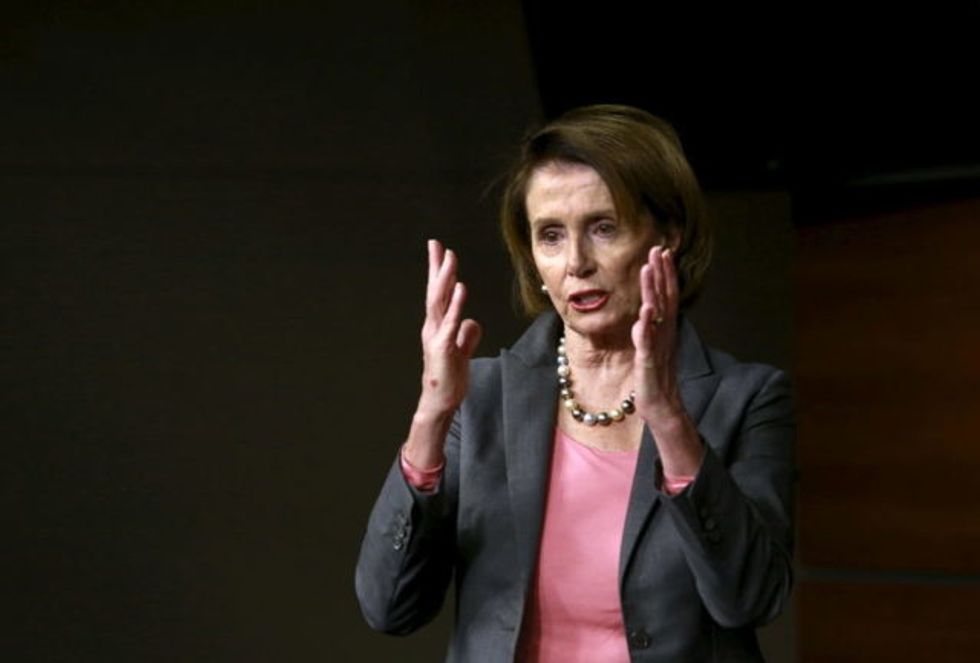 Reprinted with permission from Creators.
"Trump wants her to be speaker. It's perfect for him." — Rep. Seth Moulton, D-Mass., of #FiveWhiteGuys fame, disparaging Nancy Pelosi in early November
She looks so poised, so harmless, this 78-year-old grandmother with the soft voice, the easy smile. Such a smart strategy for the most powerful woman in America. So many have underestimated her — at their peril, pretty much always.
She sits perched on the edge of the upholstered sofa, her back ramrod straight. She is the sole woman in a meeting with three men. One of them, her Democratic counterpart in the Senate, sits across from her. Another, the president of the United States, faces both of them. The third man is willfully mute, his face frozen like a broken jack-in-the-box. He is the vice president.
She begins the meeting with her hands folded on her lap. Soon enough, they are piercing the air to accent the main points of the day's lesson for the student who has always refused to do his homework. It's caught up with him, and they both know it.
No matter how many times her student calls her "Nancy," she responds by calling him "Mr. President." She is aware of the gaggle of journalists in the room, capturing this for live broadcast. She knows what it means to be a leader for the American people. She is there to represent us, and her demeanor is an acknowledgment of the honor.
She and Senate Minority Leader Chuck Schumer are there to prevent a government shutdown — and to force the president to own the blame should it happen. They reportedly had no idea when they arrived that Donald Trump would turn what is traditionally a quick smile-and-greet for the press into a verbal brawl for all the world to see.
No matter. She is who she is. There is no baiting her. Out the gate, she makes clear who would be at fault if there were to be a shutdown.
"I think the American people recognize that we must keep government open, that a shutdown is not worth anything and that you should not have a Trump shutdown," she says.
"A what? Did you say 'Trump'?" the president says dismissively.
On live television, she proceeds to offer a tutorial on how the government works.
"You have the Senate," she tells him. "You have the House of Representatives. You have the votes. You should pass it right now."
"No, we don't have the votes, Nancy," Trump says, "because in the Senate, we need 60 votes and we don't have it."
She reiterates. "No, no, but in the House, you could bring it up right now, today."
More back-and-forth, with Schumer also trying to explain the process. Finally, she says, without the slightest hint of impatience: "But the fact is … that legislating — which is what we do — you begin, you make your point, you state your case. That's what the House Republicans could do, if they had the votes. But there are no votes in the House, a majority of votes, for a wall — no matter where you start."
He blusters.
"You will not win," she tells him.
More bluster.
"Mr. President, let me just say one thing. The fact is you do not have the votes in the House."
Repeatedly, Trump interrupts her, and at times, he ignores her, talking only to Schumer. A photo capturing one such moment goes viral, and the caption is obvious: A Woman's Life, Illustrated.
He describes her as being "in a situation where it's not easy for her to talk right now." She warns him not to presume to "characterize the strength" she brings "to this meeting as the leader of the House Democrats, who just won a big victory."
Moments later, Trump delivers what she has been waiting for.
"You want to know something? … I'll take it," he says. "Yes, if we don't get what we want, one way or the other — whether it's through you, through our military, through anything you want to call — I will shut down the government. … I am proud to shut down the government for border security. … I will take the mantle."
When she exits the White House, a viral meme is born.
She is soon-to-be-House Speaker Nancy Pelosi, walking in her burnt-orange funnel-neck coat as she puts on her sunglasses and offers the gentlest of smiles.
A woman's life, illustrated as we are meant to be.
Connie Schultz is a Pulitzer Prize-winning columnist and professional in residence at Kent State University's school of journalism. She is the author of two books, including "…and His Lovely Wife," which chronicled the successful race of her husband, Sherrod Brown, for the U.S. Senate. To find out more about Connie Schultz (con.schultz@yahoo.com) and read her past columns, please visit the Creators Syndicate webpage at www.creators.com.