Trump-Backed Arizona Republican Boasted About Committing Vote Fraud
@next2godwin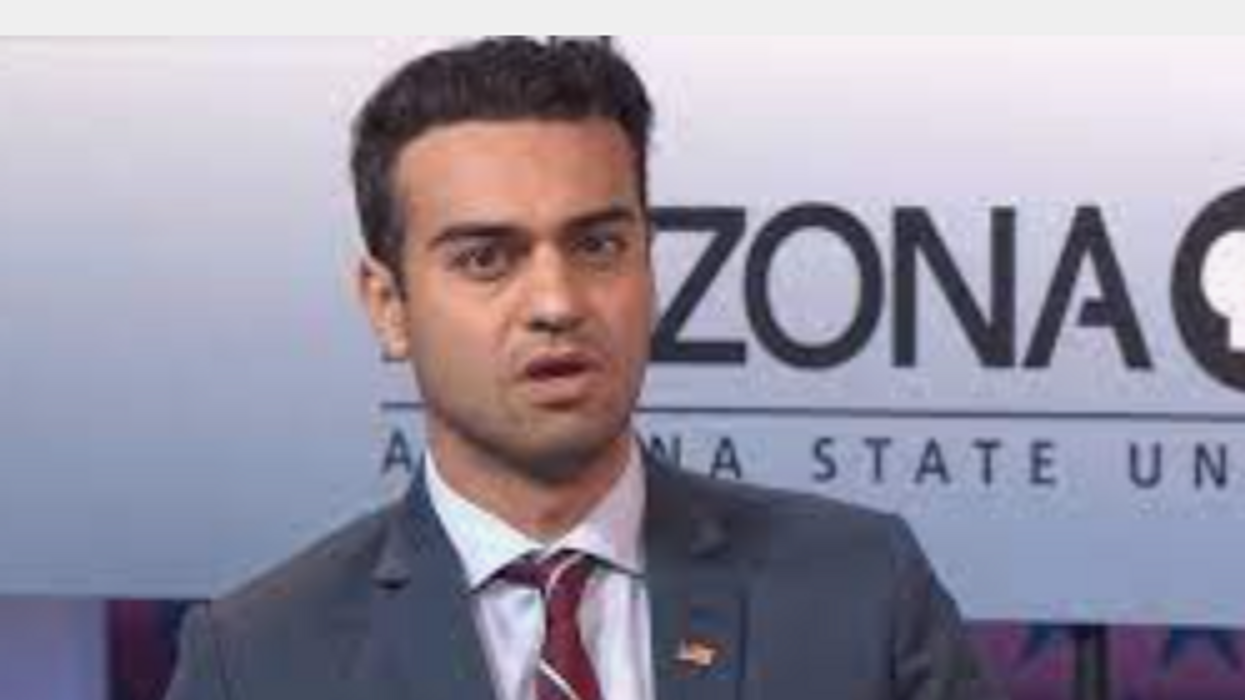 The Trump-backed GOP candidate for Arizona attorney general has in the past disseminated anti-Semitic tropes, called for cutting U.S. funding to Isreal, and seemingly admitted to voter fraud, the Phoenix New Times reported Tuesday.
Abraham Hamadeh, a 31-year-old first-timer in the political sphere, emerged victorious in Arizona's crowded GOP primary after his advocacy for the Big Lie — that widespread voter fraud derailed former President Trump's "victory" in the 2020 election — won him Trump's "complete and total" endorsement.
Hamadeh embraced many of Trump's baseless allegations about the 2020 election and said, were it up to him, he would not have certified Arizona's 2020 general election results. Hamadeh vowed during his campaign that he would use the attorney general's office to "prosecute crimes of the rigged 2020 election."
"Abe Hamadeh knows what happened in the 2020 election, and will enforce voting laws so that our elections are free and fair again," Trump said in his endorsement.
According to the Phoenix New Times, in a slate of posts starting in October 2008, Hamadeh, then a 17-year-old aspiring WWE wrestler, allegedly admitted that he illegally voted and altered his mother's vote on her absentee ballot for then-Senator Barack Obama for President.
"Obama is getting all of this crap simply cause hes black, he has an Arab name, hes the only senator who is black in the Senate, he is successful, and he is a Harvard Law graduate, they're scared they might have a smart man in the white house," Hamadeh wrote.
In a follow-up post, he admitted, "No, I cannot vote. I just submitted my mother's absentee ballot, she votes who I vote for, she voted for Ron Paul, and I'm saddened that I had to vote for Barack Obama, but it was the right thing I had to do."
"Under Arizona law, it's a felony for a person to knowingly mark a ballot "with the intent to fix an election for that person's own benefit or for that of another person" or to possess anyone's early ballot other than your own. It's also illegal for anyone younger than 18 to cast a ballot," the New Times noted in its report
Hamadeh also proposed radical, eugenics-like ideas for election reform: that only educated Americans who passed an intelligence test be allowed to vote, "not people who just go to a DMV and sign up to vote," per the New Times.
"Based on Barack Obama's intelligence I casted my vote for him yesterday through absentee," Hamadeh wrote, seemingly admitting to underage voting.
Besides calling John McCain a "radical fascist," Hamadeh peddled anti-Semitic talking points in 2007 and advocated for the United States to stop funding Israel a year later.
"If you think Jews arent big in america (2%) how come 56% of them are CEO'S ... Jews are influential and for the most part rich," Hamadeh wrote in a post. "its good we're targetting Arabs now, next will target Jews."
Hamadeh's campaign did not deny the substance of the New Times' allegations but said that Hamadeh made the comments at issue in his youth, "well before their minds were even fully developed," so it should not be an issue in 2022.
"Abe Hamadeh is the youngest statewide candidate in the country, and one of the first to be scrutinized on his digital footprint dating back to a time when he was 16 years old, the same time he thought he would grow up to become a wrestler in the WWE," said Erica Knight, a spokesperson for Hamadeh's campaign told the New Times.
"We are entering a new era of political opposition where candidates who have lived through their adolescent years on the internet are being judged and criticized based on comments they made well before their minds were even fully developed. It is now our responsibility to be careful where we draw the line," Knight added.
When HuffPost asked the Hamadeh campaign to clarify whether its candidate actually altered his mother's vote, the campaign deflected by referring the paper to the candidate's Wednesday tweet.
\u201cThe media hates minority Republicans.\u201d

— Abe Hamadeh for Arizona AG (@Abe Hamadeh for Arizona AG) 1661319396
Hamadeh's challenger, Kris Mayes, the Democratic candidate for Arizona attorney general, slammed him for his hypocrisy, anti-Semitic views, and radical utterances.
"It's shocking that the Republican candidate for attorney general in Arizona admitted to engaging in voter fraud, and it's equally offensive that he made so many anti-Semitic and sexist remarks," Mayes said on Wednesday in an interview with HuffPost. "It's just inexcusable and disqualifying."