Abortion Rights At Stake In Ohio Ballot Measure Tuesday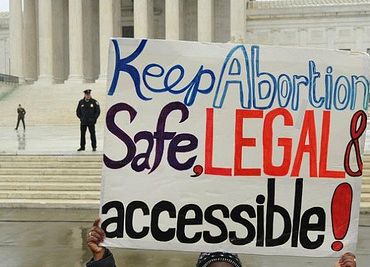 On Tuesday, Ohio voters will decide Issue 1, a ballot initiative that would make it harder to pass constitutional amendments in the state. The outcome of the special election could dramatically impact the future of abortion rights.
If Issue 1 passes, it would require citizen-initiated constitutional amendments to get 60 percent of the vote to pass, up from the simple majority currently required by law. And that would have immediate consequences for a reproductive freedom constitutional amendment, which will be on the ballot this November.
That amendment states, "Every individual has a right to make and carry out one's own reproductive decisions, including but not limited to decisions on contraception, fertility treatment, continuing one's own pregnancy, miscarriage care, and abortion."
Republicans in the state have been campaigning for Issue 1. Secretary of State Frank LaRose said outright that the initiative is a direct effort to change the rules to block the reproductive freedom constitutional amendment from passing, stating in May, "It's 100 percent about keeping a radical pro-abortion amendment out of our Constitution." LaRose is running in the Ohio GOP Senate primary to take on Democratic Sen. Sherrod Brown in 2024.
A USA Today/Suffolk University poll from July found that 58 percent of Ohioans support the reproductive freedom amendment, just shy of the 60 percent threshold Issue 1 would impose.
Anti-abortion groups in the state support Issue 1.
Catholics for Catholics, a religious group that has the support of a number of far-right figures, including former Trump White House strategist Steve Bannon and former Trump national security adviser Michael Flynn, held a prayer rally on Sunday in Ohio to urge support for Issue 1.
"Thousands rallied in support of #VoteYesOhio today in Cincinnati with @CforCatholics. I was proud to stand with them to protect Ohio's constitution from the all out assault which radical coastal liberals have launched against us," LaRose tweeted along with photos of himself at the event.
PBS Newshour reported that Protect Our Constitution, another group supporting Issue 1, is funded almost exclusively by Richard Uihlein, a Republican billionaire who also funded efforts to overturn the 2020 election.
Meanwhile, abortion rights groups are urging voters to vote no on Issue 1.
"The good news: Via a ballot measure, Ohio voters will soon have the opportunity to enshrine reproductive freedom in the state constitution! The bad news: anti-abortion Republicans are trying to make it harder to pass ballot measures in the state," NARAL Pro-Choice America tweeted on July 31. "Anti-abortion lawmakers are quietly dismantling our democracy to push their extreme agenda — but we won't let them get away with it. If you live in Ohio, VOTE NO on Issue 1 on August 8."
Aside from raising the vote threshold needed to pass constitutional amendments, Issue 1 would also make it much harder to get constitutional amendments on the ballot in the first place. It would require those proposing citizen-initiated constitutional amendments to collect signatures from five percent of voters in all 88 counties in Ohio. Currently, constitutional amendment petitions need signatures from 44 Ohio counties. The ballot initiative would also get rid of the current 10-day period that those proposing amendments have to replace signatures that have been determined to be invalid after the petitions are filed with the secretary of state's office.
Polling from July showed that Issue 1 was headed to defeat, with 60 percent of voters in the state opposing the GOP effort to make it harder to pass constitutional amendments.
The Associated Press reported that early vote totals are higher than in the past two midterm election primaries in the state. As of August 4, 533,000 people had voted early in person or by mail, almost double the 288,700 people who voted early in the 2022 primary.
L2, a political data firm that is tracking early voting in the state, said as of August 4 that Democrats were casting more votes than Republicans by a margin of 52 percent to 40 percent.
Reprinted with permission from American Independent.