Abrams Concedes With Fierce Burn Of Kemp's Corrupt Election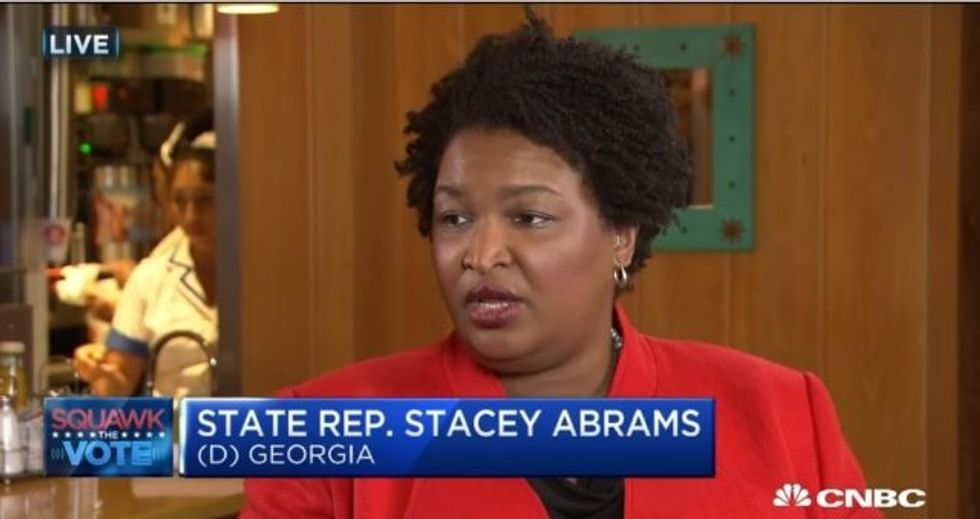 Reprinted with permission from AlterNet.
Stacey Abrams acknowledged Friday that there is no open path for her to be legally awarded the governorship of Georgia after a fierce electoral battle against Secretary of State Brian Kemp, who she accused of a massive voter suppression campaign. In light of his duplicitous behavior, Abrams would not say she was conceding.
"To watch an elected official who claims to represent the people in this state baldly pin his hopes for election on the suppression of the people's democratic right to vote has been truly appalling," she said. "So let's be clear: This is not a speech of concession."
"Because concession means to acknowledge that an action is right, true or proper. As a woman of conscience and faith, I cannot concede that," she continued.
Nevertheless, she said, she believes there are no more legal remedies for her to pursue to rectify the flaws fo the vote.
She detailed her extensive case against Kemp's "gross mismanagement" of the election:
The state failed its voters. You see, despite a record-high population in Georgia, more than a million citizens found their names stripped from the rolls by the secretary of state, including a 92-year-old civil rights activist who had cast her ballot in the same neighborhood since 1968. Tens of thousands hung in limbo, rejected due to human error and a system of suppression that had already proven its bias. The remedy, they were told, was simply to show up. Only they, like thousands of others, found polling places shut down, understaffed, ill-equipped, or simply unable to serve its basic function for lack of a power cord. Students drove hours to hometowns because mismanagement prevented absentee ballots from arriving on time. Parents stood in the fitful rain in four-hour lines, watching as other voters had to abandon democracy in favor of keeping their jobs and collecting a paycheck. Eligible voters were refused ballots because poll workers didn't think they had enough paper to go around. Ballots were rejected by the handwriting police. Citizens tried to exercise their constitutional rights and were still denied the right to elect their leaders.
She concluded: "Under the watch of the now-former secretary of state, Democracy failed Georgia."
Watch the speech below:
Cody Fenwick is a reporter and editor. Follow him on Twitter @codytfenwick.