Academy Awards Telecast Is All Too Predictable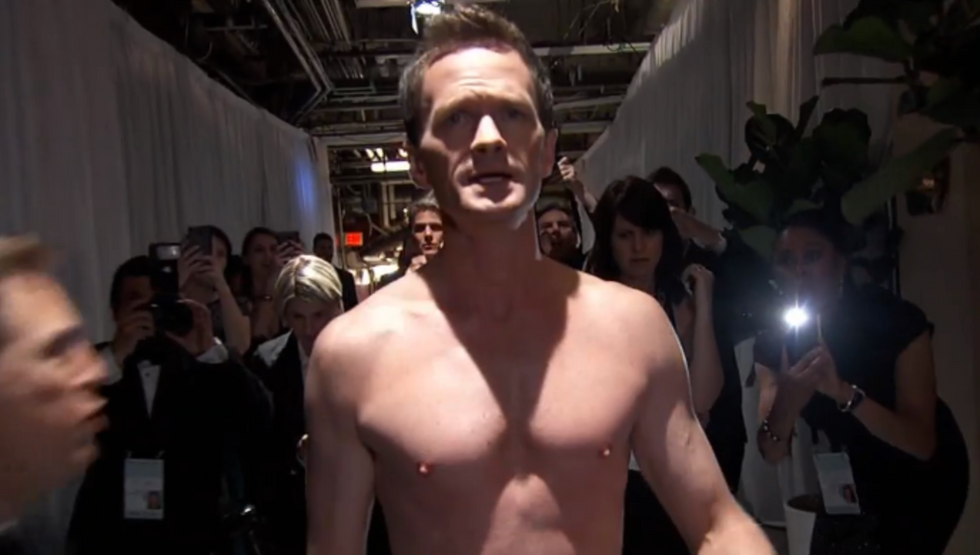 By Mary McNamara, Los Angeles Times (TNS)
LOS ANGELES — How unfortunate that, in presenting the award for Best Director, Ben Affleck chose to quote Frank Capra's observation that "the cardinal sin is dullness."
None of the directors nominated, he added, could be accused of committing that sin. But, alas, the same could not be said for Sunday night's telecast.
With a few notable exceptions, award-season fatigue took on a new and enervating dimension, exacerbated by a strangely defensive attitude toward many things, including, but not limited to the whiteness of the nominees, the preponderance of franchise films, and the public's ability to watch films on their smart phones.
Even the preternaturally prepped and prolific Neil Patrick Harris seemed affected, reduced at times to a small figure on a big stage making "good job" remarks to performers and attempting to carry a long-running joke about a box. At one point he stripped down to his underwear, a la Michael Keaton in Birdman, and it was just as embarrassing as you might assume it would be.
In fact, much of the 87th Oscars happened just as you might assume it would, and that was certainly part of the problem. Virtually all of those predicted to win, won, from the night's first award — to J.K. Simmons for his supporting performance in Whiplash to Birdman for best picture. It was so predictable that the night's biggest upset was Big Hero 6 beating out How to Train Your Dragon 2. The collective gasp heard round the world.
This may explain why so many of the speeches sounded familiar — if you follow awards-season coverage, and it's increasingly difficult to avoid — you may have actually heard them before. Birdman director Alejandro Gonzalez Iñárritu, who also won for best director, had literally run out of things to say when he accepted the evening's last award.
Notable exception #1: Patricia Arquette, who has won several awards for her role in Boyhood, ended her read-from-piece-of-paper speech for Best Supporting Actress with an unexpected and impassioned call for pay equity.
Predictable winners were only part of the problem. Harris, who has now hosted every major award show save the Grammys, seemed as big a shoo-in for host as Julianne Moore for Best Actress (which, of course, she won.) Introducing the show as a chance to celebrate "Hollywood's best and whitest, um, brightest," he flashed his trademark sass to address the many complaints about the very Caucasian nature of this year's nominees.
Pointed and righteous, if only the producers had been content to leave it at that. As if trying to make up for the fact that Selma was overlooked in many categories, the camera sought out and lingered on non-white members of the audience whenever Selma or Martin Luther King was mentioned.
It happened at a rate that was at first laughable and then irritating — memo to the Academy: black people are not the only ones who liked Selma, also they like other films too. On the other hand, the Academy's defensiveness over being mostly white and male may well have been the reason for the higher than normal proportion of black women presenters, though the fact that the telecast was on ABC probably didn't hurt either.
Harris then segued, not surprisingly to a song. Themed to celebrate the marvels of "moving pictures," and including a duet with Anna Kendrick, it was quickly interrupted by Jack Black, ranting, musically, about the forces plaguing the industry: sequels, prequels, comic books, and "jean screens" (smart phones.)
Funny enough, if only the writers had been content to leave it there. Instead, the plague of franchise films, the digital age and Fifty Shades of Grey haunted the telecast, with Harris pointing out not once, but twice that many of the nominated films actually made money. In fact American Sniper is, according to Harris, the Oprah of this year's films.
"Because you're rich," he explained when Winfrey seemed not to understand why she was being dragged into it. While not as bad as David Letterman's Uma/Oprah flame-out, the joke did bring it to mind, and the first rule of hosting the Oscars is: Never bring to mind Letterman's Uma/Oprah flameout.
Also, I'm fairly certain Neil Patrick Harris is part of the 1 percent as well.
And it went downhill from there. Oh there were a few good moments — Ida director Pawel Pawlikowski, winning for best foreign film, finished his acceptance speech despite the orchestra play off. And the performance of "Everything is Awesome" involved many people getting Oscars made of Legos, which really were awesome.
But as the telecast headed into its second hour it was marked mostly by the familiar sight of repeat winners and the unfamiliar sight of Neil Patrick Harris punting joke after joke. A crack about a winner's dress moments after she had spoken of her son's suicide was particularly tin-earred as was a joke about Edward Snowden not being present "for some treason."
Then two and a half hours in, things got briefly better. Idina Menzel and John Travolta amiably addressed Travolta's mangling of her name last year before presenting the award for best song to John Legend and Common for "Glory." As at the Golden Globes, they gave wonderfully soulful speeches, which, though familiar, were still quite moving.
They were followed by Terrence Howard doing King Lear as he introduced three film clips and Lady Gaga singing a medley from "A Sound of Music," which though deeply weird at least could not be described as dull. Then Harris took the reins once again and the predictable wins resumed.
Notable exception # 2: Graham Moore, winning for best adapted screenplay (The Imitation Game), spoke of his isolation as a gay teen and encouraged others to "Stay weird. Stay different."
Which is exactly what this Oscars needed: A little more weird, a little more different, and a lot less defensiveness.
We really do love the movies. That's why were watching the Oscars. So relax, already.
© 2015 Los Angeles Times, Distributed by Tribune Content Agency, LLC

Image: via ABC