Accused Predator Moore Urges GOP To Back Kavanaugh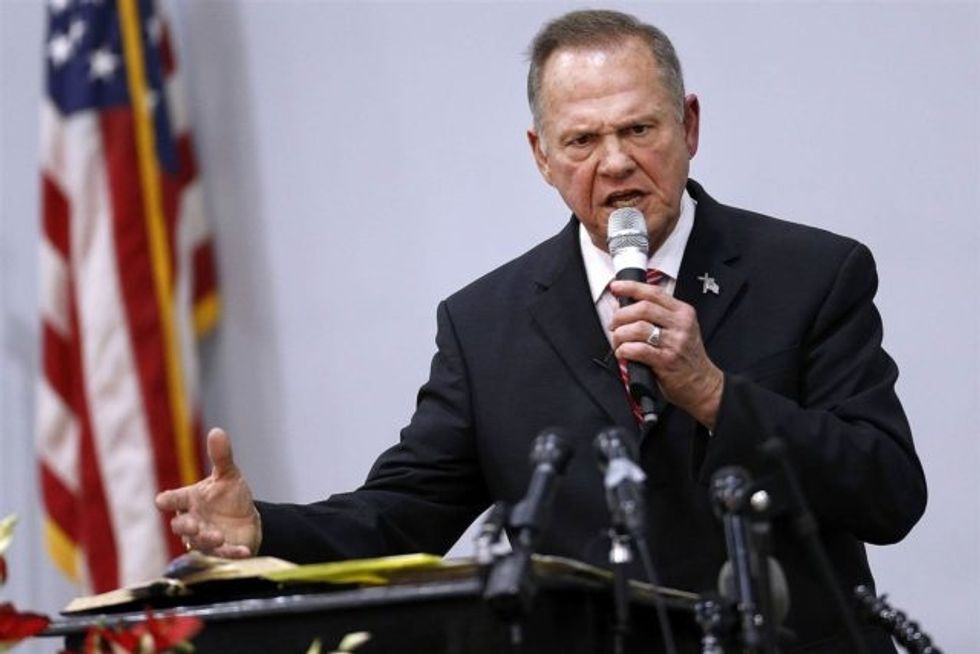 Reprinted with permission from Shareblue.
Disgraced former GOP Senate nominee and accused child molester Roy Moore came out swinging in defense of Trump's Supreme Court nominee on Wednesday, urging Republicans to stand behind Brett Kavanaugh and accusing Democrats of "weaponizing" sexual assault allegations.
In an interview with the pro-Trump network One America News (OAN), Moore told Republicans to "take a stand" and support Kavanaugh by dismissing the credible accusations of sexual assault he is facing and confirming him to the Supreme Court without any further investigation.
"I think they need to take a stand. I think they need to do what their conscience dictates. They know what's happening," Moore said.
He also accused Democrats of using Kavanaugh's accuser, Dr. Christine Blasey Ford, as a political pawn, and called into question the timing of the allegations, which he referred to as "tactics."
"It's so obvious that these tactics are used just days before a very important event … but these come up right before an election or a confirmation, and I think the Republicans need to take a stand. I think a lot of them don't. They don't like criticism," Moore asserted.
Moore also claimed, without evidence, that Democrats are playing politics in their calls for an FBI investigation, and that they only care about sexual assault accusations to the extent that they can be used for political gain.
Ignoring the fact that Ford herself called for the FBI to reopen its background investigation into Kavanaugh, Moore disingenuously portrayed the idea of an FBI probe as a trap set up by Democrats to ensnare Trump's Supreme Court pick.
"I think they don't care about transparency, they just use it because it's effective," he said. "They know that on the one hand, you offend women if you believe somebody that says they weren't guilty of sexual misconduct. On the other hand, if you don't believe them, you're condemning the person accused of guilt to prove his own innocence. It's a Catch-22."
Of course, denying sexual assault accusations and trivializing their severity by likening them to partisan trickery is nothing new for Moore, who was accused last year of sexual misconduct and child molestation by nine different women — a scandal he tried to write off as a conspiracy involving Democrats and the D.C. "establishment."
Those accusations ultimately derailed Moore's Senate campaign in Alabama, but not before he was endorsed by the Republican National Committee along with a slew of Republican lawmakers, including, of course, Trump. And along the way, Moore and his Republican allies pulled out every dirty trick in the book in a desperate attempt to discredit his accusers, much like they're doing now with Ford.
While not surprising, Moore's outspoken defense of Kavanaugh is pretty much the worst endorsement imaginable for the Supreme Court nominee who, after being tapped for the position by a president accused of serial sexual assault, is now facing accusations that he, too, sexually assaulted (and attempted to rape) a girl.
And if Kavanaugh was hoping to repair his tattered public image, an endorsement from an accused child molester is a strange way to go about it.
Published with permission of The American Independent.