Accuser Says Kavanaugh Assaulted Her In High School
@KailiJoy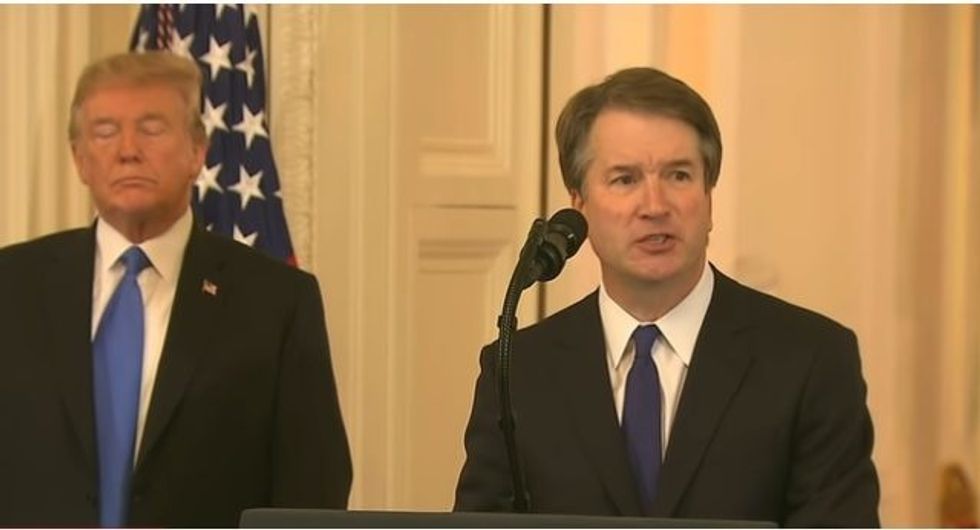 Reprinted with permission from Shareblue.
The confirmation of Trump's nominee, Brett Kavanaugh, to the Supreme Court seems all but inevitable. And yet a shocking new report that accuses Kavanaugh of attempting to rape a girl when they were in high school should bring the process to a screeching halt.
According to The New Yorker, a woman alleges in a letter — which is now in the possession of the Senate Judiciary Committee — that at a party in the early 1980s, Kavanaugh and a classmate of his "held her down" and Kavanaugh "attempted to force himself on her."
She says the boys "turned up music that was playing in the room to conceal the sound of her protests, and that Kavanaugh covered her mouth with his hand. She was able to free herself."
In a statement, Kavanaugh said he "categorically and unequivocally" denied the allegation.
The details of the allegations were published Friday morning, but Republicans on the Senate Judiciary Committee had already prepared for it, even though they were only briefed by Democratic Sen. Dianne Feinstein on the woman's letter this week.
Chuck Grassley, the Republican chair of the Senate Judiciary Committee, released a letter from 65 women claiming to have known Kavanaugh in high school, saying he "behaved honorably and treated women with respect."
The White House tried to shrug off the allegations Thursday night, calling the woman's letter an "11th hour attempt" by Democrats to delay Kavanaugh's confirmation. But clearly, Republicans knew about the allegation and had enough time to find 65 women claiming to have known Kavanaugh — who attended an all boys' high school — to try to defend him.
On Thursday, Feinstein released a vague statement that she had "received information from an individual concerning the nomination of Brett Kavanaugh to the Supreme Court" and had "referred the matter to federal investigative authorities."
The allegation that Kavanaugh attempted to rape a girl when he was in high school is a deeply disturbing and serious one. It is not clear to what extent, if any, his accuser is willing to cooperate with any investigation.
But that shouldn't stop the Senate from doing its due diligence before rushing through Kavanaugh's confirmation.
Already, there are serious questions about Kavanaugh's fitness for the lifetime appointment and whether he is indeed capable of impartiality should any cases involving Trump's potential criminality come before him. Those issues alone should be disqualifying.
But the allegation that Kavanaugh is an attempted rapist raises concerns about him to an entirely new and alarming level. It's a charge senators should require him to address, under oath, before even considering a vote on his confirmation.
Of course, that is unlikely to happen. The Republicans running the confirmation process have been unwilling to slow down the rushed process in light of many other troubling revelations about Kavanaugh. Why should this be any different?
The more horrifying reality to consider, though, is that it might not matter. Even if the allegation of attempted rape is true — even if Kavanaugh admitted it on tape, for all the world to hear — would it make any difference to Trump?
Trump, after all, admitted on tape that he sexually assaults women. Would he really care if his Supreme Court nominee had engaged in the same kind of disgusting, despicable, and illegal behavior?
Clarence Thomas was credibly accused of sexual harassment during his Supreme Court confirmation hearing, but that did not stop the Senate from putting him on the bench anyway.
Kavanaugh could, sadly, survive an investigation into these allegations and receive the broad support of the GOP anyway. But one would think, or at least hope, that the Senate would recognize its duty to ask him a question or two about it first. It's the least — the very least — they can do.
Published with permission of The American Independent.