Activist Phyllis Schlafly Butts Head With Brewery Of Same Name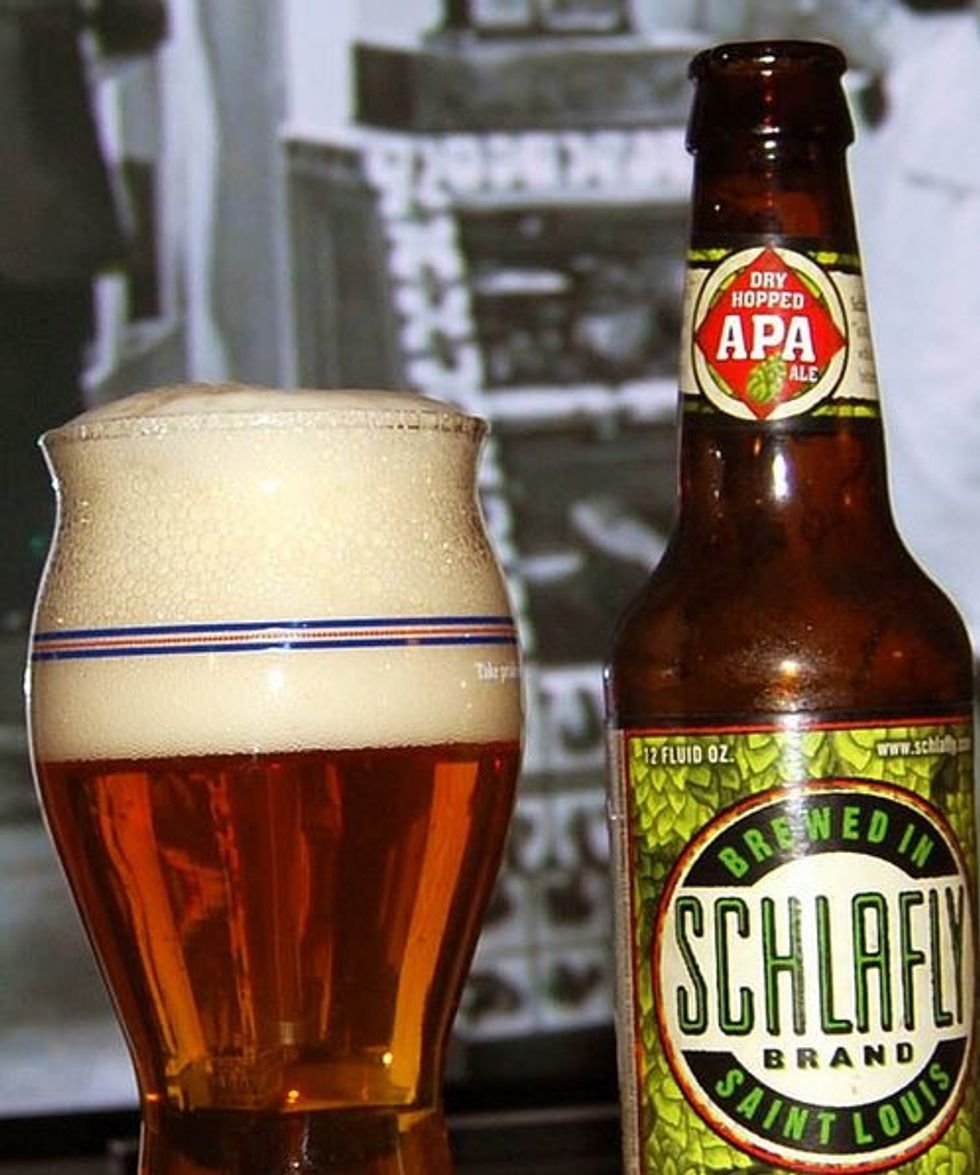 By Lisa Brown, St. Louis Post-Dispatch
ST. LOUIS — For decades, conservative activist Phyllis Schlafly has voiced her opposition to a wide variety of social and political issues, from the Equal Rights Amendment to same-sex marriage.
But her latest fight hits closer to home.
Phyllis Schlafly is opposing a federal trademark for the name "Schlafly" for beer made by a St. Louis craft brewery co-founded by her nephew, Tom Schlafly.
The Schlafly beer maker applied for the trademark on the use of the brand name in 2011; Phyllis Schlafly filed a notice of opposition with the U.S. Patent and Trademark Office in September 2012. Settlement talks have failed to produce a resolution, and neither side appears ready to back down.
Schlafly beer is made in St. Louis and in Maplewood, Mo., by The St. Louis Brewery Co., a homegrown craft brewery founded in 1991. Its Pale Ale, Oatmeal Stout and other beers can now be found in bars as far as New York and the nation's capital, as its customer base has grown far beyond its St. Louis roots.
The trademark case poses no threat to the sale of Schlafly-branded beer, according to Tom Schlafly, who is the brewery's largest individual shareholder.
"The full federal trademark has nothing to do with our right to sell beer, and no one is contesting our right to do that," Tom Schlafly said.
But unresolved is whether it will be able to trademark the brand that has helped the company grow to be one of the largest craft breweries in the country. The brewery had filed the trademark to ensure other brewers can't use the name.
"We sell the equivalent of 20 million bottles of beer a year, and we want to keep someone else from selling beer and calling it Schlafly," he said.
Tom Schlafly is a nephew to Phyllis Schlafly by marriage — she married his uncle, the late John Fred Schlafly — but she has no connection to the brewery and never has. The question of whether Phyllis Schlafly has ties to the brewery comes up, however, especially in new markets outside of St. Louis.
Both Schlaflys are well known in St. Louis and beyond. Tom Schlafly, a partner at law firm Thompson Coburn, serves on the St. Louis Public Library board, is a St. Louis Art Museum trustee and a commentator on St. Louis Public Radio. His mother was Adelaide Mahaffey Schlafly, a well-known civil rights activist who died in 2012.
Phyllis Schlafly, also an attorney, is a nationally known conservative activist who lives in Ladue, MO. In 1972, she founded the Eagle Forum, which helped defeat the ERA.
Most recently, the forum has opposed gay marriage, gory video games, and the Common Core national teaching standard.
Her political views have made her a polarizing figure. When her alma mater, Washington University, gave her an honorary doctorate in 2008, some students and faculty turned their backs to her in a silent protest during her speech.
Phyllis Schlafly, who declined to be interviewed for this report, argues that the word Schlafly has no usage or meaning other than as a last name, and she lays claim to it.
"In connection with its usage as a surname, it has the connotation of conservative values, which to millions of Americans (such as Baptists and Mormons) means abstinence from alcohol," her filing with the trademark office states. "An average consumer in St. Louis and elsewhere would think 'Schlafly' is a surname associated with me, and thus the registration of this name as a trademark by applicant should be denied."
Andy Schlafly, a New Jersey attorney who grew up in the St. Louis area, is representing his mother in the trademark case. Her primary opposition to the trademark is less about beer and more about the use of a name that she is closely associated with, Andy Schlafly told the St. Louis Post-Dispatch.
"This company is attempting to get a trademark over the name Schlafly, and we feel that's overreaching," Andy Schlafly said. "It's not allowed by applicable law to get a trademark of a famous person's last name without her consent, and she does not consent."
Beer isn't central to his mother's opposition. "Schlafly beer, we do not have an objection to. It's the name by itself that's the issue," he said.

In early 2012, Schlafly's co-founders Tom Schlafly and Dan Kopman sold a majority stake of the brewery to a group of local investors, including a private equity firm. Tom Schlafly remains non-executive chairman of the brewery.
The company is growing rapidly. It produced more than 56,000 barrels last year, making it the largest local craft brewery, and the 44th largest craft brewery nationally, according to the Brewers Association, an industry trade group.
The company's ownership status is a driver behind the opposition.
"The new people who own the company now, they could sell the company to strangers," Andy Schlafly said. "We object to strangers owning this last name."
Andy and Tom, who are cousins, haven't let the simmering trademark dispute get in the way of family accord, both men said.
"It has not come up at family gatherings," Andy Schlafly said.
But the trademark fight has prompted other Schlafly members to get involved.
Bruce Schlafly, a St. Louis orthopedic surgeon and Phyllis' son, also filed an opposition to the brewery's trademark of "Schlafly." In his opposition, he argues there are many people in the St. Louis area with the last name, and that trademarking the name would cause him harm.
"Registration of the mark falsely suggests connection between me and alcoholic beverages sold by Applicant, to the detriment of the reputation of a medical professional such as myself," Bruce Schlafly wrote in his notice of opposition in September 2012. In September 2013, the two opposition cases were consolidated by the trademark office.
In answers to the trademark office submitted last April regarding the opposition, the St. Louis Brewery Co. said it has been using the Schlafly mark dating back to the 1990s.
The brewery argues that both Phyllis Schlafly and Bruce Schlafly should have been aware of the use of the name in its business operations for many years, and that it holds trademarks that reference the name. The St. Louis Brewery holds a trademark for two logos with the Schlafly name used in its advertising.
The claims are further barred because "Schlafly has become distinctive of applicant's good in commerce and has acquired secondary meaning," the brewery argued in its answer filed with the trademark office.
Yvette Liebesman, an assistant professor of law at St. Louis University who teaches intellectual property law, said Schlafly beer has a strong case because the company has used the name in commerce for so long.
"The very first time they started selling beer from the tap, that is when they got rights to the mark," she said. "They certainly have been around long enough to acquire a secondary meaning."
To get the trademark, Schlafly beer must show its goods are not likely to be confused with goods sold by others, Liebesman said. "(Phyllis Schlafly) would have to prove that there's a likelihood that people would confuse the two, and I think that's going to be tough," Liebesman said.
Trademark disputes over naming rights are becoming increasingly common as America's craft beer industry grows with more breweries and products. In February, Anchor Brewing Co. in California, which makes Anchor Steam Beer, filed a lawsuit against a Connecticut-based brewpub, the City Steam Brewery Cafe in Hartford, over its use of the word "steam" in the business' name.
The Boston Beer Co., the country's largest craft brewer, started using Samuel Adams in its branding in the mid-1980s, but didn't register the name "Samuel Adams" with the federal trademark office until 1996.
"As the craft beer industry has grown over the past 30 years, from only a handful of brewers in 1984 to more than 2,700 in 2014, it has pushed brewers to develop creative beer names that are not already owned by other brewers," Jim Koch, chairman of Boston Beer, wrote in an email to the Post-Dispatch. "So, we're seeing an increased need by brewers to register for trademarks in the beer industry and to check existing trademarks before launching anything new, and this will likely continue as brewers throughout the country continually brew new beers."
The dispute over the Schlafly name isn't the only filing lodged with the trademark office related to the maker of Schlafly beer.
In January, Anheuser-Busch filed for, and was granted, an extension until April 9 to file an objection to the trademark for "The St. Louis Brewery Co." by Schlafly beer's parent company.
An Anheuser-Busch spokeswoman said the company hasn't formally opposed the trademark application, but the extension lengthens its window of time to oppose the request. "As the largest St. Louis brewery with more than 150 years of heritage in the city, we believe 'The Saint Louis Brewery' should not be trademarked by any one brewer," A-B spokeswoman Lisa Weser wrote in an emailed statement.
Tom Schlafly said he hadn't yet seen A-B's filing and declined to comment on their stance. He said he's looking forward to having the trademark issues resolved. "It's a distraction," he said. "I'd much rather be out there promoting the brand."
Photo: John via Flickr