Activists Say California Fighting Pollution Globally But Not Locally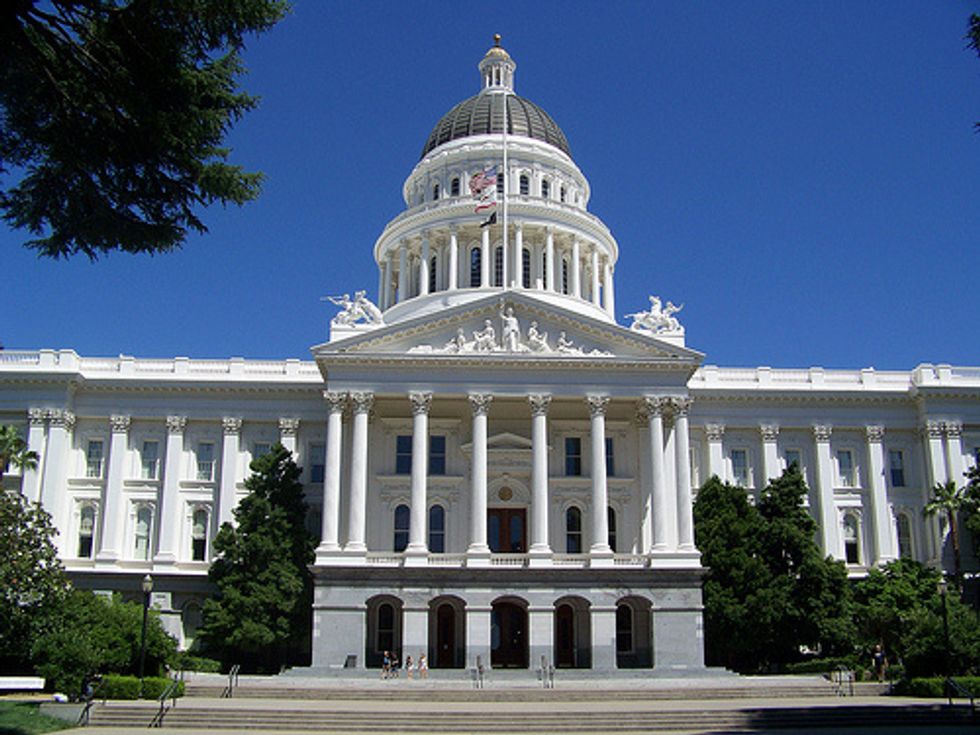 By Evan Halper, Tribune Washington Bureau
In the San Francisco Bay Area oil port city of Martinez, where a colossal Shell refinery has long tainted the air, the landmark California law that requires polluters to ease their carbon footprint seemed to some to promise new relief.
But one big move by Shell to comply with rules on greenhouse gas emissions won't do much for Martinez. It will instead give a boost to the environment in the pristine Upper Peninsula of Michigan, where the oil company is helping preserve a 200,000-acre forest.
California regulators are satisfied the forest project will be a sponge for greenhouse gases, helping reduce global warming. It doesn't matter that the trees grow nowhere near California.
Advocates for the local community heatedly disagree.
In California and across the country, the purchase of so-called carbon offsets by large corporations sits at the root of a bitter dispute over the extent to which companies dealing with a global problem have an obligation to help their local environments.
The dispute has taken on new importance as more states mull over whether to adopt California's model amid the Obama administration's push to place strict new limits on greenhouse gas emissions from power plants.
"We think the residents who are disproportionately burdened by this pollution should benefit," said Guillermo Mayer, president of Public Advocates, a San Francisco environmental justice group. "Instead of reducing the pollution locally through better technology or ramping down emissions, you get to buy trees in another part of the world. The residents nearby aren't helped."
Mayer calls it absurd that California companies may be able to reach as much as half of their emission reduction goals over the next several years through efforts that include not just planting trees, but capturing methane from cow manure in New York and recycling refrigerators in Arkansas. An environmental justice panel assembled by the state to advise regulators similarly warned against using out-of-state offsets.
But other environmental organizations disagree.
Groups such as the Environmental Defense Fund see offsets as a major selling point of California's climate reduction strategy. Giving companies the flexibility to search the nation, and perhaps the globe, for ways to reduce emissions helps lower the cost of reducing the global warming threat while inspiring investment in conservation projects, they say.
"What this program is supposed to achieve is a reduction in greenhouse gases," said Emilie Mazzacurati, managing director of Four Twenty Seven, a Berkeley, Calif., firm that advises on climate change strategies. "Greenhouse gases are, by their nature, global. It doesn't matter where they come from. They all go into the atmosphere."
Emboldened by the support of some big environmental groups, California regulators express no regrets about their fledgling offset program — even as they try to work out kinks.
The state has blocked offset plans that seem questionable. One program in Arkansas, for example, was placed under investigation after state officials discovered that companies were buying offsets involving a facility that disposes of toxic refrigerants but was operating without a federal environmental permit.
Questions over the state's ability to police faraway projects loom over the program. Regulators are nonetheless looking into expanding it beyond the United States. In Mexico and Brazil, California polluters could be awarded offset credits for investing in efforts to preserve the rain forest.
Boosters of such an expansion aggressively fought back a legislative effort last year to limit the use of offsets outside California. They even paid to bring the champion of the proposal, state Sen. Ricardo Lara, D-Bell Gardens, to join them on a research trip to Mexico. The Environmental Defense Fund covered Lara's $2,363 tab.
The California Air Resources Board, which enforces the state's emissions rules, won't say which companies are purchasing offsets and where they purchase them. "Each entity's strategy in purchasing offsets is considered market sensitive," said Stanley Young, a spokesman for the board.
In November, Young said, data will start to be released showing how many offsets are being used by what companies, but not where the offset projects are based. Environmental justice activists are maddened by the secrecy.
Shell's plan was made public in a news release by the organizers of the Michigan forestry project. California's major electricity companies, meanwhile, have made clear in public filings that they also are looking to make big offset purchases.
Most of those deals probably will not be linked to environmental projects in California. The air board's list of approved offsets is dominated by out-of-state endeavors. In part, officials said, that's because the state's environment already is pretty clean.
"California is proactive and has many regulations to protect the environment," Young said. Thus "it is a challenge to identify sources of offsets in California."
The reasoning baffles Vien Truong, director of environmental quality at the Greenlining Institute.
"People say California is green, and we don't need to worry about making those investments here, but it is not true," she said. The so-called fence-line communities, adjacent to factories and plants, "have often not benefited from the state's clean-tech boom and clean economy. It skips right over us."
Such grievances are laid out in detail in a complaint the Center on Race, Poverty, and the Environment in San Francisco filed with the U.S. Environmental Protection Agency over California's offset program.
It contends that the offsets violate the Civil Rights Act by depriving minority communities of the benefits of cleaner air. The EPA has declined to take any action.
Photo: Justin Brockie via Flickr
Interested in U.S. politics? Sign up for our daily email newsletter!