In This Baseball Story, Adam Jones Wins And Bigotry Loses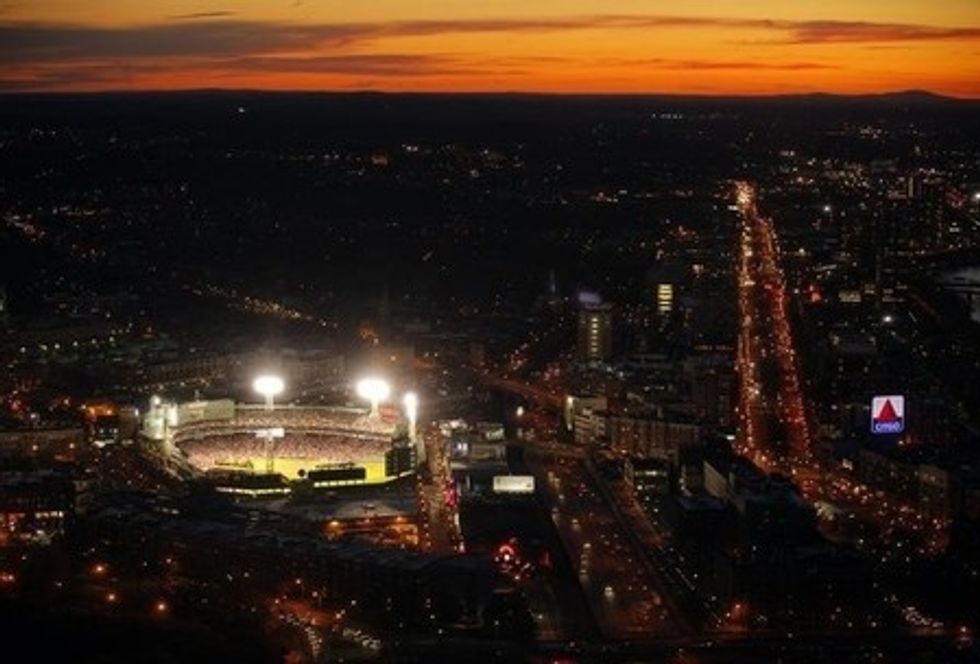 Sometimes, the most important things that happen at the ballpark are only tangentially related to the games themselves. I speak as one who hasn't missed a televised Boston Red Sox game this season, and may not between now and October. Win or lose, I'm in it for the stories.
To me, baseball season resembles an epic narrative—think Don Quixote or the seagoing novels of Patrick O'Brian—filled with an ever-evolving cast of characters and events. Although I've never lived in Boston, I've followed the Red Sox off and on since 1953, the year Ted Williams returned to Fenway Park after his second tour of duty as a Marine pilot.
To me, they were the un-Yankees. Enough said. I think Williams' prickly independence appealed to me too.
So does that of Adam Jones, the Baltimore center fielder whose refusal to submit to racist taunts from the Fenway Park bleachers led to last week's dramatic events.
You don't have to see many Orioles' games to get what a terrific player Jones is: a five-time All-Star who tracks down line drives like a cheetah and hits for power. He also starred for the U.S. team in the recent World Baseball Classic—something most MLB players are reluctant to risk.
To the dismay of Red Sox fans, Jones had a great day in the field May 1, making game-saving catches on balls some center fielders wouldn't have reached. For this he got pelted with bags of peanuts and called a "nigger" by some drunken ape in Section 35.
Do I know the guy was drunk? No, he was never identified. Nor did anybody complain to Fenway ushers, perhaps signifying that he was a belligerent drunk as well. (On Boston sports radio, some took this as evidence that the slur never happened.) The guy who threw the peanuts was identified and removed from the ballpark.
Talking to reporters, Jones said that heckling and booing were part of the game, but that "the N-word" was taking it too far. Where he grew up (San Diego), Jones added, racial slurs were fighting words, but a professional athlete can't confront every bigot he encounters. "It's unfortunate that people need to resort to those type of epithets to degrade another human being," Jones said. 
Nobody in the Red Sox dugout doubted Jones for a moment. For one thing, they know him. Boston outfielders Mookie Betts and Jackie Bradley said that while they'd not personally heard racial slurs at Fenway, other African-American teammates had. Pitcher David Price contacted Jones privately.
Official Boston reacted fast. Before Tuesday's game, Red Sox owner John Henry and team president Sam Kennedy visited Jones in the clubhouse. Mayor Marty Walsh and Gov. Charlie Baker emphasized that the incident did not reflect the values of the city or state. The baseball commissioner and the Major League Baseball Players Association expressed similar sentiments.
Which may have been laying it on a little thick, to be frank. Even given Boston's decidedly mixed history—the Red Sox were among the last teams to sign black players in the 1950s—hardly anybody thinks that bigotry is still the norm in a city that all but deified Red Sox slugger David Ortiz.
One drunk does not a city make, a point made forcefully by Red Sox African-American outfielder Chris Young: "If you do that," he told the Globe's Alex Speier, "you're doing the same thing that every prejudiced person out there does, which is judge one person of a certain ethnicity, color, religion, race, whatever it may be, and generalizing everybody from that…You can't say something about a fan and tie that to an entire city." 
Right-fielder Mookie Betts took to social media, urging fans to "literally stand up" for Adam Jones. And so when the Baltimore center-fielder came to bat in the first inning on Tuesday night, they did. Sitting in front of the TV halfway across the country, I had a pretty good idea what was coming. I called my wife, the coach's daughter, in to watch.
As Jones walked to the plate, a few fans behind the dugouts stood up and cheered. Red Sox pitcher Chris Sale, normally a very fast worker, deliberately stepped off the mound to let a long ovation build.
"I wanted to show him the respect he's earned and that he deserves," Sale said later. "We have a great fan base here. I don't want a few idiots to mess that up. I think Fenway came together, the Boston fans came together, and did the right thing today, plain and simple."
Then Sale unceremoniously struck Jones out.
Next Sale delivered another message: unleashing a wicked 99-mph fastball behind Orioles slugger Manny Machado's knees, the central figure in an escalating (and dangerous) beanball war between the two teams, as if to say, "Keep screwing around, and the next one won't miss."
Back to baseball, America's greatest game.
IMAGE: The legendary Fenway Park lit up for a Boston Red Sox game in Boston, Massachusetts. REUTERS/Brian Snyder