Embracing Karl Rove, Sheldon Adelson Goes Stealth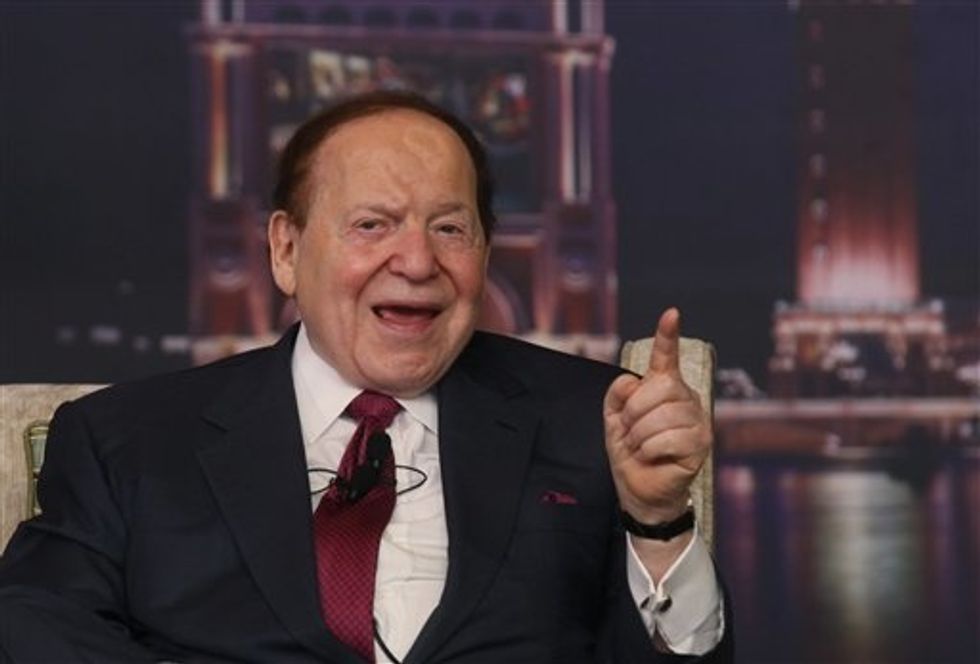 Sick of negative press, Sheldon Adelson, the Las Vegas casino mogul best known for donating over $20 million to a Super PAC backing Newt Gingrich's failed presidential bid, teased his plan for the rest of 2012 Friday: funneling money to Karl Rove's Crossroads GPS, which is not required to disclose its donors and could help him take out his nemesis, Nevada Senate candidate Rep. Shelley Berkley.
Adelson told Jon Ralston at The Las Vegas Sun, "I'm going to give one more small donation — you might not think it's that small — to a SuperPAC and then if I give it will be to a c4," a reference to 501(c)(4) "social welfare" nonprofits that are tax-exempt and can keep donors secret. Ralston said that Adelson must be referring to Crossroads GPS, the 501(c)(4) arm of Rove's American Crossroads, a clearinghouse for outside Republican political spending.
"Do you know how many c4s there are?" Adelson replied. But as Ralston notes, Crossroads is the biggest game in town, and the 78-year-old Israel hawk expressed "gushing admiration" for Rove in the same interview. Crossroads has already sunk hundreds of thousands of dollars into attack ads against Shelley Berkley, Adelson's one-time employee with whom he had a major falling out just before she began her first congressional run in 1997.
And this may just be the beginning of a trend away from Super PACs — which despite pathetic disclosure requirements, do tend to draw scrutiny to their benefactors — toward 501(c)(4)s, which can avoid any sunlight at all until after the election.
"We're now living in a world where someone who wants to influence an election can do so through a group that doesn't have to disclose it's donors," said Bill Allison, editorial director at the Sunlight Foundation, a good government group. "That's the really troubling thing here."
All 501(c)(4)s have to do to retain their special protected status is spend less than 50 percent of funds on expressly political activity, a blurry line that will almost surely get crossed sometime between now and November.
"How the IRS defines that is pretty shaky, and because these are "social welfare" organizations, a lot of their issue advertising counts toward the 50 percent that is not supposed to go to political activity," said Allison, referring to ads attacking policy initiatives of the White House like the 2010 healthcare law. "They can say, 'Our mission is educating the public about this particular issue.'"