Even Some Admirers Wish Hillary Would Stop Talking About 2016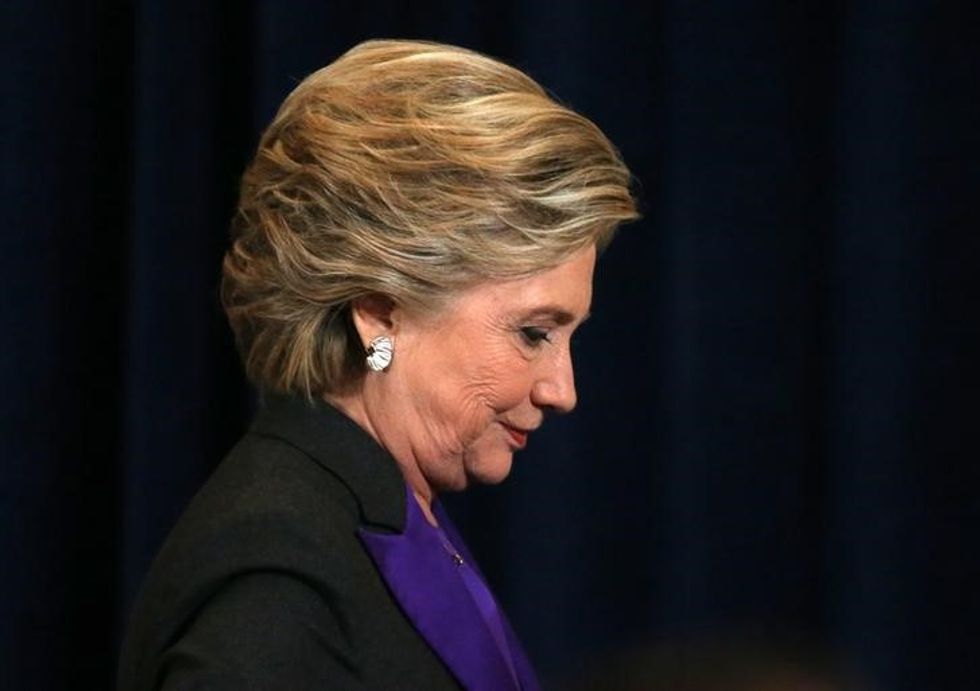 Hillary Clinton has been the target of gratuitously negative coverage from the national political press for as long as she's been in public life. During her Bill Clinton's presidency, rumors of her impending criminal indictment were a regular feature of "Whitewater" coverage almost until that media-created pseudo-scandal fizzled out altogether.  
Two decades later, the decisive moment of Hillary's unsuccessful 2016 presidential campaign came on October 29, 2016. Kevin Drum has helpfully reproduced New York Times coverage of FBI Director James Comey's spectacular blunder on his blog. The entire front page above the fold was devoted to accusatory headlines, along with a stern editorial on page A18.
 "NEW EMAILS JOLT CLINTON CAMPAIGN IN RACE'S LAST DAYS," read the Times' lead story. Another article pondered the consequences of the FBI Director's inserting himself into the campaign. "With 11 Days to Go, Trump Says Revelation 'Changes Everything,'" read a third.
As, indeed it did. James Comey had completely flubbed the dub. The implied cover-up was imaginary. No new emails existed; only copies of old ones. No matter, Hillary's polling numbers took a steep dive from which they never recovered. "Lock her up!" chanted enraptured Trump supporters.
Subsequent analysis showed that the Clinton emails saga—much ado about very little, in the end—received more coverage in the national political press than all of Donald Trump's Russian intrigues, sexual scandals, bankruptcies, fraud lawsuits and his veritable avalanche of falsehoods combined. And what was it about? A handful of messages discussing "Top Secret" intelligence that had already been published in, yes, the New York Times.
But lock her up? It's never going to happen. Not as long as the United States remains a nation of laws, admittedly an iffy proposition of late. There will be Trumps wearing orange jumpsuits or living in luxury Moscow condominiums before that day. They've been 25 years investigating the woman with nothing to show for it.
That said, I've about concluded that it would nevertheless be a good thing for the Democratic Party if Hillary took a vow of silence regarding the 2016 election. She can't seem to open her mouth about it without inserting her foot. The Washington Post recently reported remarks she'd made to an audience in Mumbai, India.
"'I won the places that are optimistic, diverse, dynamic, moving forward,' said Clinton. 'And his whole campaign — 'Make America Great Again' — was looking backward. You know, you didn't like black people getting rights, you don't like women, you know, getting jobs, you don't want, you know, to see that Indian-American succeeding more than you are….'
"At another point in the talk, Clinton, whose campaign slogan was 'Stronger Together,' said that the reasons married white women voted for Trump was due to 'ongoing pressure to vote the way that your husband, your boss, your son, whoever, believes you should.'"
I posted my knee-jerk response on Facebook:  "For the love of God, just shut up." 
Needless to say, this was not a popular view among some Clinton supporters. "How sexist of you to tell her to shut up," one friend opined. "Maybe you should do it." My age and race were mentioned unfavorably.
But sexist? Nah. You come up to bat, you'd better be wearing a helmet.
To many Democrats, it was another "basket of deplorables"—a tone-deaf blunder. Especially to Democrats running for election in "red" states. "Those are kind of fighting words for me, because I'm partial to Missouri voters" Sen. Claire McCaskill (D-MO) told the Post.  "And I don't think that's the wayyou should talk about any voter." 
Sen. Sherrod Brown (D-OH0 made similar noises.
Indeed, while I yield to no man in my contempt for Trump, it's simply foolish to say that the cool people in the best states were on your side, while backwoods bigots and spineless women mainly supported your opponent. Sure many people voted their fear and resentment. But you'll never win their support by shaming them. The average high school basketball coach knows better than to fire up the opposing team by insulting them.
I'd have thought she learned her lesson in Arkansas during her 1983 campaign to sell Bill Clinton's education reforms. She traveled the state, meeting with school boards, PTA members, etc., in all 75 counties and listening respectfully. It appeared to be a revelation to her how many non-Ivy League graduates in Arkansas country towns had useful ideas to contribute. She gives the appearance of having forgotten a lot of that and become captive to metropolitan snobbery.
 As a personal matter, I'm confident that's not who Hillary is. Maybe she simply hasn't gotten over the hurt. "I understand how some of what I said upset people and can be misinterpreted," she explained in a Facebook apologia of her own. "I meant no disrespect to any individual or group."
Next time, she should leave the insults to us professionals.