Adventures In The New Santa Barbara Wine Country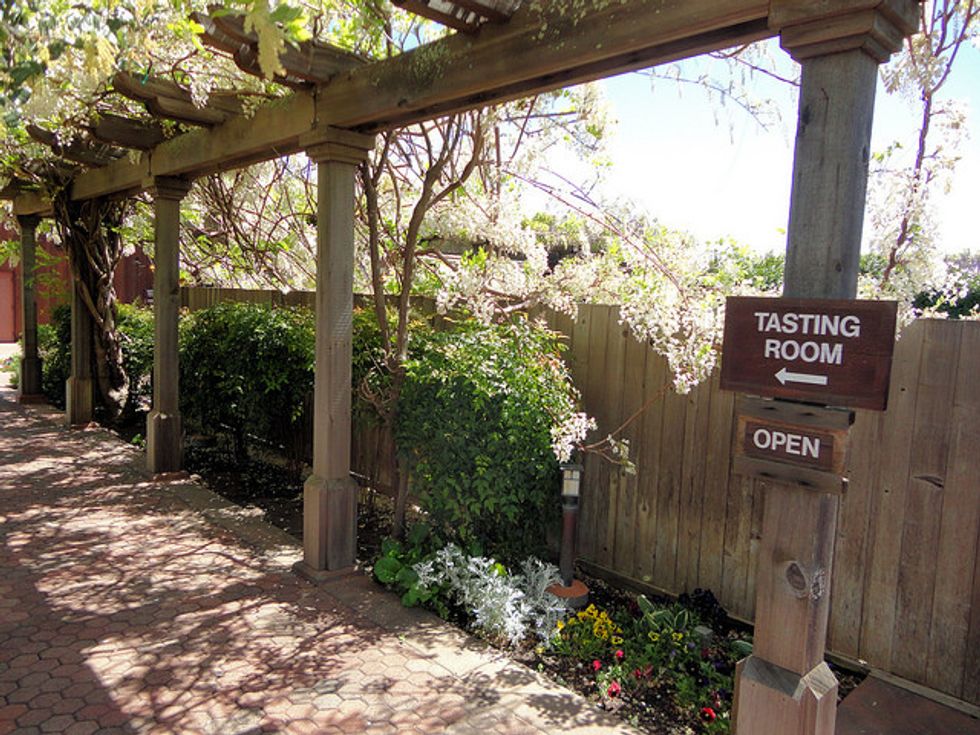 By Mary Orlin, San Jose Mercury News(TNS)
Forget Sideways and pinot.
Rhone varietals rule in Santa Barbara County. Ballard Canyon is Rhone central. The Santa Maria Valley is a rising chardonnay mecca. The vibe is hip and the energy electric.
Eleven years post-Sideways, Santa Barbara County's wine country has exploded. When the wine flick debuted in 2004, there were 85 wine tasting rooms.
Today, there are at least 150, and much of that growth has come in the past five years. Yet vintners say Santa Barbara County is still a young and undiscovered wine region.
So now is the time to discover it, before the crowds descend. We've put together an itinerary that takes you from Santa Maria Valley to Santa Ynez Valley, through little hamlets and lively towns, sipping and noshing along the way at some of the newest and most exciting spots.
1. Nagy Wines
Now that winemaker Clarissa Nagy has opened her own label's tasting room in this small, unincorporated town in the northwest corner of Santa Barbara County, you'll want to exit Highway 101 and head straight for this inviting boutique tasting room in Orcutt.
Two grapevines, sans leaves, provide eye-catching, twinkle-lit accents on one wall. An art piece of woven wine barrel staves covers another. The tasting bar is actually a sleek glass and steel table, where you'll find Nagy pouring her pinot blanc, viognier, pinot noir and syrah most Saturdays.
By weekday, Nagy is the winemaker for Riverbench Vineyard & Winery in the Santa Maria Valley, where the focus is chardonnay, pinot noir and sparkling wines. Nagy's Rhone varietals are a departure for her. She launched her label in 2004 and opened her tasting room last fall.
Nagy is part of a complex that's home to several other wineries, including William James Cellars, Core Wine Company and Lucia's Wine Company, making this a great starting point for our Santa Barbara wine country adventure. Next stop: Los Alamos.
The sips: The beautiful aromas of the 2013 White Hawk Vineyard Viognier ($24) boast honeysuckle and jasmine, ripe yellow peach and a back note of stony minerality.
The 2012 White Hawk Vineyard Syrah ($48) is rich and full-bodied, with velvety violets and ripe black berry fruits sprinkled with black pepper. Minutes after you swirl the wine in the glass, a savory bacon and smoke note rises.
The details: $10 tasting fee for four wines. Open 1-5 p.m. Wednesday-Thursday, 1-6 p.m. Friday, noon-6 p.m. Saturday and by appointment Monday and Tuesday. 145 S. Gray St., Suite 103, Orcutt; www.nagywines.com.
2. Municipal Winemakers
Los Alamos, a sleepy wine country town, is becoming a hot location for wineries and artisan food producers. Even so, the tasting room for Municipal Winemakers, which opened in September, is in a most unlikely spot. The dark green, one-room structure sits on the Alamo Motel's front lawn. You'd drive right by, were it not for the chalkboard sign on the sidewalk.
Inside this little house, the wood is left bare, a backdrop for the tasting menu written in chalk, and a rustic contrast to the sleek wine labels.
Municipal's name conjures images of city utilities, like municipal water works–and winemaker Dave Potter's labels are bold, eye-catching and almost industrial, with names that tell you exactly what's in the bottle: Bright White, Pale Pink, Bright Red.
Tasting room manager Vanessa Price pours five tastes and chats you up about the wines. No fancy wine speak here; everything is "delicious" and "pretty yummy."
Once you've tasted through the wines, you can buy a glass or a bottle and sit outside with a picnic. And soon, Municipal will be front and center to a newly renovated Alamo Motel.
The sips: Prices are reasonable for the quality of the wines. The crisp 2014 Pale Pink ($22) sells out quickly, thanks to its strawberry, pomegranate and watermelon flavors with a dash of spice.
The 2013 Grenache ($27) fills the mouth with rich black fruit and spice. Our favorite is the MCS ($27) a savory wine that explodes with earthy, deep, dark fruit flavors.
The details: Taste by the flight ($12 for five wines) or the glass ($10-$11). Open noon-7 p.m. Friday-Sunday. 425 Bell St., Los Alamos; www.municipalwinemakers.com. This winery also has a tasting room in downtown Santa Barbara.
3. Hilliard Bruce
Travel west on Highway 246 to enter a wilder area of this wine country_the Sta. Rita Hills, an area many winemakers consider one of the best regions for growing chardonnay and pinot noir.
One of the valley's newest wineries lies beyond a substantial wood and rusted metal gate: Hilliard Bruce, a ranch that's home to grapevines and horses.
Husband-and-wife owners John Hilliard and Christine Bruce favor Burgundian-style wines, but they want theirs to reflect their vineyards. Hilliard makes pinot noir; Bruce makes chardonnay.
Tastings often start in the stable's courtyard, then move on to Hilliard and Bruce's winery, a contemporary structure that's all glass and rusted steel, with LED light panels that change from blue to green and pink in a colorful show.
It's the county's first LEED Silver certified winery. Solar panels produce 85 percent of the ranch's electricity, and a water reclamation system captures runoff during harvest and day-to-day winery production.
The sips: Bruce's 2012 Chardonnay ($45) has aromas of orange blossoms and lemon citrus. It's an elegant wine, with a soft mouthfeel and mineral notes.
Hilliard's 2011 Sky Vineyard Pinot Noir ($55) is fresh, with rhubarb and pomegranate fruit flavors, a hint of ginger spice and a lingering finish.
The details: Tasting details vary. Open by appointment. Call 805-736-5366 or email winery@hilliardbruce.com; www.hilliardbruce.com.
Lunch: Industrial Eats
A huge brown and white cow stands guard at the entrance to Buellton's Industrial Eats. Chef Jeff Olsson's year-old eatery is home to artisan butchers and pizza makers. The menu, jotted on butcher paper and hung on a wall, is divided into "Pizza" and "Not Pizza," which includes bruschetta, salads and sandwiches. And the libations include local vino served on tap ($9 a glass) and local craft brews ($6).
Grab a seat at a communal table or near the wood-fired ovens, where you can watch the show. Nearly everything on the menu gets the oven-roasted treatment.
The fava and ricotta bruschetta ($8) is spring on a plate: Toasted bread is smeared with creamy ricotta and topped with bright green fava beans, shoots and greens. We loved the slightly sweet, spicy and earthy flavors of the Indian-inspired cauliflower ($9) with vadouvan curry, cashews and raisins.
The most popular pizza on the menu–braised wild boar ($14)– was sold out on our visit, so we consoled ourselves with the fennel sausage, tomato and mozzarella pie ($14). The perfectly blistered dough was crisp and chewy, and the housemade sausage added a spicy, meaty kick.
From the sandwich board, the beef and ricotta meatball marinara ($15) is a substantial serving, with three big meatballs and pecorino on a toasty baguette. And the rich, housemade pate banh mi ($15) is creamy, decadent and divine.
Heading out for a wine country picnic? Industrial Eats a has a deli case full of artisan cheeses, housemade charcuterie and local fish and meats to go.
The details: Open daily 10 a.m.-9 p.m. 181 Industrial Way, Buellton; www.industrialeats.com.
4. Alma Rosa Vineyards & Winery
With full bellies, head next door to Alma Rosa. A Buellton warehouse may seem an unlikely spot for a winery tasting room, but from the moment you see the 17-foot tall olive tree in the middle of the tasting room, you know you're in for an interesting experience.
There's no tasting bar in sight, just a long wooden bench, ottomans, wood tables with metal stools, and a large canvas with images of clouds. A large skylight lets the sunshine in, bathing the room in natural light. A massive concrete fireplace draws you into the backroom, where there's a table for 14.
"The idea was to bring the country into an urban space," says owner and winemaker Richard Sanford. He is one of the region's wine pioneers, the first to plant pinot noir and chardonnay grapevines here in 1970.
His Sanford Winery opened in 1981 (Terlato Wines owns it now), and he launched Alma Rosa in 2005. Together with his daughter, sculptor, photographer and video artist Blakeney Sanford, Sanford opened Alma Rosa's new tasting room in December.
Olivia–the 7-year-old olive tree–is the main focal point of the space. For Sanford, it represents nature. The fireplace represents the hearth. And the timber–for the wall of wine shelves, the tabletops and the 20-foot long bench running along one wall–all came from the original Sanford tasting room.
The rocks at the base of the tall tables and the grapevine trunks on display all come from Sanford's ranch, where the El Jabali Vineyard is planted, one of the sources for the Alma Rosa wines.
And that large "painting" of clouds is actually a time-lapse video installation, shot by Blakeney at the Sanford ranch. Look closely, and you'll see clouds moving, birds flying and the light changing.
The sips: Rich with white floral and nectarine aromas, the 2013 Santa Barbara County Pinot Gris ($19) has a nice weighty body balanced by bright acidity.
The 2014 Pinot Noir Vin Gris ($30), a lighter style rose, is lively with strawberry and raspberry notes and a spicy finish.
Our favorite pinot was the 2011 Mount Eden clone Pinot Noir from the El Jabali Vineyard ($45), with brambly notes of black cherry and black plum fruit accented with baking spice flavors.
The details: Open 11 a.m.-4:30 p.m. Sunday-Thursday, until 7 p.m. Friday-Saturday. The classic tasting is $12 for five wines; the reserve tasting is $15. 181 Industrial Way, Buellton; www.almarosawinery.com.
5. Andrew Murray Vineyards
From Alma Rosa, it's an easy hop east to Los Olivos, where the Andrew Murray Vineyards tasting room represents a new vintage for its owner. Murray is celebrating the 25th anniversary of his eponymous label this year–and the first anniversary of his new Santa Ynez Valley tasting room.
If you're familiar with this area, you may recognize the address as the Firestone family's former Curtis Winery tasting room. But extensive renovations have turned the space into a fresh, hip destination. There's a traditional tasting bar, but there are also comfy leather chairs and a leather scrap shag carpet underfoot, which lends a mod vibe.
The dramatic dark wood on the walls, flooring and custom table tops is reclaimed European oak. Metal accents on tables and sconces give the place an edgy, industrial aesthetic. And the sound system that Murray, an audiophile of the first order, installed throughout the tasting room and patios, pulses with tracks from the Pandora station "Broods," including "Beggin for Thread" by Banks and "Fifteen" by Goldroom Feat.
Taste indoors or decamp to the terrace or patio and enjoy sips outside. And bring the family. Murray stocked a bin full of gift bags, stuffed with arts and crafts materials. "We figured the parents would stay longer," he says.
A Rhone tasting flight ($20 for 5 wines) includes chocolate pairings, with four truffles from Santa Barbara chocolatier Jessica Foster matched to four of the wines. We especially liked the 2013 Curtis Estate Grenache paired with the milk-chocolate cinnamon-apple truffle, which played up the spice in both.
The sips: We were enchanted with the 2013 Enchante ($25), an aromatic white blend of roussanne and grenache blanc, with notes of white flowers, blood orange and stone fruits.
We loved the 2013 Roasted Slope ($40), a syrah co-fermented with viognier in the style of a Cote-Rotie blend from the Rhone Valley. It has a complex nose of violet, earth and black pepper, and rich blackberry, black plum and earthy flavors that linger.
The details: The new tasting room is open 10:30 a.m.-5:30 p.m. at 5249 Foxen Canyon Road in Los Olivos. You also can taste Andrew Murray wines at his downtown Los Olivos tasting room from 11 a.m. to 5 p.m. daily at 2901A Grand Ave.; www.andrewmurrayvineyards.com.
6. The Bubble Shack
You can't help but think of the B-52's "Love Shack" when you see this tasting room sign. This may not be the love shack, but it is a "funky little shack," home to sparkling wines. And it really is a shack, albeit a little more fancy than the name suggests, set off the courtyard of the Epiphany Cellars tasting room.
Both wine brands are owned by the Fess Parker family, a collaboration by Parker's children, Ashley Parker Snider and Eli Parker.
"I wanted this to feel like a garden cottage," Snider says.
With its whitewashed walls and garden tables repurposed as a tasting bar, the 4-month-old shack is charming. Retro metal cabinets are stocked with bottles of sparkling wine and glasses, old wooden windows are transformed into mirrors and a water trough has been converted into an icing bin. It's bubbly chic.
The wines are made in the traditional method of Champagne, but there's nothing stuffy here. In fact, Sibling Bubblery_a dark pink sparkler_is completely nontraditional. "It looks dangerously like Cold Duck," Snider says, "but tastes nothing like it."
There's lots of fun to be had at The Bubble Shack, even for kids. A bubble machine will keep them entertained while parents sip adult bubbles inside or relax on the patio.
The sips: In addition to Sibling Bubblery, you can try the 2013 Blanc de Blancs ($37), a 100 percent chardonnay sparkler with classic apple and pear notes and a toasty, yeasty note.
The 2013 Brut Rose ($40) is made from 100 percent pinot noir, with raspberry and blood orange aromas, tart raspberry and cranberry fruit flavors and a bright, tangy finish.
The details: Open 11 a.m.-4 p.m. weekends. Tastings are $12 for three wines. 2970 Grand Ave., Los Olivos; www.fessbubbles.com.
(c)2015 San Jose Mercury News (San Jose, Calif.) Distributed by Tribune Content Agency, LLC.
Photo: Jim G via Flickr