Affordable Care Act, Spending Cuts Slow Health Care Hiring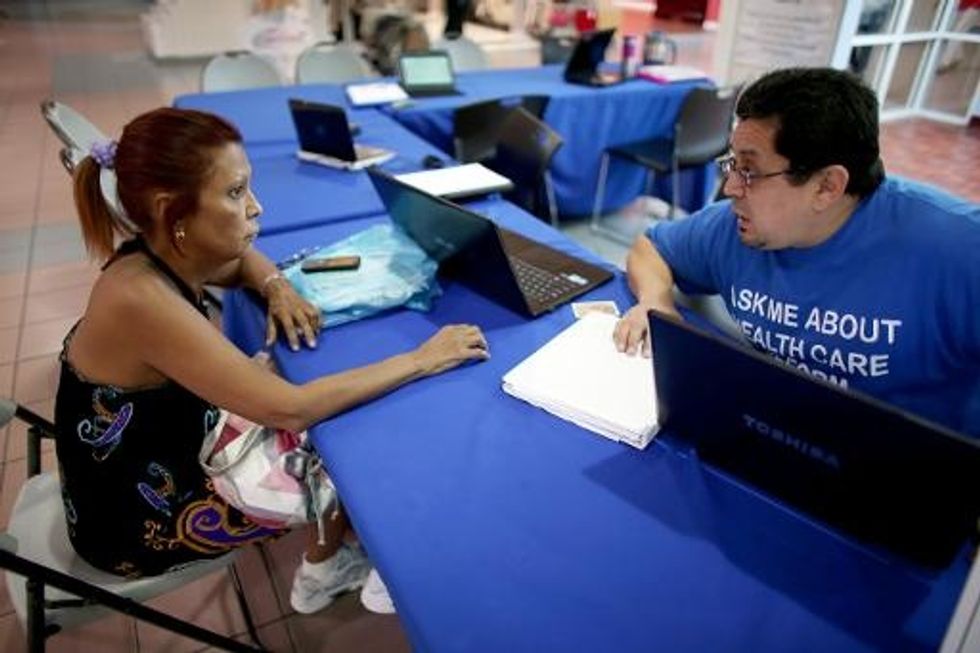 By Kevin G. Hall, McClatchy Washington Bureau
WASHINGTON — In the dark hours of the Great Recession, it was one of the few economic bright spots.
Week in, week out, the health care sector was adding jobs — at a time when construction, manufacturing and retail hiring were mired in quicksand.
Now, health care is a laggard. Health care hiring continues, but it's rising this year at a stubbornly slow annual rate of 1.4 percent, hit by a sluggish economic recovery, mandatory cuts in government spending and streamlining required by the Affordable Care Act.
That's down from 1.6 percent in 2013, and 1.8 percent for 2012 and 2011. From 2004 to 2008, the rate of growth in hiring exceeded 2 percent, peaking in 2008, the year the financial crisis began, at 2.7 percent.
"Throughout the recession and recovery, non-health care jobs were slowly climbing back but health care was pretty steady," said Ani Turner, the deputy director of the Altarum Institute's Center for Sustainable Health Spending, a nonpartisan research center that studies health care costs.
Some analysts say it's partly a side effect of the Affordable Care Act, dubbed Obamacare, which aims to penalize inefficiency and waste. It also intends to slow rising health care costs, which were accounting for a greater share of the nation's economy every year.
"It can't continue to grow to 18 percent, 19 percent or 21 percent" of the economy, said Mark Zandi, the chief economist for Moody's Analytics. "The side effect of that is slower growth in health care employment."
Over a longer horizon, the retirement of baby boomers will increase the demand for medical services. The Labor Department projects that five of the six occupations with the largest rates of growth in employment over the next decade will be in health care. Personal care and home health aides top the list, each projected to grow by nearly 50 percent over the decade.
But for now, the health care sector is readjusting.
Politicians from both parties have a hand in the slowdown in hiring, which economists view as necessary. Budget-cutting Republicans forced a 2 percent reduction on certain payments to providers under Medicare, the government health care program for people over 65. What happens in Medicare ripples across the entire health care sector.
And Democrats passed the Affordable Care Act as a way to expand health insurance coverage, paid for by streamlining what and how the government spends on health care. Since 2011, the rate of growth in health care prices has slowed.
"If you are going to constrain spending growth, and if you are going to slow the growth of health care as a percentage of the economy … then eventually that's going to translate its way into jobs," said Turner.
That's not something the White House advertises. In the 2014 Economic Report of the President, the Obama administration devotes an entire chapter of the annual report to the health care law, touting how it's already helped lower costs across the health care system.
Its only reference to jobs, however, wasn't about lost health care jobs but rather that lower spending on health care eventually boosts hiring across the economy by "increasing firms' incentives to hire additional workers."
Cutting waste out of the health care system, said experts, necessarily results in the disappearance of some jobs in the sector.
"It's fundamentally tied to bending the cost curve in health care," said John Challenger, who heads Challenger, Gray & Christmas, a consultancy that specializes in workplace trends.
Personnel costs are the highest in the services sector, and health care providers lagged other industries in embracing technology to become more productive, he said. Despite all the new technology used in medical diagnosis and treatment, the use of technology for administration and management has lagged, suggesting further hits on hiring ahead as the industry updates its office technology.
"That's happened in so many industries that were much more paper-dependent," Challenger said. "The health care sector has a long way to go there."
Health care providers blame the slowdown on changes in government programs.
"The steady drip of those cuts … hasn't helped," said Greg Crist, spokesman for the American Health Care Association, the trade group for nursing homes, which accounted for more than a quarter of health care employment in April.
The sluggish recovery, marked by minimal wage growth, may also weigh on the demand for expensive medical services.
"People are being cautious about discretionary care and even going in to see the doctor," said Turner, noting that insurers are also providing incentives to reduce patient stays and treatment in emergency rooms. "All of these things serve to reduce hospital services."
A detailed look by McClatchy at a decade of hiring data across the health care sector confirms a broad slowdown, albeit with great differences within the sector.
— Ambulatory care services — jobs in medical care that doesn't require hospitalization — grew at a rate of 2.7 percent over the past three months ending in April. That's slightly below last year's full-year rate of 2.9 percent and below the 3-percent-plus rate from 2004 to 2008.
— The growth rate of hiring in physicians' offices held steady at 2 percent for each of the last two years, improving to an annualized rate of 2.3 percent for the first four months of this year.
— Outpatient care centers saw annual hiring grow by 3.5 percent in 2011, 4.5 percent in 2012, 5.2 percent in 2013 and 5.6 percent over the first four months of this year.
— Hospitals account for about 1 in 3 health care jobs but they haven't seen their rate of hiring grow faster than 1.2 percent since 2008. Last year it grew at the dismal rate of 0.3 percent, and the rate shrank 0.1 percent over the first four months of this year.
"There's just been a piling-on from federal programs that has really been straining hospitals, and in response hospitals have been cutting costs," said Caroline Steinberg, vice president of the American Hospital Association and head of health-trends analysis. "Sixty percent of hospital expenses are labor. They really need to look carefully at how they're staffing."
So goes hiring in nursing-care facilities, which also connect directly to Medicare. Their rate of hiring fell by 0.4 percent in 2012 and 0.5 percent last year. The slide continues this year, with nursing-care facility hiring shrinking by 0.3 percent from January through April.
Changes to Medicare and state-run Medicaid programs also have weighed on hiring, Crist noted.
Specifically, he pointed to the Affordable Care Act's productivity adjustment, credited as a factor that's helping to slow the rate of growth in health care spending. It affects the formula used to calculate Medicare payments to providers, and it reduces fee increases at a rate equal to the economy-wide increase in the rate of productivity — the measure of worker's per-hour output.
The improving jobs market, oddly enough, also weighs on nursing-home hiring. Jobs there, said Crist, tend to be at the lower end of the pay scale, so it becomes harder to hire workers when other sectors are hiring.
"They are skilled professionals, but they're often faced with the choice of … as the economy improves, staffing levels (elsewhere) improve," said Crist, whose trade group has supported efforts to expand visas in order to have documented immigrants fill the hiring gap.
AFP Photo/Joe Raedle