Afghan Presidential Rivals Agree To Unity Government After Recount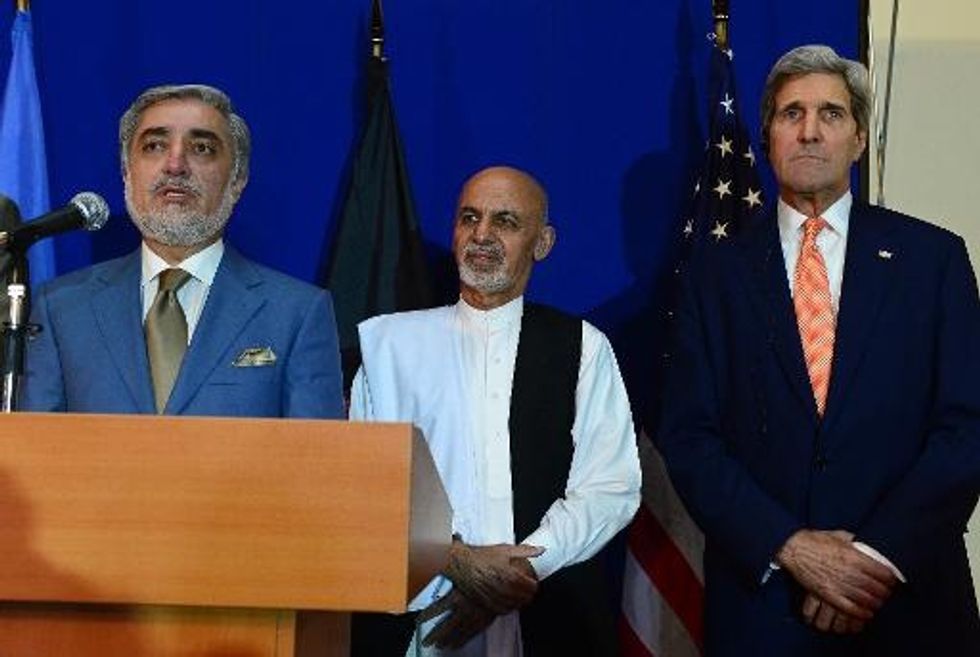 By Ali Latifi and Carol J. Williams, Los Angeles Times
KABUL, Afghanistan — Afghanistan's rival presidential contenders agreed Friday to accept the results of a recount of their disputed June 14 runoff and to form a government of national unity whatever the outcome of the disputed poll.
The agreement announced in Kabul by former Foreign Minister Abdullah Abdullah and ex-World Bank official Ashraf Ghani was reached during the second visit in less than a month by U.S. Secretary of State John Kerry.
But in an effort to avert accusations of U.S. meddling in Afghanistan's troubled politics, Kerry insisted the breakthrough was Afghan-owned.
"This is really an Afghan solution to an Afghan problem," Kerry said at a news conference with the two candidates who ran to succeed President Hamid Karzai in the coming weeks. "Both parties have agreed to stay at it and both parties have agreed to live by the outcome."
Abdullah and Ghani, who have accused each other of vote-rigging and refusing to accept the will of the people, appeared congenial and professed commitment to working together to end a political standoff that has reopened an ethnic divide in the country.
Abdullah, who is part Tajik and hails from the northern part of the country, came in first on the April ballot with 45 percent of the vote from among eight candidates versus second-place Ghani's 31.6 percent. But an initial count of a June 14 runoff showed a dramatic turnaround in Ghani's favor, leading to Abdullah's accusation that the Pashtun finance official's backers had massively stuffed ballot boxes to steal the election.
The protracted standoff over the vote's legitimacy has prevented the inauguration of a new leader with whom the U.S. government can enter into a Bilateral Security Agreement to keep a force of nearly 10,000 U.S. troops in Afghanistan after this year. The U.S.-led international combat mission ends in December, and Karzai has refused to commit to a post-2014 foreign troop presence, saying it was a matter for his successor to decide.
Both Abdullah and Ghani have expressed support for a residual U.S. presence to help with training of Afghanistan soldiers and police, and to bolster counterterrorism operations in the region where resurgent Taliban forces have been attacking both Afghans and their foreign protectors.
As their combat mission winds down, departing U.S. troops have also been vulnerable to "insider" suicide attacks, including the one Tuesday in which U.S. Maj. Gen. Harold J. Greene was shot to death by an Afghan soldier.
The election dispute was resolved by the proposal for a new chief executive position to be created under the presidency once the recount determines who won. The new post, expected to function similar to that of a prime minister, would be filled by the losing candidate to provide a platform for the rival political faction within the new leadership.
The agreement signed Friday afternoon "reflects our sense of national obligation and our duty to put the interests of Afghanistan … above everything else," Ghani said as he and Abdullah flanked Kerry at the press conference. "What unites us is far greater than what divided us during the campaign."
Abdullah hailed the resolution of the political crisis as "another step forward in the interests of strengthening national unity in the country, strengthening rule of law in the country, and bringing hope to the people for the future of Afghanistan."
Kerry proclaimed the agreement in the best interests of the Afghan people.
"One of these men is going to be president," Kerry said, "but both are going to be critical to Afghanistan no matter what."
Special correspondent Latifi reported from Kabul and Times staff writer Williams from Los Angeles.
AFP Photo/Wakil Kohsar
Interested in world news? Sign up for our daily email newsletter!