Afghanistan And U.S. Sign Long-Delayed Troop Pact
@AFP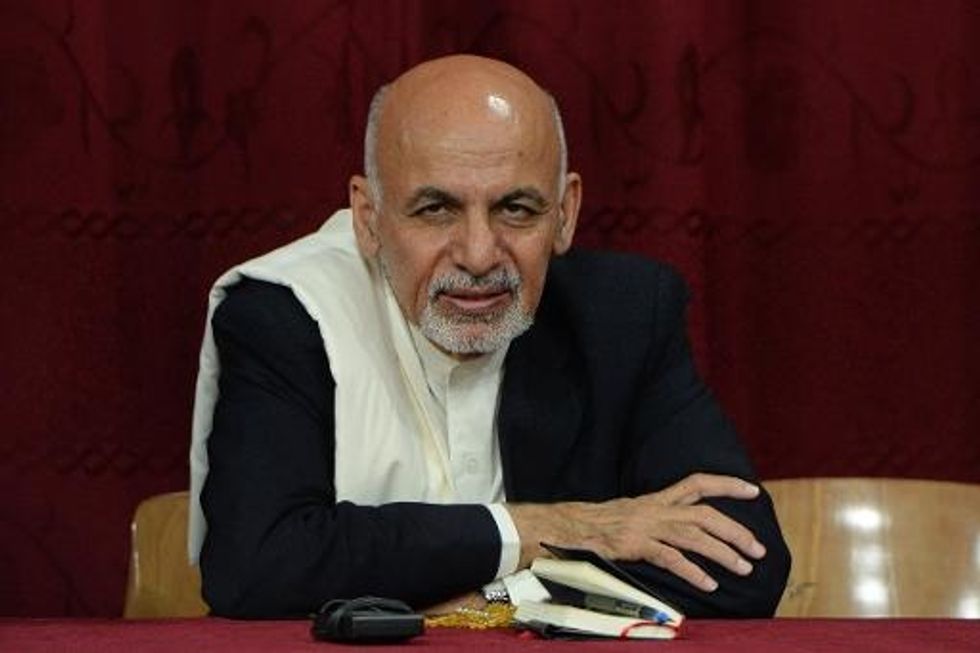 Kabul (AFP) – Afghanistan and the United States on Tuesday signed a deal to allow about 10,000 U.S. troops to stay in the country next year, as new President Ashraf Ghani took a major step towards mending frayed ties with Washington.
Hamid Karzai, who stepped down as president on Monday, had refused to sign the deal — a disagreement that symbolized the breakdown of Afghan-U.S. relations after the optimism of 2001 when the Taliban were ousted from power.
Afghan National Security Adviser Hanif Atmar and U.S. Ambassador James Cunningham inked the bilateral security agreement (BSA) at a ceremony in the presidential palace in Kabul as Ghani looked on.
"We have signed an agreement which is for the good of our people, the stability of the region and the world," Ghani said, adding it would allow continued U.S. funding for the 350,000-strong Afghan security forces.
"Threats exist to our joint interests, and this gives us a common goal," Ghani said after fulfilling his campaign vow to have the deal signed on his first full day in office.
Many long-term international aid pledges were dependent on the BSA being signed to strengthen security.
Taliban insurgents still pose a major risk despite years of effort by NATO's US-led International Security Assistance Force (ISAF).
NATO combat operations will finish at the end of this year, and the Taliban have launched a series of recent offensives that have severely tested Afghan soldiers and police.
NATO's follow-up mission, which will take over on January 1, will be made up of 9,800 U.S. troops and about 3,000 soldiers from Germany, Italy and other member nations.
The new mission — named Resolute Support — will focus on training and assisting Afghan forces as they take on the Taliban, in parallel with U.S. counter-terrorism operations.
"Afghan security forces have demonstrated their resolve and capability," U.S. Ambassador James Cunningham said.
"This agreement will enable the United States to help (them) to build on this progress after the ISAF mission comes to a close."
Cunningham said the deal would also open the way for further support in health, education and women's issues in Afghanistan, which faces a growing economic crisis.
Negotiations over the pact saw Karzai, who came to power in 2001, at his most unpredictable as he added new demands and shifted positions, infuriating the U.S.
He eventually refused to sign the agreement last year despite a "loya jirga" grand assembly which he had convened voting for him to do so. There was also widespread public support for U.S. troops to stay.
On the election campaign trail, both Ghani and his poll rival Abdullah Abdullah vowed to reverse Karzai's decision.
Without a deal, Washington had threatened to pull all U.S. forces out by the end of the year, but it chose to wait through a long election deadlock until Afghanistan finally got a new president on Monday.
After month of disputes over fraud, Ghani agreed to a power-sharing deal with Abdullah, who has taken up the new role of chief executive.
NATO support next year is seen as essential for national stability — though the limited size of the mission and the fact that it will be scaled back during 2015 will restrict its capabilities.
U.S. President Barack Obama has previously announced that the U.S. force will be halved by the end of next year, before being reduced to a normal embassy protection presence by the end of 2016.
The failure to sign a similar deal with Iraq in 2011 led to a complete withdrawal of U.S. troops from the country, which is now engulfed in Islamist violence.
The Taliban described the signing of the BSA as "embarrassing and regrettable".
"We tell America and its slaves that we will continue our holy jihad until our country is liberated from the claws of savage Americans," the group said in a emailed statement.
The security threat in Kabul was underlined on Monday by a suicide attack outside the airport's main entrance that killed four members of the Afghan security forces and three civilians.
The inauguration marked the country's first democratic transfer of power, although the UN said the election was beset by "significant fraud".
AFP Photo/Wakil Kohsar