After 49 Dead By One Man, Republicans Are Shutting Down The Gun Control Debate — Again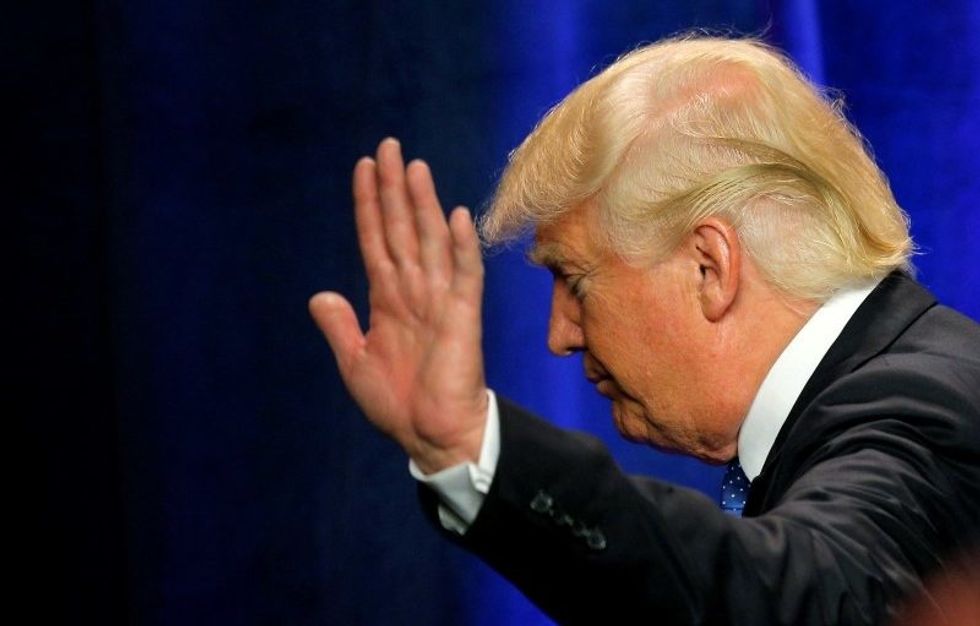 The disturbing trend of mass shootings amid lax gun laws continued in the early hours on Sunday in Orlando, Florida, but despite what happened there — or in Blacksburg, Virginia; Aurora, Colorado; or Newtown, Connecticut — Republicans refuse to talk about guns.
Republicans are more concerned with making sure they plant enough fear in Americans' minds to validate their obsession with "radical Islamic terrorism" than they are confronting the real causes of violence motivated by those twisted beliefs. Republicans exploited the terrorist narrative by focusing only on Omar Mateen's loose ties to ISIS, despite the more important facts at hand: Mateen's assault rifle was purchased legally; the killer was an American citizen; and the LGBT and Latino communities were victims of the worst mass shooting in recent U.S. history.
If Republicans really cared about stopping terrorists, that concern has not been evident: In December, they voted to allow "known or suspected terrorists" to buy guns.
Currently, federally licensed firearms dealers must notify the FBI of purchases so that the buyer's name can be screened. Low and behold, Mateen was reportedly on two federal watch lists, in 2013 and 2014: he was first interviewed by the FBI after his co-workers reported that he made comments in support of terrorists, and he was interviewed again after communicating with an American who was involved with a suicide bombing in Syria.
But Mateen was removed from these lists in 2014, revoking any power the FBI had to block the sales. The legislation that failed in December is expected to be proposed again and would provide the federal government with more discretion to stop suspected terrorists from acquiring weapons. Mateen also sought out body armor, but the store denied to sell it to him, CNN reported.
Above all, that Mateen was easily able to purchase a similar weapon that shooters used in San Bernardino — a .223 caliber AR-type rifle — raises questions about the ample access to that weapon: Why are military assault rifles so easily available to would-be terrorists? Shouldn't multiple mass shootings involving the same gun be enough to pass emergency cause-and-effect legislation as was passed in the wake of 9/11?
Nonetheless, Republicans would rather steer this discussion to ISIS, not gun control. In fact, any topic that would make Republicans uncomfortable is seemingly not up for discussion, either. GOP politicians were awfully quiet about the fact that the attack took place at an LGBT establishment on a Latin night. It was certainly an attack on America, but at its core, this was also an attack on the LGBT community that Republicans have repeatedly targeted themselves, and the Latino community for whom they rarely have sympathy.
The only time Republicans have bothered to mention homophobia in the wake of this attack is when it fits into their fear-mongering ISIS narrative, as we saw with Marco Rubio's comments to The Advocate: "We know what ISIS has done to people they accuse of being homosexual."
Donald Trump, who has never served in any national security capacity, did not once mention gun control in an expectedly bizarre series of tweets on Sunday. Instead, he took advantage of the spotlight and bragged about himself, sparking outrage. During the speech on Monday, Trump said he would ban immigration from countries with terrorist ties — even though Sunday's attack was homegrown. Sunday also falsely accused Hillary Clinton, again, of wanting to somehow "abolish" the second amendment. 
Democrats swiftly reiterated their existing calls for action on gun control. Bernie Sanders and Hillary Clinton both echoed the other's statements urging more stringent laws, specifically when it comes to the possession of automatic rifles. Sen. Chris Murphy, who represents Connecticut and has seen the devastation caused by gun violence firsthand at Sandy Hook Elementary School in Newtown, slammed Congress for failing to act.
"Congress has become complicit in these murders by its total, unconscionable deafening silence," he said in a statement.
President Obama's speech to the nation on Sunday afternoon sent a similar message to Congress and the American people. "This massacre is therefore a further reminder of how easy it is for someone to get their hands on a weapon… And we have to decide if that's the kind of country we want to be," he said. "And to actively do nothing is a decision as well."
Day after day, shooting after shooting, and debate after debate, it becomes increasingly absurd for anyone to justify the legality of such weapons when it is clear that lives would be saved by curtailing access to assault rifles designed to kill dozens of people in a short span of time — which is exactly what happened at Pulse Nightclub.
This is not a problem caused by the "foreign" Muslims whom Trump seeks to ban. This is not a problem caused by those on the other side of the wall Trump seeks to build. This is a problem caused by Americans with access to guns and permitted by Americans who refuse to interrogate that access.
No matter how many Republicans exclusively focus on the battle against ISIS — in which, incidentally, the U.S. and its allies have all but marginalized the physical caliphate in Syria in Iraq — there is nothing that takes away from the fact that the worst massacre on American soil since 9/11 was carried out by a weapon designed only for war.
Photo: Republican presidential candidate Donald Trump waves as he walks offstage after delivering a campaign speech about national security in Manchester, New Hampshire, U.S. June 13, 2016 in response to the mass shooting at Orlando's Pulse nightclub.  REUTERS/Brian Snyder