After A Year, No News Of U.S. Reporter Missing In Syria
@AFP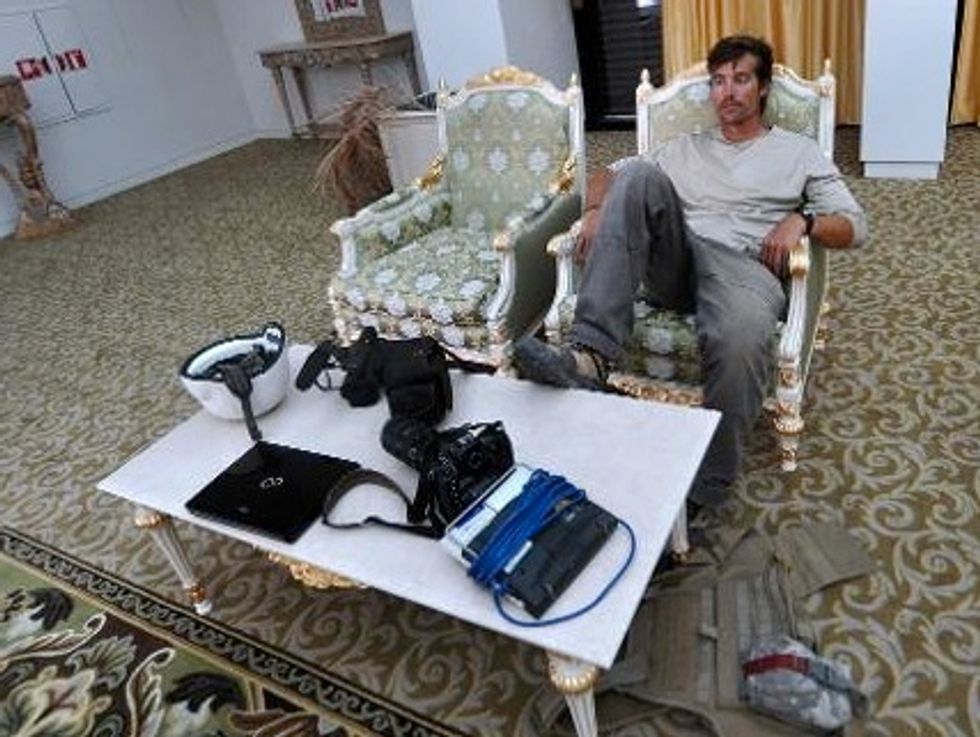 Washington (AFP) – The family of U.S. journalist James Foley, who on Friday will mark the first anniversary of his disappearance in war-torn Syria, say they have not given up hope of welcoming him home.
The freelancer, a five-year veteran of combat reporting for outlets including GlobalPost and Agence France-Presse, is one of an estimated 30 journalists missing in Syria's 32-month-old civil war.
Press watchdogs have expressed increasing concern for the reporters, especially as in many cases there has been no news of their fate and no ransom demands.
Foley's parents John and Diane told AFP they are still hopeful that he is alive, but expressed regret that after a whole year, during which their son turned 40, they have no news.
"We haven't been contacted by anybody asking for anything. No ransom requests," John Foley said, as the couple called for well-wishers to join them in a day of prayer.
Foley was seized by armed men in the northern Syrian province of Idlib on November 22 last year, according to witnesses. Security experts working for GlobalPost are working to find him.
Initial indications suggested he may have been snatched by forces loyal to President Bashar al-Assad's regime, but investigators are no longer confident of that.
Both the Syrian government and anti-regime rebels, including Islamist extremists, have held reporters in the past.
"We're staying very hopeful," Diane Foley said. "We're hearing many rumors but no facts at this point. We've just a very strong feeling that Jim is alive."
Press freedom watchdog Reporters Without Borders describes Syria as the world's most dangerous country for journalists.
Since the conflict began in March 2011, the group has recorded the deaths of 25 journalists and 26 citizen journalists.
A similar number are now thought to be missing or captive inside Syria, including Foley and fellow American Austin Tice, who disappeared on August 13 last year.
The exact number of international reporters being held captive is difficult to estimate, as some victims' families and governments have asked the media not to report their cases.
The situation inside Syria has also become more complicated and dangerous for journalists since the war began, with multiple rebel factions on one side and diverse militias fighting for the government on the other.
Where once reporters could work in areas held by anti-Assad fighters keen for international exposure of their cause, now many rebels are loyal to anti-Western jihadi Islamist groups.
AFP chairman Emmanuel Hoog has called for Foley's immediate release.
"More than ever we are hoping for some positive news about James, who along with all the journalists kidnapped in Syria should be released as soon as possible," Hoog said.
"Holding independent journalists does not serve the interests of anybody involved in this terrible conflict," he said.
Earlier this month, the French government said it had proof that four French journalists held in Syria were alive, but Washington has had no news of its nationals.
Diane Foley said that the U.S. State Department had been very supportive of the family, which has mounted a vigorous public campaign for information, but had no concrete information.
The family has also welcomed the arrival of U.N. weapons inspectors in Syria to dismantle Assad's chemical weapons program, seeing this as a tiny step towards a possible resolution of the conflict.
AFP Photo/Aris Messinis