After Israel Vote, Netanyahu And Herzog Scramble For Political Allies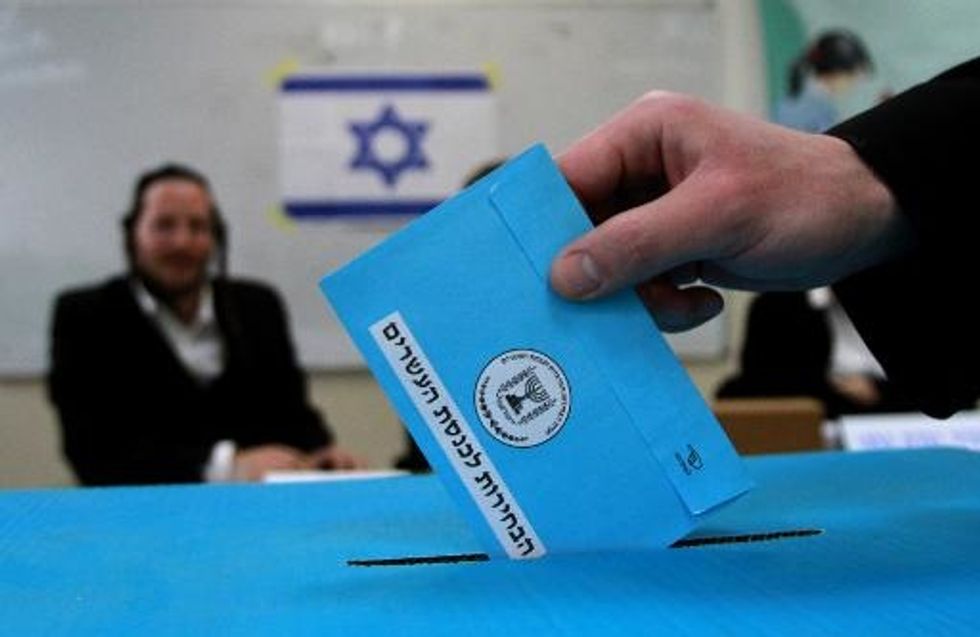 By Laura King and Batsheva Sobelman, Los Angeles Times (TNS)
TEL AVIV, Israel — In a dizzying outcome to a divisive and angry Israeli election campaign, exit polls pointed to a virtual tie between the two main parties, leaving Prime Minister Benjamin Netanyahu and his chief rival scrambling early Wednesday to secure political alliances that would enable one of them to form a new government.
Netanyahu had gone into Tuesday's vote trailing in opinion polls, so he painted the deadlocked preliminary outcome as a victory. And in the absence of a clear-cut defeat for his party, coalition politics now give the prime minister, a consummate political survivor, an edge.
Addressing cheering, chanting supporters early Wednesday at his headquarters, Netanyahu declared that "reality does not take time out. … The citizens of Israel expect us to swiftly form a responsible leadership that will work for them, and so we shall do."
But his opponent Isaac Herzog said he too would try to head up a governing coalition. "We will wait for the real results," he said. "The people of Israel want change."
Throughout the campaign, the two candidates have been a study in contrasts, not only in style and personality but also on the big issues confronting Israel. Herzog said he would try to engage the Palestinians and mend ties with Europe and the United States; Netanyahu sought to quash Palestinian statehood hopes and railed against outside critics who he said were trying to unseat him.
Reflecting voter passions, turnout was even higher than the 68 percent in the last election, which was the highest in 16 years. Throughout the day, soldiers in rumpled uniforms, ultra-Orthodox Jews in long black coats and twentysomethings in nose rings made their way to polling stations across the country, sometimes waiting patiently in long lines.
Whatever the final voting results, they herald a fresh battle. No single political party has ever captured a majority of the 120 seats in the parliament, or Knesset. So the popular vote is only the first step in the painstaking process of assembling a governing coalition. As ballots were counted throughout the night, results showed some fluctuation that could affect coalition-building prospects in the tight race.
But if exit polls suggesting near-even votes for Netanyahu's conservative Likud and Herzog's left-center Zionist Union are borne out, the stage is set for the centrist party Kulanu, uncommitted as yet to either side, to play kingmaker by throwing its support to one of the two.
Kulanu's leader, former Likud Cabinet minister Moshe Kahlon, was already being intensely courted by both sides.
Although an apparent dead heat was an enormous relief for the Netanyahu camp, it represented a deeply disappointing outcome for the Zionist Union.
Herzog's supporters had hoped that the lead of up to five seats, projected in the final opinion polls before the vote, would translate into a victory sufficiently commanding that the 54-year-old lawyer-politician would be asked by President Reuven Rivlin to form the next government.
Rivlin was holding consultations with the various factions beginning Wednesday and within days was to issue an invitation to one of them to try to build a coalition.
The president has expressed hope for a so-called unity government that would incorporate the rival factions. Netanyahu, however, has ruled out such a scenario. The Zionist Union, having put the campaign focus in the final days on ousting the prime minister, would be hard-pressed to embrace him, although Herzog said earlier he would talk to any party, including Netanyahu's.
As the exit polls were reported and the vote-counting began, the mood among the stunned crowd at Zionist Union headquarters was subdued, although Herzog's post-midnight appearance drew warm cheers. "You put your heart and soul into this campaign," he told backers.
Netanyahu in recent days had made a frantic push to retain support from conservative and nationalist voters amid signs the electorate had tired of him, and hardened already hardline positions toward the Palestinians. On the eve of the vote, he declared that there would be no Palestinian state on his watch and that Jewish construction projects would continue in East Jerusalem, which the Palestinians want as the capital of their future state.
On election day, he drew widespread criticism with a Facebook video declaring that voters from Israel's Arab minority were descending "en masse" on the polls, a stance denounced as racist by his opponents.
The preliminary picture painted by the exit polls illustrated a highly fragmented political scene that analysts predicted would make it difficult for either Netanyahu or Herzog to assemble a governing coalition or to keep that alliance from fracturing.
The exit polls by the three main television channels may not prove accurate; some previous elections have seen substantial divergence between the initial indications and the ultimate count. Final official results will take days.
The exit polls and early tallies also pointed to a political landmark: an alliance of Israeli Arabs, who normally distance themselves from the country's political scene, emerging as the third-largest party in parliament.
"We are in the midst of an historic founding moment," said the alliance's leader, Ayman Odeh, whose Joint List won up to 13 seats.
The new government that emerges from this maneuvering will be faced immediately with daunting challenges at home and abroad: economic woes that played an outsized role in the campaign; a damaged relationship with the United States, Israel's most important ally; external threats such as Iran's nuclear program, which Netanyahu sought to frame as the most crucial threat to Israel's existence.
Herzog has said he will attempt to engage diplomatically with the Palestinians, a process that will be complicated by simmering anger over the summer war in the Gaza Strip and Palestinian moves to challenge Israel in the International Criminal Court.
The prime minister's campaign had placed heavy emphasis on security issues, including the nuclear threat posed by Iran, while the center-left stressed social issues such as the soaring cost of living.
To some, Netanyahu's relentless focus on threats to Israel amounted to a scare tactic.
Irit Neeman, a 58-year-old lawyer and talent agent, said she voted for the Zionist Union because "I'm fed up of living in fear."
Despite the growing signs of social discontent, the prime minister's core supporters remained loyal. In Tel Aviv's open-air Carmel Market, traditionally a Likud bastion, 46-year-old Adi Hayek, who runs a stall selling cheap cosmetics and drugstore goods, said he would not turn away from Netanyahu now.
"It's Bibi or nothing," he said, referring to Netanyahu by his nickname. "We are in good hands."
___
Times staff writer King reported from Tel Aviv and special correspondent Sobelman from Jerusalem.
An Israeli voter casts his ballot at a polling station in Bnei Brak, near the city of Tel Aviv, on March 17, 2015 (AFP/Gil Cohen Magen)