Aiming At Mueller, Republicans Seek To Impeach Rosenstein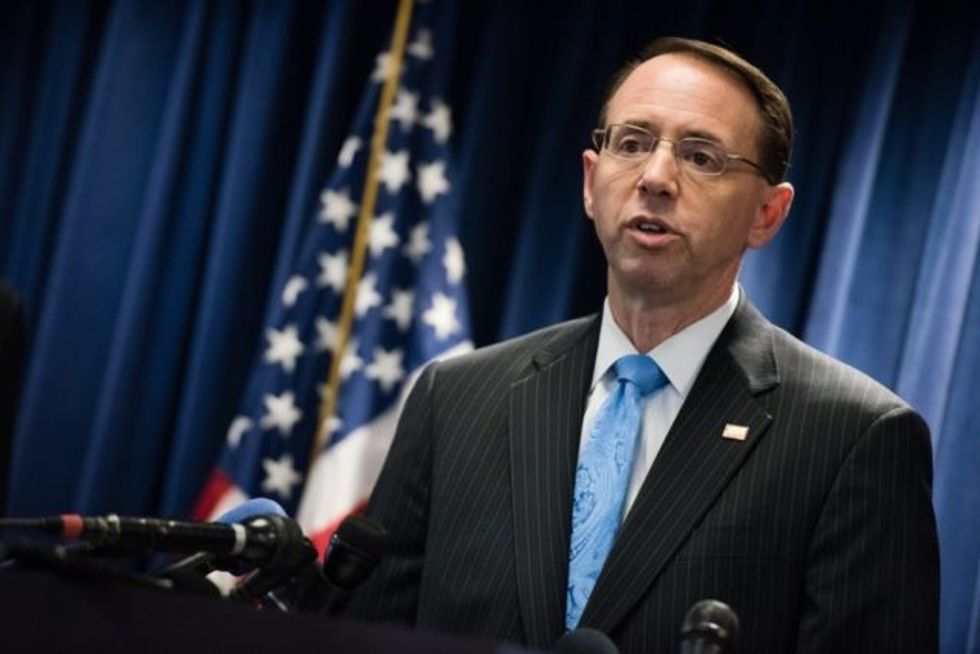 Reprinted with permission from AlterNet.
Republican supporters of President Donald Trump in Congress filed doomed articles of impeachment against Deputy Attorney General Rod Rosenstein on Wednesday night in a desperate attempt to undermine special counsel Robert Mueller's investigation into the Trump campaign and Russia.
"I just filed a resolution with [Rep. Jim Jordan (R-OH) and several colleagues to impeach Rod Rosenstein," said Rep. Mark Meadows (R-NC) in a tweet. "The DOJ has continued to hide information from Congress and repeatedly obstructed oversight–even defying multiple Congressional subpoenas. We have had enough."
Trump's supporters in the House of Representatives have been threatening to impeach Rosenstein for a while, accusing him of dragging his feet on providing requested documents related to the Russia investigation.
In fact, Rosenstein has been criticized by some for giving Congress too much access to an ongoing investigation. Such investigations are typically kept concealed as they progress to preserve their integrity.
But Republicans apparently fear what the investigation will find out about Trump, so they have used their subpoena powers to find ammunition to use against the probe. Even when the released documents reveal that the investigation is credible and above board, the president's defenders distort and lie about their contents to push the narrative that Mueller is on a "witch hunt."
The whole impeachment effort is absurd on its face. The Republicans in question have no quarrel with Trump on this matter, and if he wanted to, he could simply fire Rosenstein — which would be much easier than impeaching him.
But Trump knows that if he fired Rosenstein, it would only incite outrage for appearing to obstruct the Russia investigation. Firing former FBI director James Comey, who had been overseeing the probe, was the act that initially led to the appointment of Mueller in the first place. Even many Republicans would likely criticize and scrutinize Trump more harshly were he to fire Rosenstein.
For the same reason, many Republicans and probably all Democrats in Congress are certain to oppose the impeachment of Rosenstein. But Meadows and his allies will push forward with the effort anyway, proving their loyalty to Trump and hoping to score points with the public against Mueller and his investigation.
Cody Fenwick is a reporter and editor. Follow him on Twitter @codytfenwick.