Air Algerie Plane With Over 110 On Board Missing Over Mali
@AFP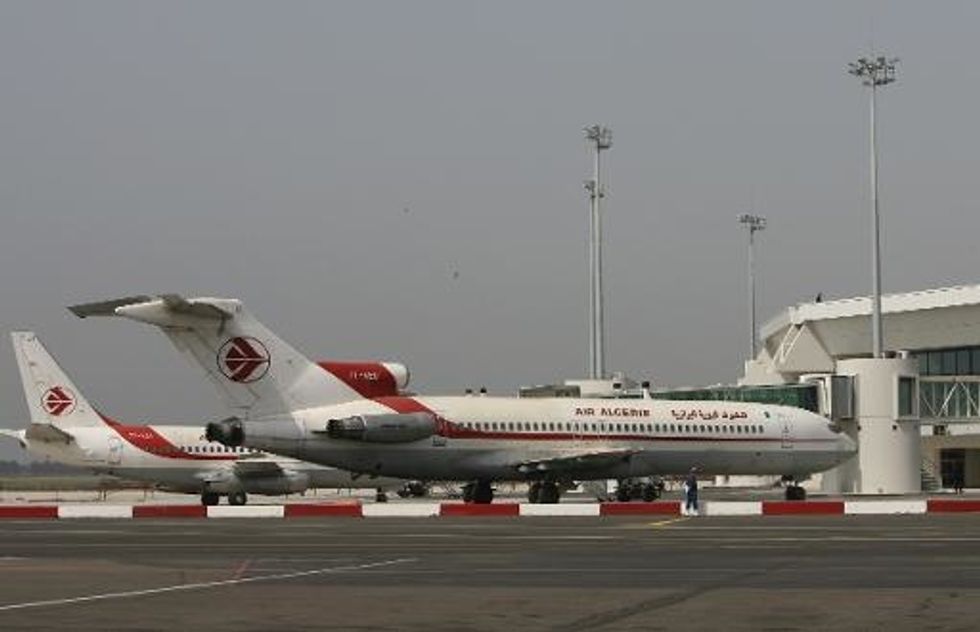 Algiers (AFP) – An Air Algerie plane with more than 110 people on board including French and Spanish nationals went missing Thursday during a flight from Burkina Faso to Algiers, company sources and officials said.
Algerian radio said 51 French citizens and 26 from Burkina Faso were among the 116 passengers on the plane which dropped off the radar as it overflew northern Mali.
Apart from seven Algerians, nationals from Canada, Ukraine and Luxembourg were also on board, it said.
An official source in Lebanon said at least 20 of its nationals were also on the flight, including three couples with 10 children.
Aviation sources told AFP the aircraft was a McDonnell Douglas MD-83 leased from Spanish company Swiftair.
Its six-member crew were all Spanish, said Spain's airline pilots' union Sepla, while Swiftair confirmed the aircraft had gone missing less than an hour after takeoff from Ouagadougou.
France's Transport Minister Frederic Cuvillier said that top civil aviation officials were holding an emergency meeting and a crisis cell had been set up.
"The plane disappeared at Gao (in Mali), 500 kilometres (300 miles) from the Algerian border. Several nationalities are among the victims," Prime Minister Abdelmalek Sellal was cited as saying by Algerian radio.
In neighboring Mali, amid reports of heavy storms in the region, the prime minister's office also said contact was lost around Gao over the country's restive north.
Northern Mali was seized by jihadist groups for several months in 2012 and the region has remained unstable despite the Islamists being driven out in a French-led offensive.
Despite international military intervention still under way, the situation remains unstable in northern Mali, which was seized by jihadist groups for several months in 2012.
On July 17, the Bamako government and armed groups from northern Mali launched tough talks in Algiers aimed at securing an elusive peace deal, and with parts of the country still mired in conflict.
"The plane was not far from the Algerian frontier when the crew was asked to make a detour because of poor visibility and to prevent the risk of collision with another aircraft on the Algiers-Bamako route," an airline source said.
"Contact was lost after the change of course."
The carrier, in a statement carried by national news agency APS, said it initiated an "emergency plan" in the search for flight AH5017, which flies the four-hour passenger route four times a week.
One of Algeria's worst air disasters occurred in February this year, when a C-130 military aircraft carrying 78 people crashed in poor weather in the mountainous northeast, killing more than 70 people.
The plane was flying from the desert garrison town of Tamanrasset in Algeria's deep south to Constantine, 320 kilometers (200 miles) east of Algiers.
Tamanrasset was the site of the country's worst ever civilian air disaster, in March 2003.
In that accident, all but one of 103 people on board were killed when an Air Algerie passenger plane crashed on takeoff after one of its engines caught fire.
The sole survivor, a young Algerian soldier, was critically injured.
In December 2012, two Algerian military jets on a routine training mission collided in mid-air near Tlemcen in the northwest, killing both pilots.
A month earlier, a twin-turboprop CASA C-295 military transport aircraft, which was carrying a cargo of paper for the printing of banknotes in Algeria, crashed in southern France.
The five soldiers and one central bank representative on board were all killed.
AFP Photo/Fayez Nureldine