Airline Tarmac Rule Leads To More Delays, Study Says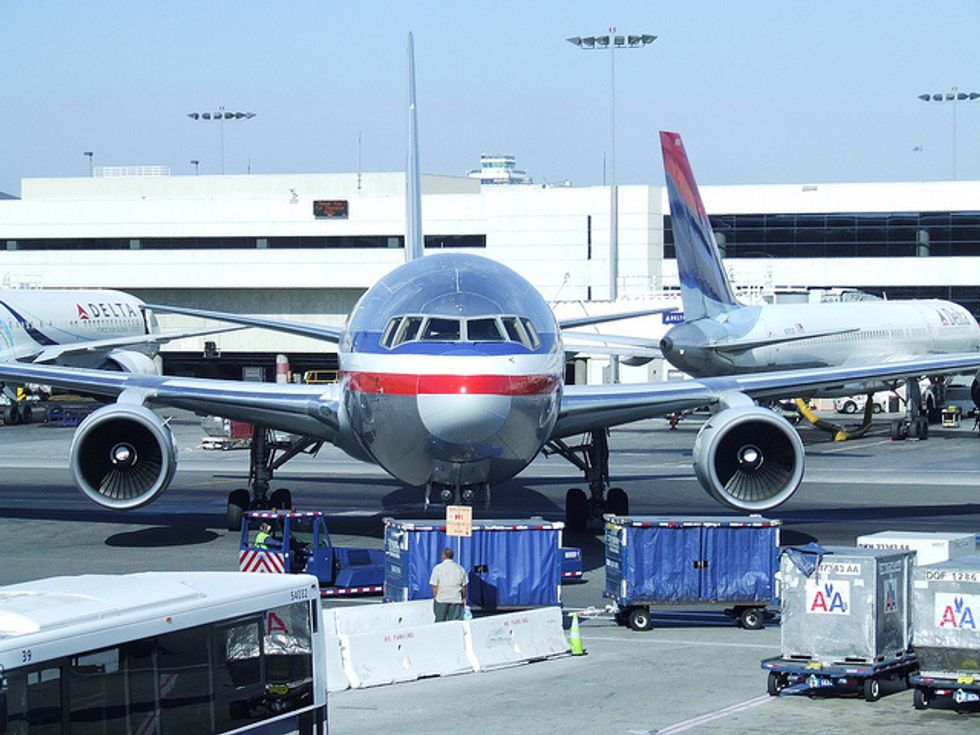 By Hugo Martin, Los Angeles Times (TNS)
One of the nation's toughest passenger rights laws — a rule that fines airlines for stranding fliers on an airport tarmac — may actually increase passenger delays instead of reducing them.
That is the conclusion of a new study by professors from Dartmouth College and MIT. The good news, according to the study, is that the 2010 law can be modified to reduce passenger delays.
The focus of the study is the so-called tarmac delay rule, which gives the U.S. Department of Transportation the authority to fine airlines up to $27,500 for each passenger on a domestic flight who is stranded on an airport tarmac for more than three hours. The time limit is increased to four hours for international flights.
The rule was adopted after blizzards on the East Coast in 2006 and 2007 left passengers stranded on planes for up to 11 hours.
But the new peer-reviewed study, which used algorithms to analyze airline flight data, concludes that airlines are now more likely to cancel flights that are delayed to avoid being fined by the Department of Transportation, thus creating more passenger delays.
For every minute the rule saves passengers from being stuck on a tarmac, passengers are delayed three minutes on average because they have to book new flights to get to their final destinations after their original flights are canceled, according to the study.
"There is no surprise that sometimes when you try to do something good you have these negative effects," said Vikrant Vaze, a co-author of the study and an assistant professor at Dartmouth's Thayer School of Engineering.
Previous studies have concluded that flight cancellations are more likely because of the tarmac rule, but the Dartmouth-MIT study says it is the first study to analyze the actual effect on passengers.
The study concluded that passenger delays can be reduced if the tarmac rule is modified to increase the tarmac time limit to 3½ hours and if the law applies only to flights scheduled to depart before 5 p.m., when passengers have more options to rebook.
Kate Hanni, a passenger-rights advocate who helped push for adoption of the tarmac rule, rejects the findings of the Dartmouth-MIT study, saying she believes that the universities are biased and accept funding from airlines.
She blames the passenger delays on airlines that schedule more flights per day than can be accommodated by the airports.
Vaze said the study was funded by a research branch of the Federal Aviation Administration and "was not funded in any part by any airline, major or otherwise."
TRAVEL SITE ARRANGES HOTEL ROOM-SHARING
Short-term rental sites such as Airbnb can save you a few bucks on your lodging costs, but now a Seattle marketing producer has created an online company that may cut your hotel bills in half.
The catch? You have to share your hotel room with a stranger.
Bryon Shannon, who founded the Winston Club in November, said he created the website so that travelers who are visiting the same town can split the cost of a hotel room. Joining the club is free, and you get to accept or reject the roommate that the club chooses for you, based on biographical information provided by club members.
Winston Club makes its money by collecting a share of the room charge just as other hotel booking sites do. So far, the club has agreements to operate in hotels in Los Angeles, Las Vegas, San Francisco, Seattle and Portland, Ore. Shannon declined to say how many travelers have used the Winston Club so far.
Although saving money is the primary goal of club members, Shannon said many members join to make friends or meet new travel companions. The service is popular, he said, with business travelers, especially self-employed workers or owners of start-up companies who are on a tight budget.
"We've noticed that business travel is one of the loneliest things," Shannon said. "It's a great option for people who are frustrated by that."
©2016 Los Angeles Times. Distributed by Tribune Content Agency, LLC.
Photo: Simon_sees via Flickr