5 Prominent Trump Critics Who Were Positively Gushing About His Syrian Airstrike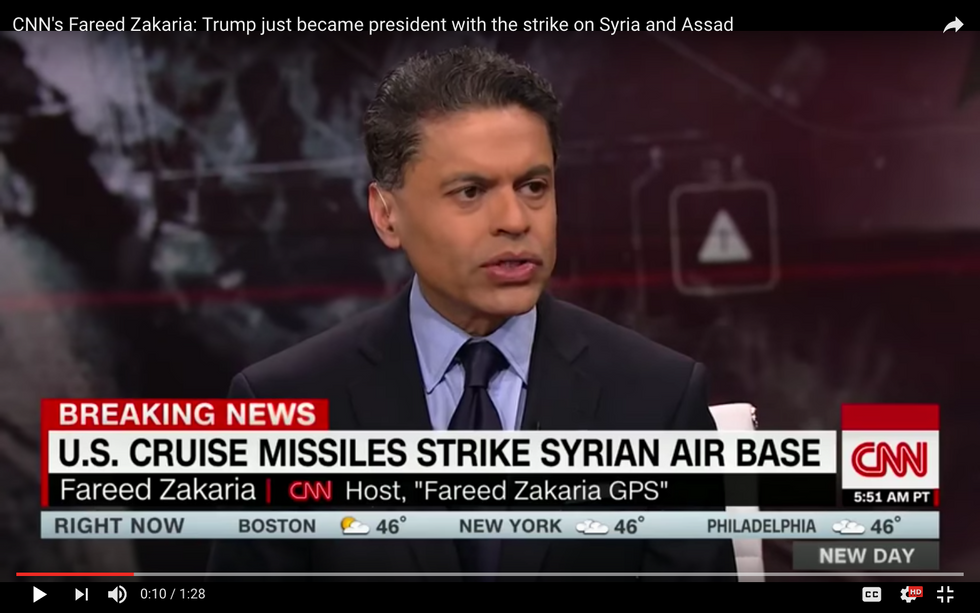 Reprinted with permission from Alternet.
Donald Trump's approval rating hit a new low this week. But since his targeted military strike on a Syrian airfield, he's received a praise unheard since his first address to Congress. Funny how a bombing campaign has a way of bringing people together.
Here are five outspoken Trump critics who were positively gushing about his latest military operation.
1. Brian Williams
MSNBC's Brian Williams appeared mesmerized by the Tomahawk missiles launched at the Syrian airfield.
"We see these beautiful pictures at night from the decks of these two U.S. Navy vessels in the eastern Mediterranean," he told Malcolm Nance, a retired counterterrorism and intelligence officer.
Williams likened the airstrike to a Leonard Cohen lyric: "I am guided by the beauty of our weapons," Williams said, without a trace of irony. "Beautiful pictures of fearsome armaments making what is for them a brief flight over to this airfield."
In 2012, during the height of Trump's birther obsession, Williams famously claimed Trump had "driven well past the last exit to relevance." If only.
2. Fareed Zakaria
"I think Donald Trump became president of the United States," Zakaria said, comparing Trump's "education" on global conflict with that of his predecessors.
"President Trump recognized that the president of the United States does have to act to enforce international norms, does have to have this broader moral and political purpose," he continued, praising Trump's speech Thursday.
"It was the kind of rhetoric that we have come to expect from American presidents since Harry Truman. But it was the kind of rhetoric that President Trump had pointedly never used either on the campaign trail nor in his inaugural, so I think there has been an interesting morphing."
Just three weeks ago, Zakaria asserted that Trump had "spent his entire life bullsh*tting."
3. Jedediah Bila
"The View" co-host, a registered independent, has remained a vocal critic of Trump ever since Trump announced his candidacy. However, Trump's airstrike on Syria late Thursday made Bila, "very proud."
She also praised Trump for not getting permission for the airstrike from Congress, to which host Joy Behar retorted, "If he had not gone to Congress—President Obama—they would have impeached him."
4. & 5. Joe Scarborough and Mika Brzezinski
The "Morning Joe" team praised Trump's decisiveness, while jokingly warning "our Russian comrade friends, if you tell Donald Trump that he didn't damage your airfields adequately and try to mock him, he will come back tonight."
"It's one thing we know about him," Brzezinski observed.
"We certainly know the status quo was unacceptable," Scarborough added, turning to Washington Post journalist David Ignatius to discuss the "timeliness" of the "very measured attack."
"They moved quickly," he added.
This article was made possible by the readers and supporters of AlterNet.