Al-Maliki Urges Iraq's Neighbors To Join Fight Against Islamists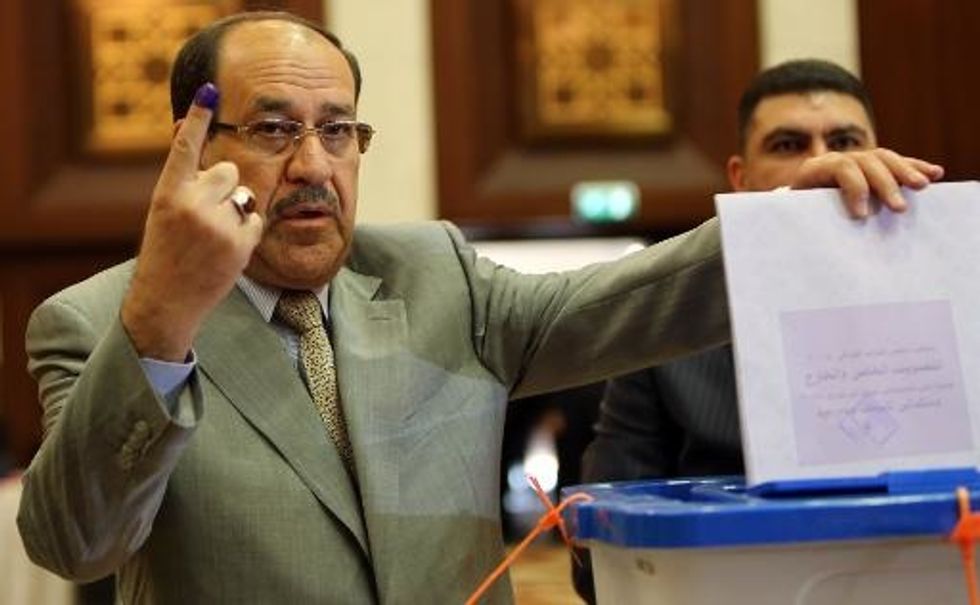 By Mitchell Prothero, McClatchy Foreign Staff
IRBIL, Iraq — Iraqi Prime Minister Nouri al-Maliki called Wednesday for support from neighboring countries in his government's struggle against Islamist insurgents, saying the formation of an Islamic caliphate in much of Iraq and Syria threatens the entire region.
The declaration of the caliphate by the radical terrorist group Islamic State and the call by its leader, Abu Bakr al Baghdadi, for Muslims the world over to join it in a holy war puts every nation in the region "within a red circle," al-Maliki said.
The prime minister's message appeared to be an appeal not just to Iraqi Sunni Muslims, some of whom have openly supported the Islamic State's offensive in Iraq, but also to countries such as Jordan, Saudi Arabia, and Kuwait, which have openly opposed assistance to the Shiite Muslim-led Iraqi government.
He urged politicians in his own country to come together to pick a new government. On Tuesday, Iraq's parliament failed to select a new speaker after Sunni Arab and Kurdish members stormed out a few minutes into the opening session. Al-Maliki described the failure to form a government as a "state of weakness."
"God willing, in the next session we will overcome it with cooperation and agreement and openness," he said. The parliament is scheduled to convene again next week.
Al-Maliki, a Shiite nationalist, has so far resisted rather broad calls to either form a national unity government quickly or step aside for a new leader, amid claims by allies and foes alike that his policies toward Iraq's Sunni minority had led many of the country's tribes to join the Islamic State rebellion.
Al-Maliki also addressed on Wednesday growing division with Iraq's Kurds, whose Kurdistan Regional Government is largely autonomous but remains part of the country. As the Iraqi army collapsed last month before the Islamic State's onslaught, the Kurds expanded their control to the disputed oil-rich city of Kirkuk. Kurdish President Massoud Barzani also has said he will hold a referendum on independence.
Al-Maliki noted that the Iraqi Constitution allows for a federal system but contains no provisions for such a move to independence. He angrily charged that the Kurds were "trying to take advantage of the situation" with their occupation of Kirkuk, and he described the situation as unresolved.
It was unlikely that al-Maliki's call for support from his neighbors would be greeted positively. With the exception of Iran, which like Iraq is ruled by Shiites, and Syria, where the Shiite-linked Alawite sect holds sway, al-Maliki's neighbors are ruled by Sunni monarchies, and they've bitterly opposed his leadership. Even Baghdadi's Ramadan message, in which he singled out Sham — an Arabic geographic term that would include Lebanon and Jordan — and Egypt from the Arabian Peninsula as regimes that oppress Muslims, was unlikely to rally those countries to al-Maliki's side.
AFP Photo/Ali al-Saadi
Interested in world news? Sign up for our daily email newsletter!