Al-Qaida Group Threatens To Kill American Hostage Luke Somers In Video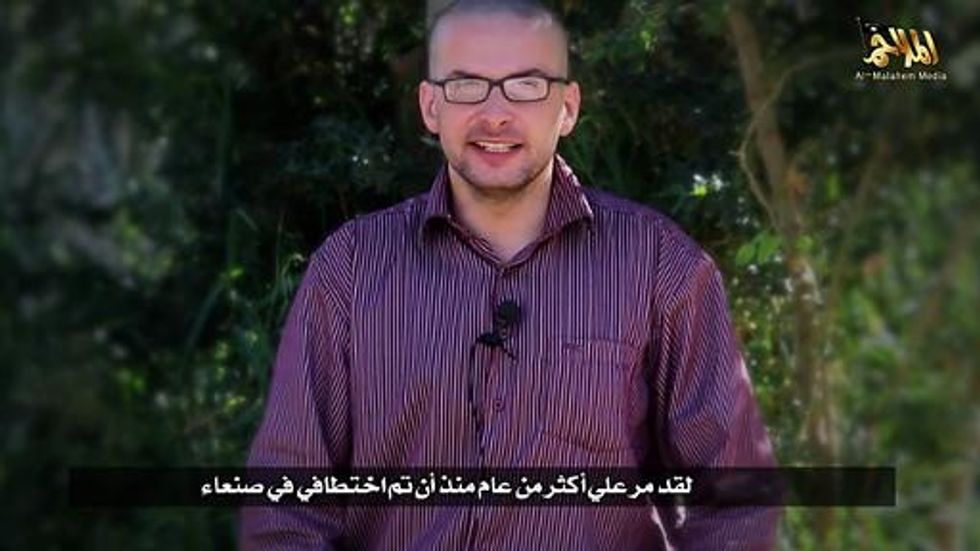 By Laura King and Nabih Bulos, Los Angeles Times (TNS)
CAIRO — Yemen's al-Qaida affiliate has threatened to kill American hostage Luke Somers in three days if its demands are not met, according to a U.S. group that monitors terrorist organizations and jihadist activity.
In the video obtained by the SITE intelligence group and later posted on YouTube and other sites, the captive identified himself as 33-year-old Somers, a British-born U.S. photojournalist who disappeared more than a year ago in Yemen's capital, Sana.
Somers was among the apparent targets of a rescue attempt last month by a joint Yemeni-U.S. raid that freed eight other captives. But he had been moved before the raid took place, Yemeni officials said afterward.
In the video, his captors denounce American policy and say Somers "will meet his inevitable fate" unless unspecified demands are met. The photojournalist, clad in a purple shirt and wearing glasses, appeared in the video, appealing in English for help in freeing him.
"Basically, I'm looking for any help that can get me out of this situation," he said. "I'm certain that my life is in danger."
The video also includes an Arabic-language statement from Nasser bin Ali al-Ansi, a local al-Qaida leader, in which he says the Obama administration is aware of the demands the group has made.
As Yemen has slid deeper into chaos, its al-Qaida affiliate has been under increasing pressure not only from U.S.-led strikes but from Shiite Muslim Houthi rebels who took over the capital two months ago and have made territorial gains elsewhere in the impoverished but strategic country.
Al-Qaida in the Arabian Peninsula, considered one of the organization's most dangerous offshoots, has staged a number of attacks against Houthi and Shiite targets.
On Wednesday, a bomb blast outside the Iranian ambassador's residence in Sana killed at least three people, including the bomber, and raised fears about attackers' ability to strike at will in one of Sana's most closely guarded districts.
AFP Photo