Al-Qaida Sets Up New Branch In Indian Subcontinent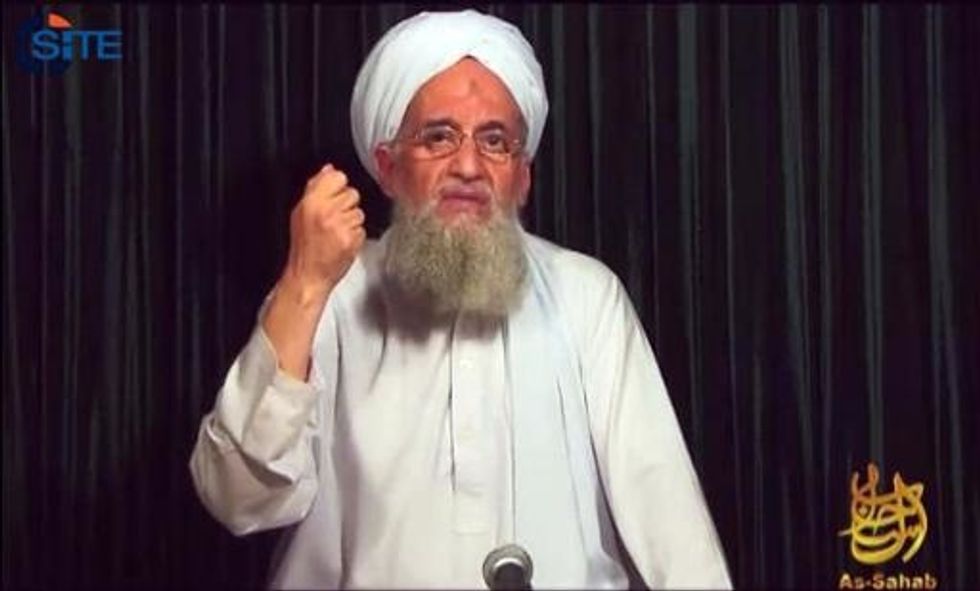 By Siddhartha Kumar, dpa
NEW DELHI — Terrorist group al-Qaida has set up a branch in South Asia, prompting Indian authorities to issue a nationwide alert Thursday, media reports and officials said.
Al-Qaida head Ayman al-Zawahiri announced the plan in a 55-minute video message posted on the internet Wednesday that Indian officials said appeared to be authentic.
Al-Zawahiri called on Muslims to "wage jihad against its enemies, to liberate its land, to restore its sovereignty, and to revive its caliphate."
"Al-Qaida in the Indian Subcontinent" will be led by Asim Umar, chief of al-Qaida's Sharia Committee in Pakistan, it said.
Al-Zawahiri said the new outfit would be good for Muslims suffering injustice and oppression in Myanmar, Bangladesh, and parts of India with large Muslim populations, including Kashmir, Gujarat, and Assam.
Predominantly Hindu India has a substantial Muslim minority.
Home Minister Rajnath Singh met with top security officials to discuss the threat, a spokesman said.
Police in all states were on high alert and were stepping up intelligence-gathering on possible targets or recruitment drives, broadcaster CNN-IBN reported.
Gujarat, the home-state of Prime Minister Narendra Modi, is considered a target for Islamist militants because of the sectarian clashes with Hindus during his term as a chief minister of the state in 2002. More than 1,000 people, mostly Muslims, were killed.
In the video, the al-Qaida leader also reaffirmed his loyalty to Afghan Taliban leader Mullah Omar.
Anti-terrorism specialists said that al-Qaida may be competing for followers with the extremist group Islamic State that controls northern swathes of Syria and Iraq.
"There is despair in al-Qaida ranks that they have gotten increasingly marginalized due to the rise of the Islamic State," said Sandeep Patil of the Mumbai-based think-tank Gateway House.
The government said it was adequately prepared to meet the security threat.
"Islamic militants have been reorganizing and consolidating in the region over past years and we have experienced several attacks including the Mumbai 2008 strike," said P Chandra Shekhar Rao, convenor of the security cell of the ruling Bharatiya Janata Party.
"If their (al Qaida's) intention is to spread disorder and violence in India, then they should know that they will get a befitting reply," BJP spokesman Mukhtar Abbas Naqvi told reporters.
A total of 166 people were killed when gunmen attacked several public buildings in Mumbai in 2008, in an attack attributed to Pakistan-based Lashkar-e-Taiba.
But analysts warned that little has been done to improve security since the Mumbai attacks, despite promises by the new government to improve policing and intelligence.
"Al-Qaida presents a significant threat as because of its linkages with Lashkar-e-Taiba, Jaish-e-Mohammad and other groups that already operate in India," Patil said.
AFP Photo
Interested in world news? Sign up for our daily email newsletter!