Alan Dershowitz's Deep Ties To Trump's Biggest Donors
@EliClifton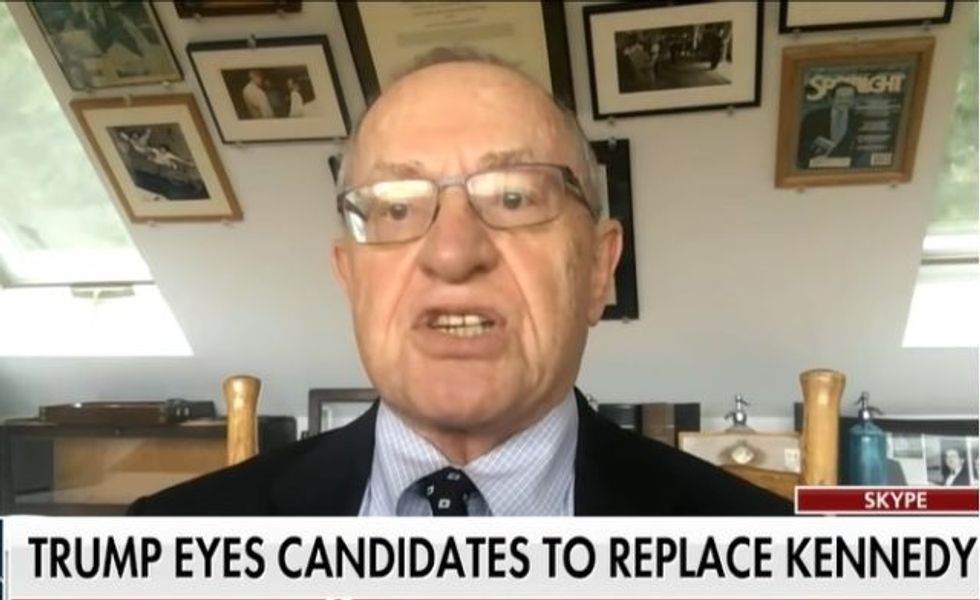 Reprinted with permission from Lobelog.
Over the course of the Trump administration, former Harvard Law School professor Alan Dershowitz has emerged as one of the president's most vocal defenders on cable news networks, op-ed pages, and in his bluntly titled book, The Case Against Impeaching Trump. Much of what purportedly makes Dershowitz compelling as a Trump defender is his past history as a supporter of Hillary Clinton (he contributed $5,400 to her presidential campaign in 2016 and $2,700 to her joint fundraising committee in 2015).
But Dershowitz's ties to Trump's inner orbit were already in place at the time of his contributions to Hillary Clinton. These ties include conducting paid legal work for Trump's biggest donor, Sheldon Adelson (who alongside his wife spent $35 million to help elect Trump) and sitting on the board of the Gatestone Institute, an anti-Muslim and anti-refugee think tank then chaired by Trump's now-National Security Adviser John Bolton and partially funded by Trump megadonors Robert and Rebekah Mercer.
Court documents reveal that Dershowitz represented Adelson and his companies for over three years and in two high-profile lawsuits.
Working with Sands
According to Nevada Supreme Court filings, Dershowitz represented Las Vegas Sands, its Macau subsidiary, Sands China, and Sands CEO Sheldon Adelson in a wrongful termination lawsuit filed by former Sands China CEO Steven Jacobs. Dershowitz first appeared in court filings related to the case on March 17, 2016. And since March 29, 2013, Dershowitz represented Las Vegas Sands in another lawsuit filed by Richard Suen, a Hong Kong businessman who claimed that Sands owed him $5 million plus two percent of the company's Macau gaming revenue in return for his help in securing a gaming license for Sands Macau and arranging meetings for Adelson in Beijing.
The Nevada Supreme Court found that Suen's company "presented substantial evidence that facilitating the Beijing meetings [for Sheldon Adelson] benefitted [Las Vegas Sands]" and ordered a new hearing to determine damages.
Jacobs and Sands reached a confidential settlement in May 2016. There were no further filings for either case in the Nevada Supreme Court after summer 2016.
Sands Vice President Ron Reese told LobeLog that "Mr. Dershowitz provided services to Las Vegas Sands and Sands China" but was unable to provide exact dates for when Dershowitz began and ended his work for Sands. Reese confirmed that "[Dershowitz] is not currently doing any work on the company's behalf."
For his part, Dershowitz told LobeLog by email, "I have argued several appeals for and provided legal advice to the Sands Corp for which I received my usual legal fees." He did not respond to questions about how much compensation he received or the time period in which he worked for Sands and/or Adelson.
Dershowitz has publicly acknowledged that his work for Sands goes back further than 2013.
In 2012, Dershowitz urged the National Jewish Democratic Council (NJDC) to apologize for suggesting that Adelson approved of prostitution at his properties. In a statement issued to the Jewish Telegraph Agency's Ron Kampeas, Dershowitz acknowledged various other financial ties to Adelson and doing work for Sands as early as 2001.
Kampeas wrote:
Dershowitz said he could not comment on the freedom of speech merits of the NJDC case because he may be called upon to act as a witness should the lawsuit go to trial.

Organizations associated with Adelson have paid Dershowitz twice: for speaking at the Jewish day school founded by Adelson and his wife, Miriam, in Las Vegas, and as a lawyer helping to represent Adelson's Venetian casino in its efforts to keep union picketers off sidewalks adjacent to the hotel. The Venetian lost that 2001 case, which Dershowitz said occurred before he met Adelson.

"The work he does for Jewish education is unmatched," Dershowitz said.
Ideological Alignment
Besides providing paid legal work, Dershowitz has a history of aligning ideologically with and publicly defending Trump and the GOP's biggest donor.
Indeed, Dershowitz appears to agree with much of Adelson's work in the Jewish community. In 2015, Dershowitz joined the Adelson-funded Maccabee Task Force's board. The group, whose president is Adelson himself, works to combat the growing Boycott Divestment and Sanctions (BDS) movement, a campaign promoting various forms of boycott against Israel on U.S. college campuses. The group helps pay for campus Hillel trips to Israel at various universities but also funds more extreme organizations like the David Horowitz Freedom Center whose president, David Horowitz, has a history of espousing anti-Muslim views and a revisionist history of slavery and lynching. The Maccabee task force contributed a total of $100,000 to Horowitz's group across the 2015 and 2016 tax years.
When asked about financial ties or compensation from the Maccabee Task Force, Dershowitz told LobeLog, "I have never received compensation from the Maccabee Task Force."
Closely mirroring Adelson's hawkish foreign policy views, particularly regarding Iran, which the billionaire once suggested the United States should attack with a nuclear weapon, Adelson opposed the Joint Comprehensive Plan of Action (JCPOA) negotiated between Iran and the P5+1. Since 2013, Dershowitz has been urging Congress to pass a resolution authorizing the president to use military force to prevent Iran from acquiring a nuclear weapon.
Dershowitz and Adelson's names came together again earlier this year when reports emerged that the EPA, under then-Administrator Scott Pruitt, had signed a research agreement with Water-Gen, an Israeli company that claims to produce an "atmospheric water generator" that extracts water from the air, after Adelson helped broker a March 29, 2017 meeting between Water-Gen executives and Pruitt.
Dershowitz sits on the board of Water-Gen and publicly promoted the company's product at the 2017 AIPAC conference, two days before Pruitt's meeting with Water-Gen executives.
But Dershowitz denied any involvement. "I never spoke to Mr Adelson about Watergen [sic] or the EPA," he wrote in an email to LobeLog. "I have received no payments for my board membership from Watergen [sic]." He did not respond to questions about whether he holds any equity in Water-Gen.
Dershowitz's ties to Trump's most important funders aren't limited to Adelson.
He also serves on the board of the Gatestone Institute, a think tank that regularly publishes anti-Muslim and anti-immigrant articles.
In March, The Intercept's Lee Fang reviewed Gatestone's output and found:
Just this week, the Gatestone Institute published stories claiming that the "mostly Muslim male migrants from Africa, Asia and the Middle East" in Germany are fueling a "migrant rape crisis" and that "Muslim mass-rape gangs" are transforming the United Kingdom into "an Islamist Colony."

The website routinely portrays Muslim migrants and refugees as an existential threat to Europe and the United States, claiming that immigrants bring "highly infectious diseases," genital mutilation practices, and terror to any nation that accepts them. The site spent years sharply criticizing the Obama administration for having a "traditional Muslim bias" against Christians.
Gatestone was chaired by John Bolton, whom Adelson has long championed, until he replaced H.R. McMaster as Trump's national security advisor. The institute received at least $200,000 in funding from the Robert Mercer-funded and Rebekah Mercer (Robert's daughter)-directed Mercer Family Foundation across 2015 and 2016.
Robert Mercer is Trump's second biggest donor behind the Adelsons, spending $15.5 million to help with Trump's election.
Dershowitz acknowledged to LobeLog that he is still a board member of Gatestone but did not respond to questions regarding whether he receives any compensation from the organization.
Although Dershowitz's alignment with Trump's top donors' business, philanthropic, and political activities might all be purely coincidental, one thing is very clear: Alan Dershowitz has a long history of collaborating with and working for the small group of people who made the largest financial investments in Trump's candidacy.
UPDATE:
The JTA reports that Dershowitz participated in a White House Rosh Hashanah phone call with a group of rabbis and Jewish leaders. Trump spoke about U.S. withdrawal from the nuclear deal with Iran. "Taking part in the 20-minute call were [Trump's] son-in-law and adviser Jared Kushner; U.S. Ambassador to Israel David Friedman; the attorney and law professor Alan Dershowitz; and former U.S. Sen. Norm Coleman of Minnesota," said the JTA. "Trump did not invite questions from listeners, although Coleman and Dershowitz both asked questions."