Alaskan Cruise Excursions: From Glaciers To Dog-Sledding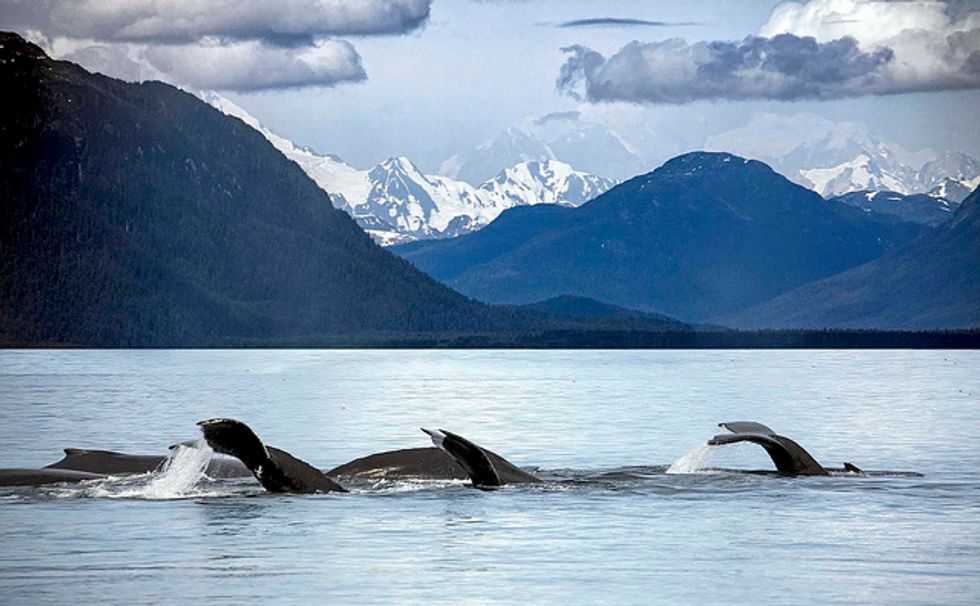 By Carol Ann Davidson (TNS)
Davidson Glacier sounded practically familial to me considering my last name. So, when I was offered innumerable excursions on my Holland America Line Alaska cruise, my first choice was Glacier Point Wilderness Safari in Haines.
The 4-mile glacier was named after the U.S. Coast surveyor George Davidson who, in 1869, was sent to Alaska to observe a total eclipse of the sun, which he had predicted, and, with the help of the native Tlingit people, extensively explored this dramatically beautiful area.
One sunny afternoon, a catamaran whisked my small group on a 40-minute ride along Lynn Canal (North America's longest and deepest fjord), whizzing by sun-bathing sea lions basking on ancient rocks, and bald eagles angling for fish. We then picnicked in a field of wild, pink roses, walked through a rain forest, climbed into a 31-foot voyager canoe and paddled towards the edge of the massive ice flow.
Along the way, nesting Turns were flying about and as we got closer to the glacier the warm air turned suddenly frigid. From a distance the glacier looked bright white, but close up was magically transformed into a pale blue color with splashes of deep sapphire seemingly poured into the crevices. Cold, beautiful and mysterious, a Hitchcockian leading lady of the north.
But then the entire scenic trip seemed like an epic film rolled out on grand scale on this 1,945-nautical mile trip up and down Alaska's Inside Passage. The 82,000-ton Noordam ship, with its 2,000 guests and 800 crew, may have looked to the humpback whales and orcas like their prehistoric parent as it cruised grandly northward from Vancouver, British Columbia.
At 6:30 am on the first morning at sea, as I lounged on my perfectly wonderful veranda, a humpback sounded with a wave of his gigantic tail. I was sure that Holland America had staged it, on cue.
We traveled north by northwest and the natural setting of mountain ranges, sea and islands were draped in layers and tones of dark grey, silver grey and black by the mist and soft cloud cover. It was a day for taking in the vista but also to explore the ship: 11 decks high, two swimming pools, four hot tubs, 14 passenger elevators, 1 Promenade deck for leisurely walks, a Culinary Arts Center, The Destinations Cafe with computer stations (need better and faster connections), library and game rooms, clothing and jewelry shops, casinos, entertainment venues, the ever busy Greenhouse Spa with its myriad body and face treatments (I indulged in the hot stone massage).
Then, of course, the restaurants. There are five to choose from and they combine the culinary expertise of some of the world's most talented chefs. Working with the master chef, Rudi Sodamin, were Elizabeth Faulkner, David Burke, Jacques Torres, Jonnie Boer and Mark Best. Pairing their creative menus with wine selections was the knowledgeable and charismatic 29-year-old Hungarian sommelier/cellar master, Csaba Toth.
I have to admit that I am not a tippler and so took my cues from the wine enthusiasts around me. But descriptions such as "briary hints of oak, mahogany" or "steely dry with stone fruit notes" mentally transported me into the woods with surround-sound flutes.
I can't say that all the food on the Noordam pleased my palette. The king salmon in the Pinnacle was overcooked and somewhat tasteless; the lobster salad in Le Cirque not as succulent as I've had, but when the food was good it was very, very good. The garden pea soup at Le Cirque was the greenest, freshest and most delectable I've ever tasted. Their Chateaubriand with horseradish flan and sour baby beets, sublime.
Then there were the desserts. Take the baked Alaska, for example. Never have I seen meringue so high, or so wide for that matter, and dare I say infused with Ben and Jerry's ice-cream. Or the chocolate souffle that actually looked like a rather large bomb, that when pierced with a fork, deflated like a balloon, into molten chocolate lava (a brown version of a glacier perhaps?).
The Pappardelle with shrimp and artichokes at Canaletto was equal to the artist who inspired the Italian restaurant's name. And their tiramisu had enough rum and coffee liquor to make the gentle swaying of the ship seem positively normal.
After a full day of eating and a long, deep sleep in my comfortable stateroom, Juneau, Alaska's capital, greeted us in the morning. Juneau was the scene of Alaska's first big gold rush after the coveted metal was found there in 1880. The city pays tribute to that wild time of dreamers and schemers by maintaining its original architecture.
After a brief city tour, we embarked on "The Best of Juneau" excursion: a triple tasting of whale watching, salmon feasting at the rustic Orca Point Lodge and a too short visit to the massive 12-mile long Mendenhall Glacier. The tour offered each of us a $100 refund if we left without seeing whales. No refund. Humpback mothers and their calves captivated us for hours.
One hundred nautical miles north of Juneau lies another gold rush town, the charming seven–block–long town of Skagway, immortalized by Jack London's both heartbreaking and heart-warming novel, "Call of the Wild." Buck, the canine hero, became embedded in my mind after recently reading the story. Partly because of that book and also because of the annual, grueling long distance dog-sled race, Iditarod, I was bound to take the dog-sled excursion in a musher's camp high in the mountains outside of Skagwag.
OK, so it wasn't on snow, (if you wanted that, then there is the helicopter ride to a glacier and then the dogs), but sledding on the frost-free ground in Tongass National Forest was a thrill anyway. Sixteen harnessed dogs barked with impatience to get on the road. They are bred for this and are the fastest animals in the world at marathons of a 1,000 miles.
After they sped back into camp, we met with a former Iditarod musher who allowed each of us to hold one of the newborn pups (the mothers watching wearily nearby). One of them, who at my request was anointed the name of Davey, slept in my arms for about 20 minutes. The musher practically had to pry him from my grasp. Even the men in my group were fawning. So much for sexist stereotypes.
The next day we glided along the spectacular Glacier Bay. It is a national park, a United Nations biosphere reserve and a world heritage site. You can't get a higher rating than that and deservedly so. Just 250 years ago, the bay was all glacier, a massive river of ice, roughly 100 miles long and thousands of feet deep. That glacier is gone as it retreated north.
Tidewater glaciers remain and as one cruises by, great chunks can be heard and seen as they calve and float away. A National Park Service Ranger came on board and told us about the geologic history of the area as well as the mammals: humpback whales have eyes that can see into their mouths and their throats are only as large as a cantaloupe so they can't swallow you (a good thing). Mind you, you may not be so lucky with the killer whales (orcas) who are actually not whales at all, but the largest of the dolphin family.
After the serenity of Glacier Bay, the city of Ketchikan the next day was brimming with bustle. It rained, of course, because that's what it does in this town that gets 12 feet of rain a year and for that reason is called the rain capital of Alaska.
It is also called the salmon capital of the world. Salmon in cans, smoked salmon in vacuum packs, salmon emblazoned T-shirts, and salmon watercolors were flying out the shopkeepers' and artists' doors. I was quite taken by three artists in particular: Ken Decker, painter and owner of Crazy Wolf Studio; Ana Matta, jewelry designer from Brazil; Maida Kelley, watercolor artist who sits in a kiosk and takes time to chat with all the passersby.
For my last excursion on the voyage, I went crab fishing. Yes indeed, I did. Our catamaran sped away from Ketchikan, passing salmon canneries and bald eagles surveying the scene from their aeries atop the tallest trees, to a secluded crab estuary, where Dungeness crabs thrived.
Caged "pots" of crabs were pulled up by ropes and all on board were given the short version of their life cycle, allowed to hold one, carefully (not as cute as the puppies!), put them back in the cage and lowered again into their watery home. We did not eat them, but that didn't stop us from enjoying a crab feast at the remote George Inlet Lodge, that took 79 steps straight up from the road to get to.
A huge bowl was placed in the middle of each table for the discarded crab shells. One table would be crowned the crab feast champion based on how high you could pile those shells. A tip. Our table dutifully threw the shells into the bowl but the winning table was ingenious. They arranged their beer glasses like a totem pole and perched the bowl filled with shells on top. Remember this the next time you travel to Alaska. I certainly will.
Distributed by Tribune Content Agency, LLC.
Image by Christopher Michel via Flickr