Albuquerque Police Chief Defends Actions After Protest Turns Violent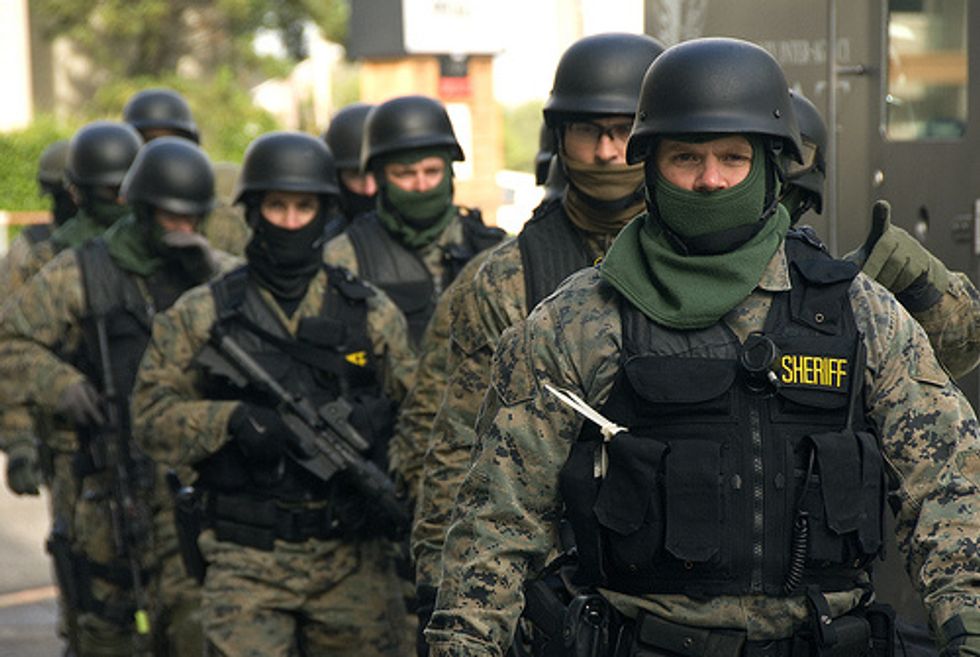 By Michael Muskal, Los Angeles Times
Albuquerque police acted with restraint in dealing with a demonstration over the weekend, Police Chief Gorden Eden Jr. said Monday, but as the group evolved into a "mob mentality," authorities were forced to use tear gas to control the situation.
At one point during the protest, which began about noon and got out of control later Sunday, a man in body armor displayed what police believed was an AK-47 and appeared to load the weapon, the chief said. The man is being sought and was not one of the four people arrested, Eden said.
He said officers have looked at videotape and images of the incident and are convinced it was a genuine weapon. "I can assure you that was not a paintball gun," Eden told a televised news conference.
On Sunday, hundreds of people responded to calls for a demonstration protesting 37 police shootings — 23 of them fatal — since 2010. The protest came days after a video was published on YouTube showing a homeless camper, James Boyd, 38, being shot by police March 16 as he seemed about to surrender.
A group of cyberactivists called for the protest and said they would attack police websites. The chief said the police department's website had been breached early Sunday afternoon, but it was back online by that evening. The department's Facebook and Twitter pages were also compromised, he said.
The Justice Department is investigating the string of fatal incidents and the FBI has taken over the inquiry into the shooting of Boyd, Eden told reporters.
According to Eden, the events on Sunday appeared to be two separate protests. The first, beginning about noon, drew 300 to 350 people and was peaceful, he said.
"Later, the situation shifted from a protest to a mob," Eden said. "It was very much a mob mentality."
As the day went on, demonstrators became aggressive toward police, the chief said.
"Our officers were deployed for emergency response. We didn't go looking for them, they came looking for us," the chief said. "They threw bottles and rocks."
Four people have been arrested on disorderly conduct charges, the chief said. One officer was slightly injured.
"We believe our officers acted with a tremendous amount of restraint," Eden said, describing a "fluid situation" that included the use of tear gas at least twice by police.
New Mexico Gov. Susana Martinez on Monday urged the public to remain calm while the federal investigations into the shootings are carried out.
"Albuquerque is going through a tough time, and they'll figure it out through the investigation," the governor told reporters at a news conference. "We want that to be thorough. We want confidence in the investigation, but I just don't want to see anyone harmed."
OregonDOT via Flickr.com