Aleppo, Arrests, And The Danger Of Third Parties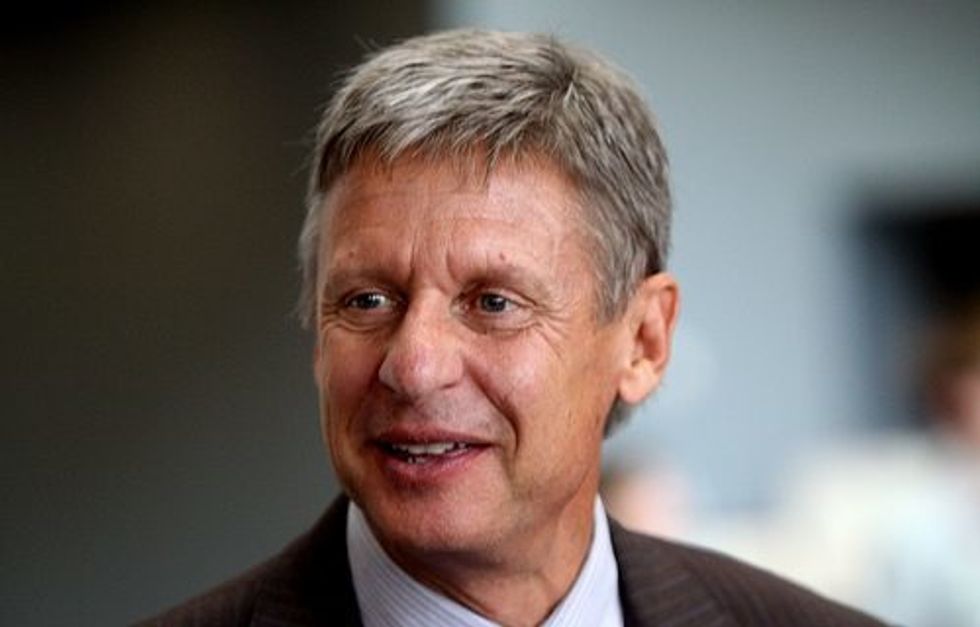 Gary Johnson, former governor of New Mexico and current presidential candidate of the Libertarian Party, was asked a question about one of the worst humanitarian crises in the world, the ongoing and unending slaughter in Aleppo, Syria. His response?
Terrified we may forget that blunder, Johnson was good enough to remind us of it Wednesday when he failed to recall the name of a single foreign leader from anywhere in the world.
"I guess I'm having an Aleppo moment," he said. Voters should perhaps take heart that he now knows what Aleppo is. Gary Johnson is on the ballot in all 50 states, competing with the major party nominees for your vote.
Jill Stein, former and current perennial candidate of the Green Party, has a warrant issued for her arrest, for criminal trespass and criminal mischief. Two days after the warrant was issued in North Dakota, the outlaw called for a new investigation into what happened on September 11, 2001.
When people wonder why third party candidates are not taken more seriously in the United States, these are some of the reasons why. Real candidates speak to more than a fringe of voters. They enjoy enough appeal from broad sections of the electorate to be invited to debate on stages, rather than being escorted away from them by police.
Stein, in particular, brings new and fresh examples of all the many ways a candidate can be unqualified for the office he or she may seek. Her previous elected experience is confined to two terms as a member of 'Town Meeting', the legislative body governing the town of Lexington, MA. That meeting can be composed of "no more than 203 members", which sounds like a description of the Green Party as well.
These are candidates for the presidency of the United States. Their names are tested in many national and state polls. They raise money from donors and conduct interviews. These are some of the people that seek to lead the free world.
To be taken seriously, one should put a modicum of effort into being a serious person, taking on all of the issues. Gaining foreign policy experience, seeking out knowledge on world events, these are more than the chores of the boring elite. They're necessary steps in a complicated and dangerous world that does not have room for more demagogues or fools.
In contrast, only one party has nominated a candidate who takes the tasks of national leadership seriously. Hillary Clinton embodies what the presidency is supposed to be about—preparation, perseverance, and a focus on substantive ways to improve the quality of life for all Americans.
I haven't always been a Hillary Clinton admirer. As a soldier serving in my second tour in Iraq in 2007, I saw firsthand the dangers that come from making an error in judgement on foreign policy. I supported Barack Obama in 2008, and have never regretted that decision for a moment.
But because I know firsthand that the world is an incredibly dangerous place, I'm not willing for a second to waste my vote on an untested or erratic candidate. I'm not willing to base my vote on vague concepts of 'likability' or 'warmth'. I want to elect the candidate that knows the most about the country and the world, and has put the effort into leadership to meet people and consult with experts.
The dangers of third party candidates comes from their willingness to sell a narrowly perfect vision to a potentially decisive few. While a minor segment of the population believes fully in the Green or Libertarian Party sales pitch, a candidate like Donald Trump can escape with a plurality of support and become the next president.
It's fair to say that no Ralph Nader supporters knew their votes would help tip the election to George W. Bush in 2000. It's obvious that none of them knew that the deadliest terrorist attack in US history would occur less than a year later, that Iraq would be invaded, that the Islamic State and Bashar al-Assad would smash against each other in Aleppo and leave women and children to be slaughtered in between them.
No one knows what the next four or eight years contains. That's why it has never been more important to avoid flights of fancy with third party rabble-rousers, and to vote for the most qualified and careful office-seeker we can possibly find. Hillary Clinton is that candidate. Let's all hope that enough people realize this before it's too late.
Mike Connolly is a veteran of the U.S. Army and a member of the Truman National Security Project's Defense Council. Views expressed are his own.
Photo: Gage Skidmore via Flickr.com