Alex Jones Airs Secret Tape Of NBC's Megyn Kelly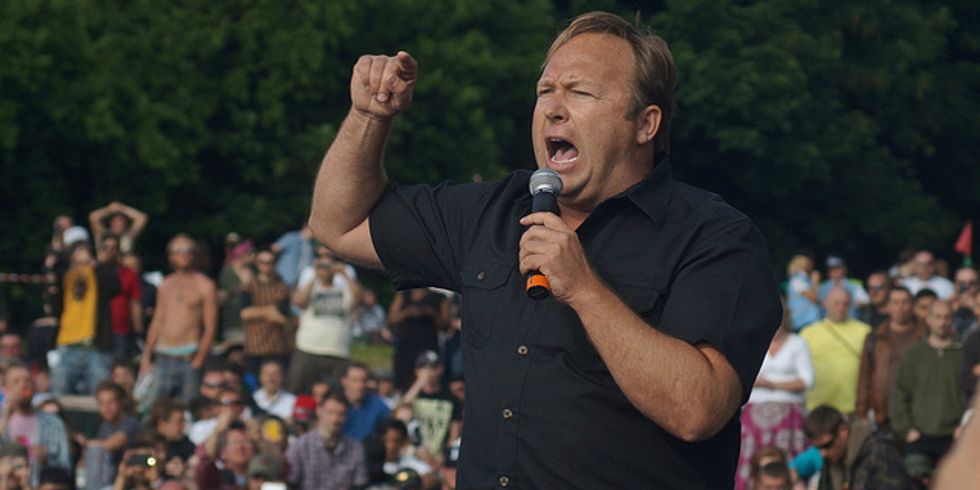 Reprinted with permission from Alternet .
Alex Jones has made a lucrative career of deranged conspiracy theories. Now his deep-seated paranoia appears to have scored him something stranger still: a legitimate scoop.
On Friday, the InfoWars host revealed that he had recorded his off-the-record, pre-interview conversations with Megyn Kelly, and he has leaked the audio in retaliation for what he claims is Kelly's misrepresentation of his views. And it doesn't look good for Kelly.
One video includes audio of Kelly promising to take it easy on Jones and not to ask any pointed questions. "My goal is for your listeners and the left—you know, who will be watching some on NBC—to say, Wow, that's really interesting," Kelly says in the recording. "It's not going to be some gotcha hit piece. I promise you that."
In another section, Kelly gushes to Jones about why she wanted to sit down with him.
"The reason you are interesting to me is because I followed your custody case, and I think you had a very good point about how the media was covering it and for some reason treated you and your family and what was going on as fair game, when they never would have done that if you were a mainstream media figure," she says. "I saw a different side of you in that whole thing and, you know, you just became very fascinating to me."
Elsewhere, Kelly assures Jones that he'll be allowed to watch footage from the interview before it airs, implying that he can request any unflattering sections be removed.
"I will personally promise to look at any clips we want to use of you, and have a producer run by you, whether we are taking it in context, what you are saying," Kelly says.
Kelly strikes a markedly different tone than she did in a statement defending her interview with Jones to those who suggested she was giving a major platform to a Sandy Hook conspiracy theorist. In that letter, Kelly suggested she would lay bare the ugliness of Jones' views.
"I find Alex Jones' suggestion that Sandy Hook was 'a hoax' as personally revolting as every other rational person does," Kelly says in the message. "Our goal in sitting down with him was to shine a light—as journalists are supposed to do—on this influential figure, and yes, to discuss the considerable falsehoods he has promoted with near impunity."
"I've never done this in 22 years. I've never recorded another journalist, but I knew it was a fraud, that it was a lie," Jones says in a clip. "Megyn Kelly waltzed in here to Austin, Texas, and told me that she wasn't gonna talk about Sandy Hook, she wasn't gonna talk about Pizzagate, she wasn't gonna talk about Chobani, she wasn't gonna talk about Islamic terror attacks. That she wanted to do a softball profile of Alex Jones. And when she got here with her crew of intelligence operatives, she did the opposite of what she said. And so I was recording the whole time…Information warfare is a two-way street. And we're gonna give as good as we get."
NBC responded with a statement accusing Jones of trying "distract" from the real issues.
"Despite Alex Jones' efforts to distract from and ultimately prevent the airing of our report, we remain committed to giving viewers context and insight into a controversial and polarizing figure, how he relates to the president of the United States and influences others, and to getting this serious story right. Tune in Sunday," the network wrote in an email to the Hill .
Kelly, who rose to fame in the right-wing echo chamber as a Fox News host, announced she had been hired by NBC in January. The network has declined to release official salary numbers, but Kelly is reportedly being paid between $16 and $20 million in her new role.
Kali Holloway is a senior writer and the associate editor of media and culture at AlterNet.
This article was made possible by the readers and supporters of AlterNet.