All Trumped Out? Let's Talk About Cats Instead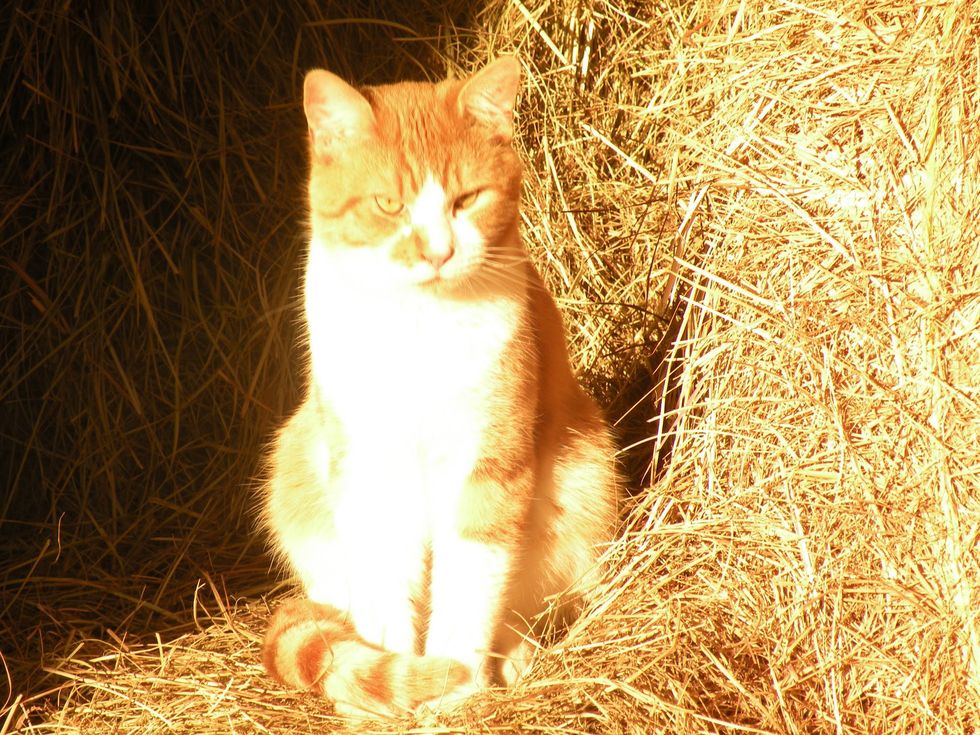 I don't know about you, but I'm all Trumped-out.
The whole country is learning how exhausting it can be to live with a seriously mentally ill person: The constant feeling of apprehension and unease over what kind of manipulative, delusional nonsense is coming next. The uncertainty about how to react. Definitely remove all weapons and secure potentially dangerous drugs. Will calling the police make things better, or worse? Is it too early to seek order of commitment? Or too late? If the judge denies it, then what?
If the analogy makes you angry, tough. You and that scrofulous twit Steve Bannon can both take a hike. He's the Trump apparatchik who says the press should keep its mouth shut. I've been hearing from knuckleheads like him as long as I've written this column. Fat chance.
Because crazy people tend to be cunning and tireless, it's important to take reality breaks. So this is a column about my six year-old orange tabby Albert, the most unusual cat I've known. Albert's had major life adjustments to make over the past year, and he's handled them with creativity and aplomb.
A little background: Albert came to us at age 12 weeks. He'd spent his infancy on a farmhouse porch surrounded by dogs and free-range chickens. So when our aggressive 110 pound Great Pyrenees Maggie stuck her muzzle in his face, he jumped on her head. She thought it was the best thing that ever happened, and adopted the kitten for life.
Hence Albert's first nickname: The Orange Dog. Besides spending most of his time among dogs, he appointed himself my personal companion, following me everywhere on our farm. He'd sit on fence posts and let Mount Nebo, the Tennessee walking horse, nuzzle him. He treated adult cows like furniture, but sniffed noses with curious calves under the fence.
One time he climbed in with the chickens and got into a standoff with the rooster—glaring at each other like Mexican prizefighters.
He showed no interest in birds after that.
Most doglike of all, Albert normally obeyed when called. I'd put the big dogs up every night, holler his name, and pick out his orange eyes with a flashlight as he came hustling for bedtime duty. As long as it was covered by a blanket, he'd lie on my chest purring. If not, no way. Did I think he was a pervert?
After we adopted another tiny orange tabby abandoned along our road, Albert learned to let himself into the bathroom towel closet for kitten-free napping. You'd hear the soft thump of the spring-loaded door as he came and went. Otherwise, he and young Martin tussled playfully like the Pink Panther and Kato, the martial arts houseboy.
His second nickname: Inspector Clouseau.
Another time he took my side in a fight with his adoptive mother. I was furious with Maggie for bullying Diane's elderly basset hound. Albert arched his back, pinned his ears, and stalked the dog with a clear intent to thrash her—all ten pounds of him. She slunk away until I nailed her with a weathered cow's thighbone she carried around.
Message delivered; crisis averted.
Soon enough, Albert had eradicated mice from the feed room. He began traveling to the neighbor's hay barn about a half mile away in search of rodents to kill. He'd sometimes stay gone overnight, which worried me for fear of coyotes.
Sometimes the dogs and I would walk over there to fetch him. He'd run to us, rub-a-dub on everybody's legs, and then follow us home. We must have made a comical sight: three guard dogs, two basset hounds, and a creamsicle-colored tomcat parading across a cow pasture.
Then last spring I took a pratfall from a horse, breaking three ribs and buggering up my hip. I was in serious pain for six weeks. Albert dramatically changed his habits. No more cross-country expeditions. He stayed indoors day and night comforting me. He even appeared to recognize the theme music to Boston Red Sox broadcasts. After I became mobile again, he resumed prowling.
Last October, we moved back to Little Rock. I worried about how Albert would adapt, although our back gate opens on the Arkansas School for the Blind campus, and there's a steep, wooded ravine behind it. I needn't have worried. Like many older neighborhoods — our "new" house is 100 years old – -Hillcrest has a lot of rats. These smug city rodents have never met an experienced country cat. There's a new Sheriff in town. He carries their freshly slain corpses over a rock wall like a small leopard, leaving them for the dogs to admire.
Hence Albert's new nickname: The Sheriff. As rat-hunting's best at night, homebody Martin (aka The Deputy) has pretty much inherited sleep aide duties. His own specialty is burrowing under the covers like a ground hog, and snuggling between us all night.