America Is Exceptionally Dumb When It Comes To Guns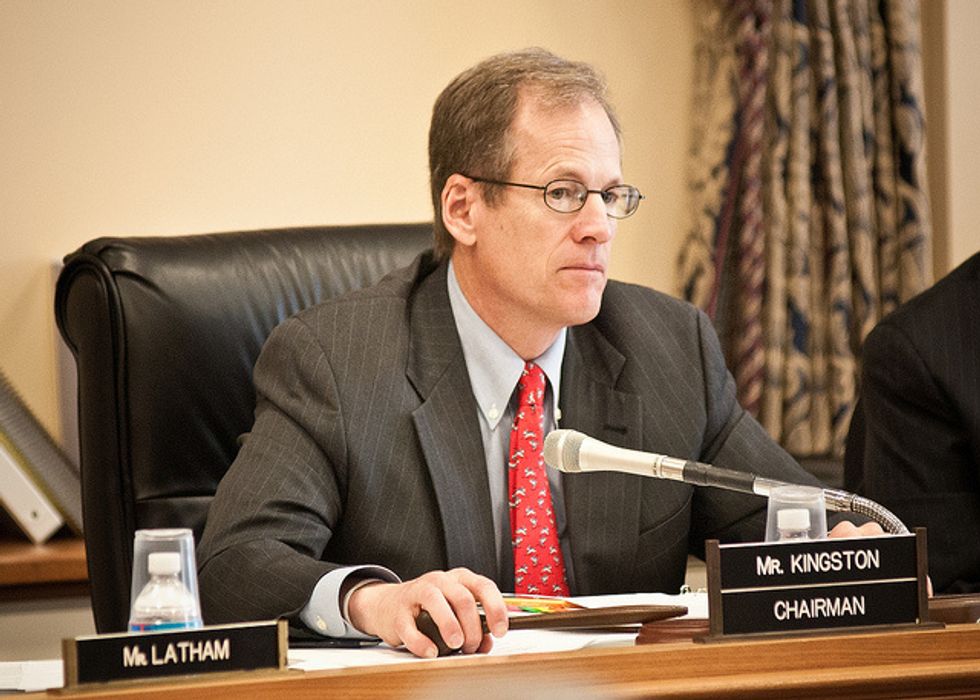 While Americans typically laud our national "exceptionalism" — a sense that the trajectory of history has bestowed greatness upon the United States — there are a few of our distinctive characteristics that don't deserve celebration. On the subject of firearms, for example, the United States is exceptionally irrational. No other nation has set guns aside as an object of worship.
We have let a blood-soaked gun lobby dictate our laws and regulations on firearms; we have passed "stand your ground" laws that allow violent and angry men to murder unarmed people; we have given the mentally unstable the ability to buy military-style assault weapons with which they wreak havoc on crowds. Last week, Georgia governor Nathan Deal signed a bill into law that would allow denizens of his state to carry firearms into government buildings, bars and, God help us, churches.
In addition, we have allowed the gun lobby to suppress research into the public health consequences of our firearms-worshipping culture. Indeed, U.S. Rep. Jack Kingston (R-GA) — running in a crowded GOP primary for a U.S. Senate seat — has recently reversed himself, going back on an earlier pledge to support such studies. It hardly gets any loonier than that.
In the 1990s, the National Rifle Association successfully stymied public health researchers who wanted to study the causes and consequences of gun violence. According to ProPublica, a nonprofit news organization, "funding for firearms injury prevention activities dropped from more than $2.7 million in 1995 to around $100,000 in 2012."
The gun lobby clearly fears that science will discover that guns are dangerous and that, well, more guns are more dangerous. (To quote that famous philosopher Stephen Colbert, "Reality has a well-known liberal bias.")
However, after the Sandy Hook atrocity in December 2012, it appeared that the dead bodies of 20 small children — and six adults — might be enough to finally restore some sanity to the national conversation. President Obama issued a presidential memorandum ordering the CDC to "research the causes and prevention of gun violence." The National Rifle Association didn't immediately object, since it recognized the fraught politics of that grief-laden moment.
Some of the NRA's supporters, too, were muted, seemingly willing to consider modest measures to improve public safety. Kingston was among those willing to support more research on gun violence, saying, "Let's let the data lead rather than our political opinions."
At a Savannah, Georgia, gathering shortly after Sandy Hook, he said: "You have to be a pretty sick person to squeeze a trigger on a human being, particularly unarmed children at a school. I think if we focus and keep beating up on the weapon as the problem, we are missing the big picture of mental health that we can come together on as Democrats and Republicans. I spoke with the head of the CDC last week. I think we can find some common ground."
But Kingston now finds himself in a GOP primary in which some of his right-wing opponents have tagged him as a RINO (Republican In Name Only), despite his solidly conservative credentials. That has left him desperate to court the crazies among his constituents, lest the "fire-at-will" crowd doubt his fidelity to the notion that every American should own his own shoulder-fired missile launcher.
So Kingston has dutifully signed up to block Obama's request for CDC funding for gun violence research, telling ProPublica recently that "the president's request to fund propaganda for his gun-grabbing initiatives through the CDC will not be included" in the next appropriations bill.
That means that some of the questions we desperately need answered won't get the inquiry they deserve: Do background checks deter gun violence? How many mass shooters had a detectable mental illness? What is the link between suicide and gun ownership? Even Kingston's question about a possible link between violent video games and mass shootings won't be studied.
That's just nuts, a reminder of our willingness to be exceptionally dumb about some things.
(Cynthia Tucker, winner of the 2007 Pulitzer Prize for commentary, is a visiting professor at the University of Georgia. She can be reached at cynthia@cynthiatucker.com.)
Photo: USDAgov via Flickr