American Jews Are Protesting Trump's Planned AIPAC Speech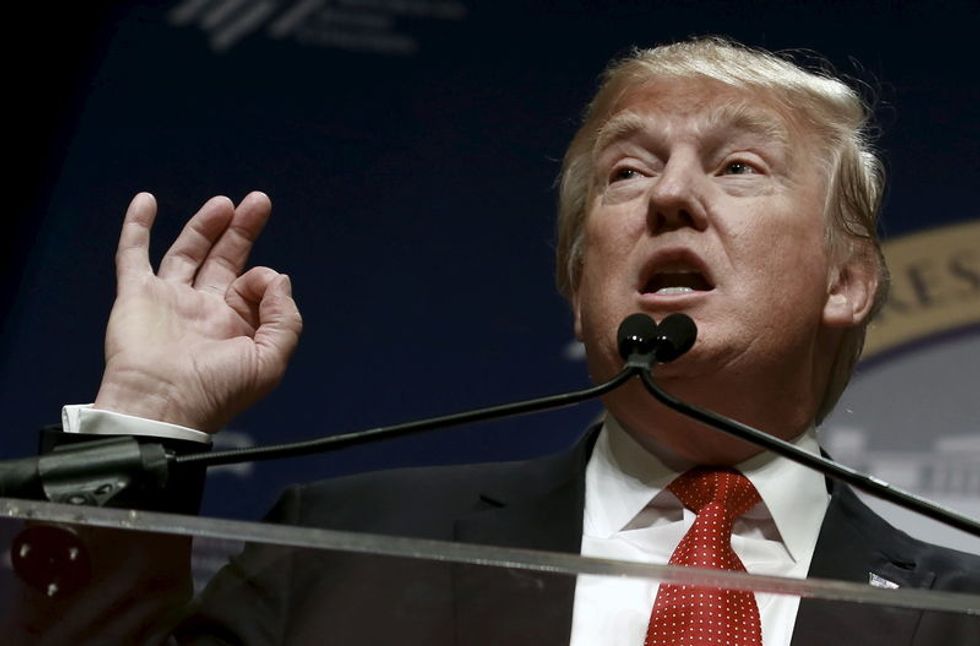 It's happening slowly, but it's happening. The American Jewish community is beginning to call Donald Trump what he is: a dangerous person.
A few months ago, the Republican Jewish Coalition — which represents some of the deepest-pocketed donors on the conservative super PAC circuit — laughed along with Trump as he said that he was "a negotiator like you folks, we're negotiators." He continued: "Is there anyone in this room who doesn't renegotiate deals? This room negotiates a lot. This room perhaps more than any room I've ever spoken to."
The Anti-Defamation League defended those remarks, for some reason.
Now, it's different. Trump has spent the past two months proving two things: that his casual racism is purposefully used to appeal to America's white nationalist underbelly, and that he could actually be president. 
When the American-Israeli Political Action Committee announced last month that Donald Trump would speak at their annual policy summit, many took it as an affront to values in the Jewish community that call for challenging racism and demagoguery.
Three days ago, the Union for Reform Judaism, the largest Jewish group in the country, put out a statement saying they would "find an appropriate and powerful way to make our voices heard" during Trump's appearance at AIPAC, claiming Trump's "campaign has been replete with naked appeals to bigotry, especially against Hispanics and Muslims," and that "in recent days, increasingly, he appears to have gone out of his way to encourage violence at his campaign events."
URJ's former president, Rabbi Eric Yoffe, wrote an editorial yesterday supporting the action, and another group, "Come Together Against Hate" has announced that they're planning a mass walkout during Trump's speech.
AIPAC is one of the largest lobbying groups in the country. Their stated mission is to "educate decision makers about the bonds that unite the United States and Israel," and, frankly, they're quite good at it. This year's policy conference — as it does every year — will feature speeches from the most prominent political figures in the nation: Joe Biden, Hillary Clinton, Paul Ryan, Ted Cruz, John Kasich, and Donald Trump, among others. The event draws thousands of attendees every year.
Though most American Jews are Democrats, It doesn't help Trump's case with conservative Jews that he said he would be "neutral" in peace negotiations between Israel and Palestine.
As former Bush speechwriter Noam Neusner explained in The Forward recently, Republican Jews have plenty of reasons to vote against Trump: "[H]is appeal to nativism, or his crony capitalism, or his crassness, or his expressed desire for "neutrality" between Israel and the Palestinians, or his admiration for Vladimir Putin, or his quotation of Mussolini, or his approval of the crushing of Chinese democracy protesters, or his rejection of permitting any Muslims into the country, or his initial refusal to forswear the endorsement of white supremacists."
According to the Washington Post's Rosalind S. Helderman, the Republican Jewish Coalition "is expected to debate how to deal with Trump during its annual meeting next month in Las Vegas."
Photo: Republican presidential candidate Donald Trump speaks at the Republican Jewish Coalition's Presidential Forum in Washington December 3, 2015. REUTERS/Yuri Gripas