Americana, Spelling, And Race: Doing The Right Thing
@JamieStiehm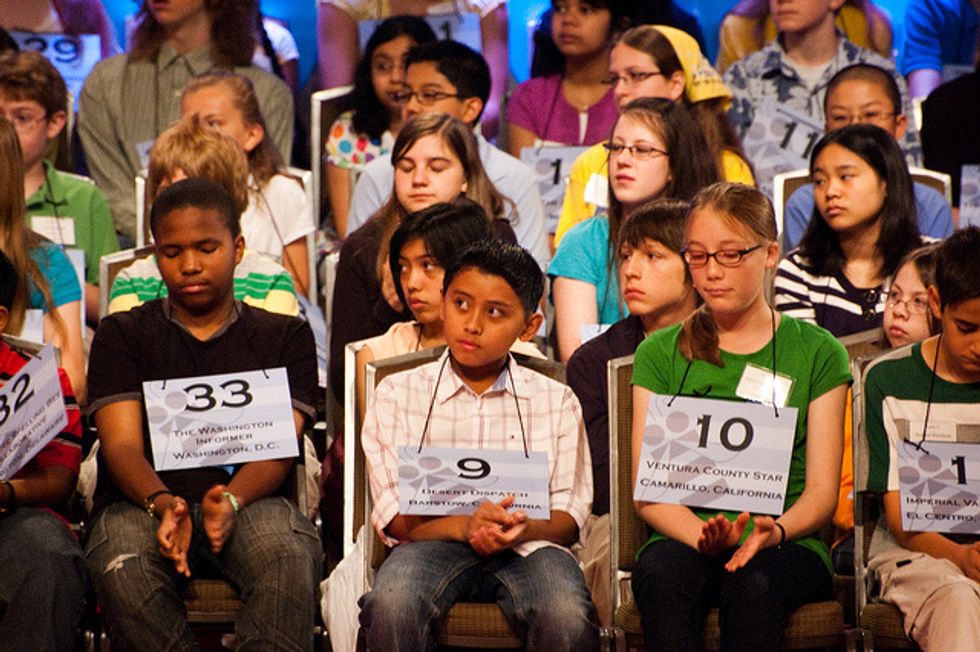 MADISON, Wisconsin — Americana on the Fourth of July. The ice-cream social, the fair, the quilts at grandmother's house, along with the village art show, egg toss, bake sale, and bursts of prairie wildflowers wherever you turn.
Midsummer also revives the radically refreshing story of America's first national spelling bee. It almost got lost, but I found it right here. In President Teddy Roosevelt's bright time, it became an American parable of race, especially timely now after June's flood of tears for the Emanuel 9 church murders in South Carolina.
Spelling bees still hold a grip on our American soul. A century ago in Ohio, one became a soul-searching drama on black and white, north and south, on a national stage. The great educator, Booker T. Washington, there to witness Midwest race matters, was dazzled. News went around the nation and world. Down South, people wept for joy in their churches – African Methodist Episcopal churches. A girl of color, Helen Bolden, won against mean Jim Crow.
When in Wisconsin on the Fourth, I turn to my late great-grandfather Warren E. Hicks, the source. This is where I knew him as a merry old gentleman turning 100 with a birthday party given by the governor's wife. As a small girl, I knew he loved a good yarn. And what a fine voice.
Little did I know my great-grandpa's greatest story. I discovered it in the papers in this house near Lake Mendota, 30 years later. Documents revealed that "Mr. Hicks" organized the first national spelling bee in 1908. It was held in Cleveland on June 29, 1908. It was considered worthy of human rights awards. Why?
"Nineteen hundred eight," was how he said it in a speech. The event was held 107 summers ago. "The Hippodrome" was where 34 city teams met to compete. The spelling teams, from Boston to Buffalo, Pittsburgh to New Orleans, enjoyed boating on Lake Erie, and seeing Cleveland — the fifth largest city. Cleveland had a large number of Jewish immigrant children, and Helen, on the home team. She ranked last on her team.
I flew downstairs to ask my grandfather, a man of few words, why this never came up in conversation? I told my sister, a screenwriter, and we worked on a script on the spelling bee — not yet produced. Everybody loved the true end of the story.
Newspapers covered the festive run-up to the bee, but not what lurked behind the innocent scenes. My great-grandfather's narrative, given in a speech, tells us New Orleans was favored to win the whole event, slated to have 500 spellers. But then their teachers saw a girl of color, Helen, on Cleveland's team. They weren't having that. As he told it, their girls did not come to the North to compete with "colored" children. Teachers threatened to leave town just before the spelling bee.
Mr. Hicks, assistant superintendent of Cleveland's schools and his boss, Mr. Elson, met the New Orleans teachers at school headquarters. There they told the Southern teachers that Helen had earned her place on the team. They would not take her off, but hoped the girls of New Orleans would "stay and spell."
Well, they did. Please note this kind of Midwestern fairness does not get a lot of press. Cleveland was also a safe haven for fugitive slaves before the Civil War.
New Orleans didn't spoil Cleveland's big day by boycotting the bee. They took the hand of reason. Yet word must have gotten round to Helen, a lovely girl whose picture we searched for in the archives. She was galvanized to win that bee. In a few days, she studied hard enough to win the whole thing. She was the only one, out of 500 students on stage, not to miss a single word in a suspenseful morning.
The throng in the Hippodrome roared when Helen was named the champion eighth-grade speller in the U.S. — "without a dollar, without a flower, just the honor." Even the Southern girls stood and cheered for her. The spelling bee story traveled like lightning as a parable of American democracy — reaching Africa.
In the simple words of Warren E. Hicks: "It demonstrated again that in our schools, every boy and every girl has a fair and even chance."
Good going, Great-grandpa. A beacon of fair play. Happy Fourth, America. Fairness is not that hard, to simply do the right thing.
To find out more about Jamie Stiehm and read features by other Creators writers and cartoonists, visit Creators.com.
Photo: Erin M via Flickr