America's Biggest Corporations Are Quietly Boosting Trump's Hate Agenda
@AlterNet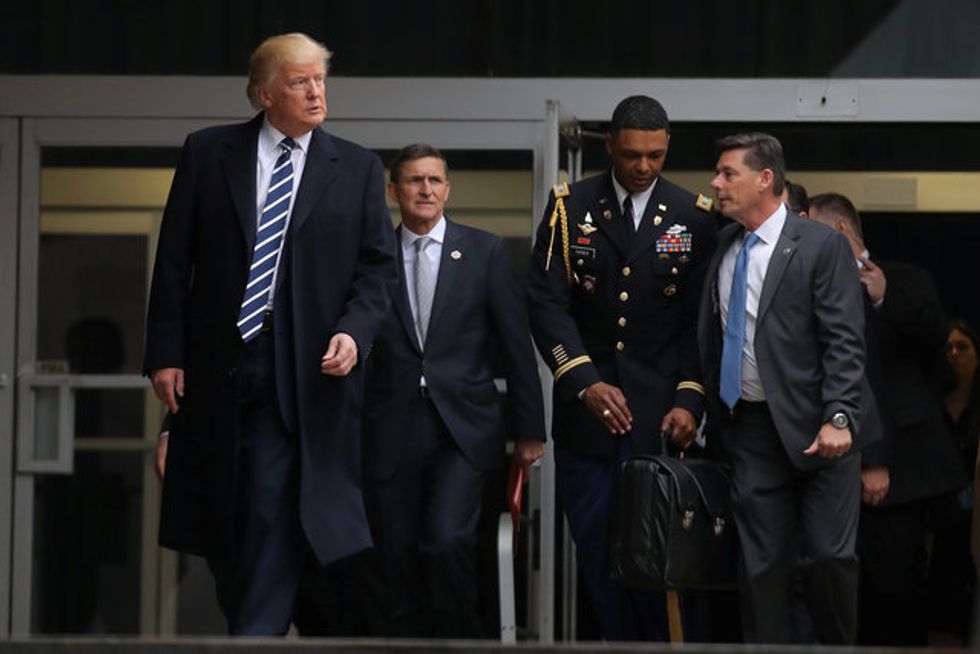 Reprinted with permission from Alternet.
Donald Trump has made it clear that he intends to govern exactly as promised in his campaign, unrolling a series of harmful policies designed to hurt immigrants, workers, and their families.
Yet the government cannot implement this hateful agenda on its own. On immigration, for instance, it will need the help of private prison and immigrant detention companies who can house the vast numbers of immigrants already being rounded up for deportation, Wall Street firms who can provide the funding for them, software companies that make billions in government contracts from the agencies deporting immigrants and militarizing the border, and manufacturers who can build a border wall.
These companies – household names like JP Morgan Chase, Wells Fargo, and Boeing – stand to gain enormously from Trump's plans.
Executives of many of these companies sit on Trump's Business Council or advise the President. And while they all seek to cultivate a reputation as civic leaders, few have publicly denounced Trump's anti-immigrant agenda or his plans to roll back worker protections, while they have all proved willing to position themselves to gain from Trump's policies.
Unlike Trump's headline-grabbing Executive Orders, these companies' ties with the White House have gone under the radar. That needs to change.
It is time to name these corporations and reveal once and for all their complicity in Trump's agenda. That is why we are launching a campaign to let the American people target these companies and encourage elected officials to divest taxpayer funds from them.
The Center for Popular Democracy and Make The Road New York have launched a campaign to draw attention to nine companies – Goldman Sachs, Blackstone, JP Morgan Chase, Wells Fargo, Blackrock, Boeing, IBM, Uber, and Disney. This "Corporate Backers of Hate" campaign calls on companies to disassociate themselves from the Trump administration and end corporate practices that benefit from his agenda.
We are not the first to cast suspicion on these companies' misdeeds. Portland, Oregon, recently decided to divest from all corporations altogether, barring all investments in corporate debt and shifting city money to other types of investments like U.S. Treasury bonds. Elected officials in states like New York are exploring similar approaches.
Our campaign will encourage other states and cities to follow this lead and stop investing in, or doing business with, in companies that put immigrant communities and workers at risk.
They include JP Morgan Chase and Wells Fargo, which both finance the debt of the two largest private prison companies in the country, CoreCivic and GeoGroup. Wells Fargo owns more than $30 million worth of shares in these companies. That is more than double the value of their investments on Election Day, given that share prices of these companies have soared since Trump's victory.
The list continues. Goldman Sachs is the 9th largest shareholder in CoreCivic and the 33rd largest in GeoGroup. Blackrock has shares in both companies worth more than $700 million.
The Boeing Company, meanwhile, may become a critical player in constructing any kind of border wall. Since 2008, the company has received more than $1 billion in contracts from U.S. Customs and Border Protection to support the agency's work policing the US-Mexico border. In 2005, they received a $67 million multi-year contract to help build a 2,000 mile "virtual border fence" along the border – a project eventually scrapped after significant delays and overspending. Boeing's CEO has refused to rule out working with the administration on their latest misguided attempt to build a wall.
Finally, Trump's immigration policies will benefit companies who have a stake in data management, particularly IBM, which has received $1.7 billion from Immigration and Customs Enforcement and CBP since 2008. The head of IBM serves on the Business Council and advises Trump's new Office of American Innovation. When more than 100 technology companies signed a legal brief opposing Trump's Muslim ban, IBM did not join. And though thousands of IBM employees have publicly opposed the company's ties with the Trump administration, their CEO has refused to step off the Business Council.
These are just a few of the companies that could benefit from the pain of immigrant communities and the separation of families. In the pursuit of financial gain, actual lives could be on the line. The unleashing of ICE has already hurt scores of immigrants — since Trump's inauguration alone, more than 21,000 immigrants have been detained and possibly separated from their families – and the corporations standing by Trump are directly implicated in their suffering.
Given the stakes, it is clear that "business as usual" is no longer an option. These corporations have exercised their sway over our democracy for far too long. It is time to take a stand and make clear that our communities will not be exploited for corporate profits. We will not stay silent any longer.
Ana Maria Archila is Co-Executive Director of the Center for Popular Democracy (@popdemoc).
Javier H. Valdés is Co-Executive Director of Make The Road New York (@MakeTheRoadNY).
This article was made possible by the readers and supporters of AlterNet.