America's Heart Has Room For Syrian Refugees — The Pilgrims Taught Us How
@JamieStiehm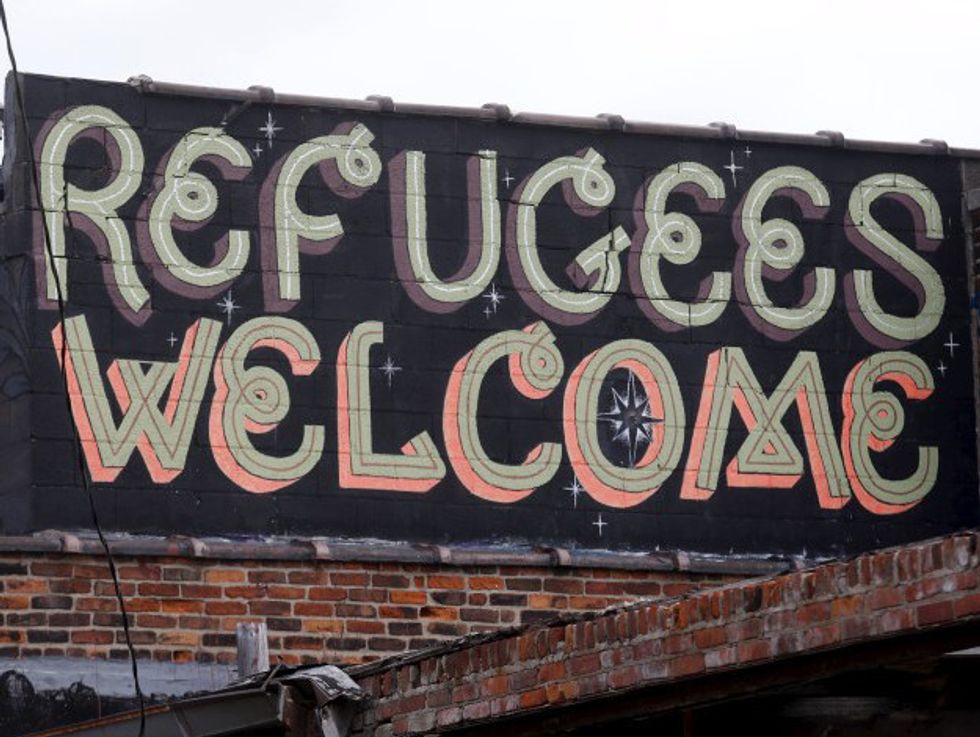 As we celebrate the Thanksgiving pilgrims, it's time to set a place at the table for Syrian refugees, America — of thee I sing. Opening doors to newcomers is what we do.
President Obama fervently wants to do something, however small, for shepherding refugees pouring out of Syria. He proposes taking in 10,000, a modest goal, less than the number announced by other Western democracies, even France. He should explain the vetting process to lawmakers worried a terrorist may slip through the cracks. But, we are three hundred million strong, people!
The Friday night ISIS attacks on Paris this month got the world's attention, but ISIS rose up in the desert vacuum of power in Iraq and Syria in recent years. We must "give thanks" to George W. Bush for that, for starting senseless wars on false grounds.
Newly relevant to the national narrative, the ship of pilgrims are on the first page of the big story we tell ourselves. Landing in an unknown wilderness after a fearsome journey, they barely made it through the harsh winter. Many died on the rough ocean crossing, enough to shake your faith before hearing, "Land ho!"
Yes, our ancestors were surely hardy. But there was no one to keep them out. No wall of hate. No sound and fury from Republican governors and members of Congress balking at the president's plans for their arrival, barking in the dark they might be terrorists. No Alabama politician warning them not to come to the "Yew-nited States." That's no way to treat sojourners seeking shelter, sir.
The takeaway from the Mayflower pilgrim story is that the American Indians, willing to make peace, befriended them and helped them plant crops and build shelter in the New World. The first Thanksgiving was in large part to give thanks to them for a providential passage to establishing their small society. The pilgrim settlement became a cornerstone of the Massachusetts Bay Colony, a civilization composed of English Puritans. Without Squanto in particular, a member of the Patuxet tribe, the pilgrims probably would have perished.
Imagine your home, street and country suddenly turned into utter shambles by forces you may hate but cannot control. Imagine ISIS coming to your front door to recruit your son and seize your daughter. The cruel civil war in Syria is between a brutal dictator, Bashar Hafez al-Assad, and a terrorist Islamic "state" that aims to create the old days of a caliphate. It's an awful Hobson's (or Hobbesian) choice.
This is the choice: Imagine your family leaving with the things you can carry. That's pretty much what the pilgrims did, leaving England, the king's men and everything they knew behind. That's pretty much what the immigrants who disembarked on Ellis Island did. Of course, many were Jews fleeing the Russian tsar's pogroms. They were glad to be gone, but knew not what their days in America held. Their most valuable belongings were hopes, dreams and a willingness to work very hard for their family's future.
About a century ago, New York (and other cities like Baltimore, a waterfront port) took in millions of immigrants from the Old World, according to the Ellis Island Immigration Museum.
I once visited a refugee camp in Germany, meeting people from tent to tent as we walked. I have seldom been so struck by the strength of the human spirit. The conditions seemed miserable to me, but living on coffee and hope seemed enough to buoy them, looking forward.
Then there's always the "We leave tonight" story. I was married to a man whose grandfather was a lawyer in Prague, Czech Republic — a Jewish lawyer, I might add. On the eve of the Nazi invasion, he came home and announced to his wife and two small sons, "We leave tonight. There is no time to argue. Get the children ready. Don't tell anyone, not even your mother."
They left with a few keepsake of Rosenthal glass. For the rest of her life, the wife always regretted not saying good bye to her family, who lived nearby. "Praha" was always on her mind in London, where they landed. The rest of her family made it to Auschwitz.
The American table has room for 10,000 refugees from Syria this Thanksgiving. It's who we are.
To find out more about Jamie Stiehm and read features by other Creators writers and cartoonists, visit Creators.com. COPYRIGHT 2015 CREATORS.COM
Photo: 'Refugees Welcome' is seen painted on a building in a blighted area near downtown Detroit, Michigan November 17, 2015. REUTERS/Rebecca Cook