Amid Border Crisis, Situation In Texas' Brooks County Turns Urgent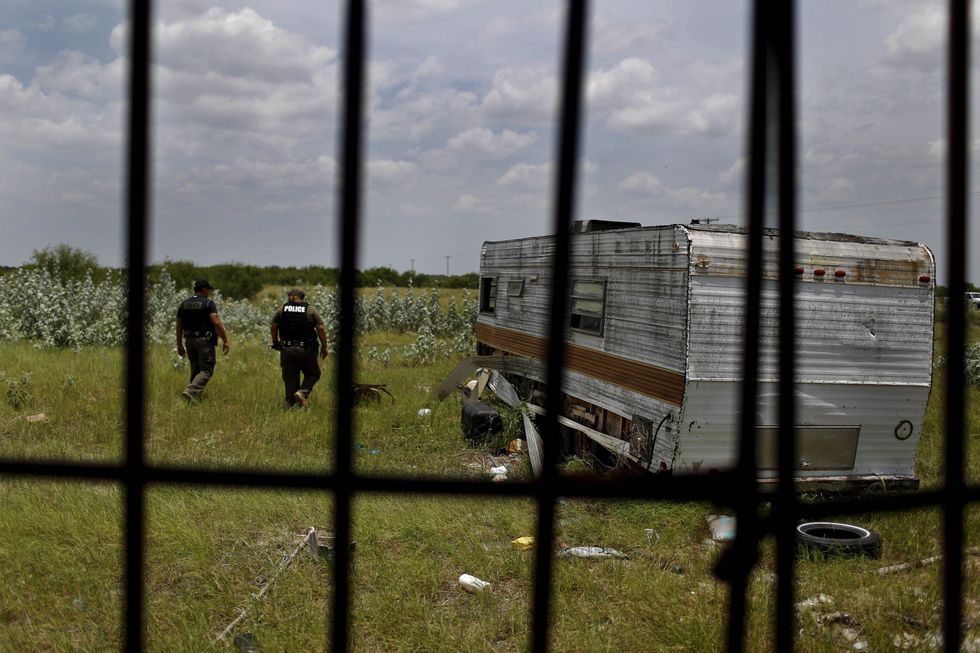 By Molly Hennessy-Fiske, Los Angeles Times
FALFURRIAS, Texas — Daniel Zamarripa loaded his police dog into the back of his patrol car and set out to track his quarry — immigrants circumventing the local Border Patrol checkpoint.
Zamarripa, 27, is one of 15 reserve deputies brought in to assist the Brooks County Sheriff's Office, whose four deputies have lately found themselves overwhelmed by 911 calls from migrants stranded on the vast ranches that stretch from here to the horizon in all directions.
Then there are the bodies of migrants who didn't make it to retrieve and identify: 42 so far this year.
Most attention to the crisis on the Southwest border has focused in recent weeks on the Rio Grande Valley, where many of the 57,000 unaccompanied children and a large number of families have crossed from Mexico since October, twice last year's total. Many surrender to immigration agents willingly at the Rio Grande, aware that they will be allowed to stay pending immigration court hearings.
But an unknown number end up here, 70 miles north of the border, in the meadows and scrubland that have become the region's deadliest killing fields for migrants. Since 2009, authorities have recovered more than 400 immigrants' bodies in the county, including a 16-year-old Central American boy discovered last month.
The land looks deceptively welcoming. Thick stands of scrub oak and mesquite give way to grasslands where cows graze. Everything is so green, it seems a pond or river must be around the next bend.
They are not.
As Zamarripa drove onto a ranch late last week, he cautioned that the landscape can be hypnotically similar. Getting lost is easy. The high that day was 100 degrees, with 67 percent humidity evident in sultry breezes. Zamarripa glanced back at Ivan, a big Belgian Malinois, who was panting in his carrier.
According to Chief Sheriff's Deputy Urbino "Benny" Martinez, officers have been catching 30 to 40 immigrants in the county a week, about double the number six months ago.
"Up here, they're trying to hide," he said. "The only time they give themselves up is when they're tired and they fear they're dying."
Law enforcement is under growing pressure to move quickly to save migrants and recover the dead. The challenge comes at a bad time of year, when brush is still abundant and high from recent rains, concealing both migrant routes and human remains.
"These are critical months," Martinez said. "When the vegetation goes down, that's when you start locating bodies."
Martinez does not receive direct federal funding for border security because his county lies too far north. He has been trying to coordinate a group of volunteer searchers to help deputies.
For officers like Zamarripa and his partner, Domingo Aguirre, 31, there's a sense of urgency, even on hot, slow days — a sense that they're missing someone lost in the scrub.
Smugglers generally ferry immigrants in groups from the valley up to a road south of the Border Patrol checkpoint. The immigrants are expected to skirt the checkpoint and walk along back roads and through the brush 25 to 30 miles north to another road known as a pickup point.
Some are misled by the smugglers.
"We had one a few weeks ago, they told him when they dropped him off he only had to walk a few miles to reach his final destination: Houston," Aguirre said.
Houston is 270 miles north.
"They see the lights and think it's Houston," Aguirre said. "When we tell them it's Falfurrias, that they're far away, they give up."
The officers slowed near a work site where several men were installing an underground natural gas pipeline. Immigrants follow the pipeline north, they said.
Zamarripa turned onto a paved road.
"The pickup area," he said. "This is a dangerous road. There should be no one traveling this except the ranchers."
Today, no one was.
Zamarripa and Aguirre usually live and work as school police in the Rio Grande Valley. Zamarripa is the shorter of the two, with a goatee. Other than that, they are a clean-cut matched set in black bulletproof vests, reflective shades, tactical pants, and short sleeves that reveal tattooed biceps.
Zamarripa drove on, back toward the checkpoint, past a sign with an arrow that says, "Town."
He stopped at an abandoned machine shop where they recently caught five immigrants. The back door gaped open. Inside, the deputies found signs of new arrivals: empty electrolyte water bottles, a crumpled pair of black denim shorts, and a red Spider-Man backpack next to a torn mattress.
They checked an adjacent trailer: Again, no people. But even when immigrants can't be seen, their presence is inescapable: Another mattress, more electrolyte bottles, a woman's black elastic snap belt.
Zamarripa recalled asking a group of immigrants he apprehended why they came so far north.
"They could just stay in the valley. They could blend in," he said.
The simple answer: Houston.
"All we hear about is Houston," he said. "Houston's the promised land to them."
Photo: Los Angeles Times/MCT/Michael Robinson Chavez
Interested in national news? Sign up for our daily email newsletter!