Amid Internal Strife, NRA Shuts Down Its Failing TV Network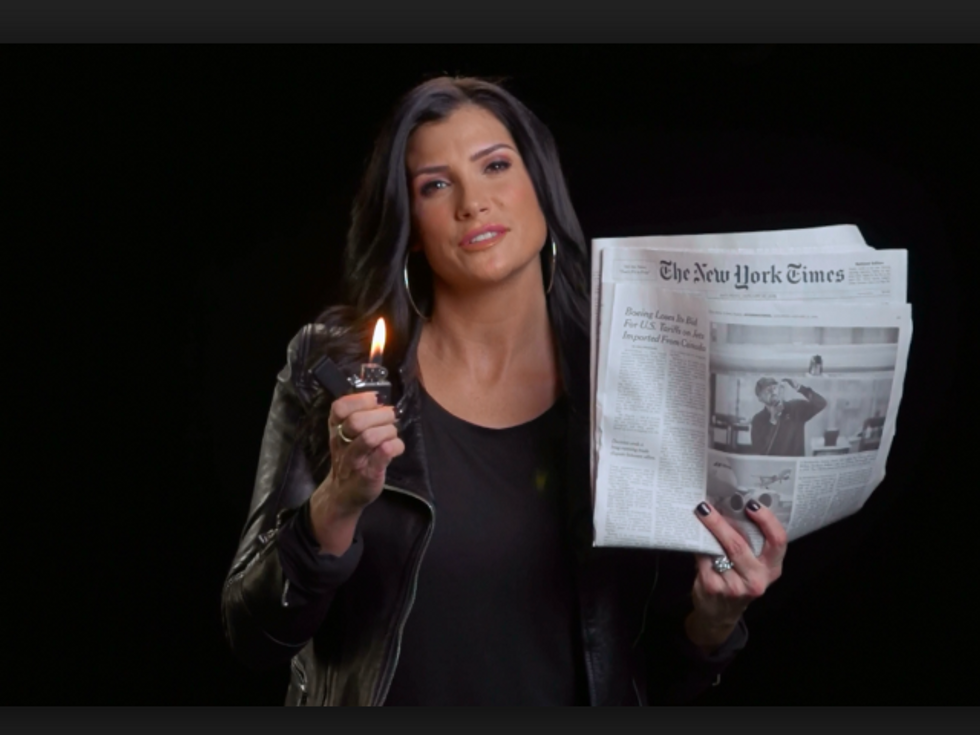 The National Rifle Association was forced to shut down its official propaganda arm, NRA-TV, after the beleaguered organization of gun extremists ran out of money to keep it going.
NRA-TV consistently produced widely derided content in defense of the NRA's extremism on guns, like putting KKK hoods on Thomas the Tank Engine.
"After careful consideration, I am announcing that starting today, we are undergoing a significant change in our communications strategy. We are no longer airing 'live TV' programming," NRA chief executive Wayne LaPierre said in a statement released late Tuesday night.
Dana Loesch, an NRA TV on-air personality and a national spokesperson for the NRA, is also out. She led the organization's charge in attacking the teenage survivors of the school shooting in Parkland, Florida, and has a long history of spreading lies.
"Many members expressed concern about the messaging on NRA-TV becoming too far removed from our core mission: defending the Second Amendment," said LaPierre.
The organization has severed ties with the advertising firm of Ackerman McQueen, which operated NRA-TV for them.
An ongoing lawsuit between the two parties has exposed sordid details of the NRA's inner workings. LaPierre spent hundreds of thousands of dollars donated by NRA members on fancy clothing, even as the organization was cutting back on gun safety classes — one of its core functions.
The financial situation has been so dire at the NRA that it cut back on free coffee for employees.
The shuttering of NRA TV continues a slow-motion train wreck at the NRA, one of the pillars of the conservative movement. The disaster has been unfolding for years now.
The NRA faces multiple investigations for a number of issues, including potential campaign finance violations and its ties to Russia. The NRA took in Russian money while investing heavily in Trump's election in 2016, and an admitted Russian spy was connected to NRA leaders.
Disgraced Iran-Contra criminal Oliver North took the reins for a short while, only to be ousted by LaPierre and others and replaced by a new president, Carolyn Meadows — who almost immediately made a racist attack against Rep. Lucy McBath (D-GA), a prominent advocate for gun safety.
Along with its internal drama, the NRA has also been losing politically. Many of the Republican candidates it backed in 2018 lost their races, and the Democratic-led House has been passing gun safety legislation after the NRA blocked such bills for years.
Despite years of bloodshed in America's cities, towns, churches, and schools as a result of gun violence, the NRA has stood in the way of popular, common sense reforms. NRA-TV was a key tool used by the organization to fight against those reforms and against common decency.
Now, largely thanks to the NRA's ignorance and corruption, NRA-TV is dead. "Thoughts and prayers."
Published with permission of The American Independent.