Amid January 6 Rioting, Oath Keepers Leader Reached Out To Proud Boys
@next2godwin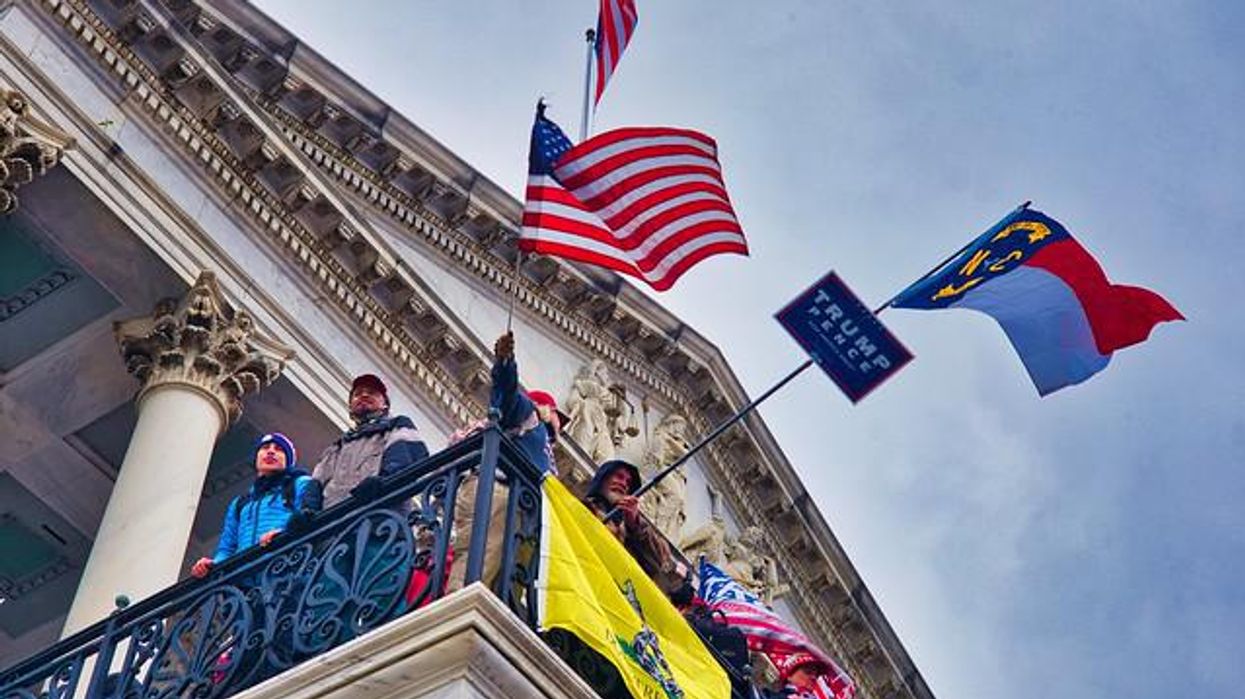 Elmer Stewart Rhodes, the founder of the Oath Keepers paramilitary group, remotely contacted the leader of another right-wing militia, Enrique Tarrio, just fifteen minutes after a mob of angry Trump supporters stormed the U.S. Capitol on January 6, 2021, witness testimony in court showed, according to the Washington Post.
"Back of the Capitol door," Rhodes wrote Tarrio at 2.28 pm in an encrypted chat group — titled "Friends of Stone," after convicted Trump ally Roger Stone — with a motley crew of right-wing members, including Tarrio, Stone, "Stop the Steal" organizer Ali Alexander, and disgraced conspiracy theorist Alex Jones, FBI agent Whitney Drew testified.
Federal prosecutors described Rhodes as a "general overlooking a battlefield" in their opening statements as they reinforced their case against him and four other Oath Keepers — in week three of witness testimony in the first seditious conspiracy case stemming from the insurrection — with testimony from FBI agents painting a clear picture of the lengths to which the extremists were willing to go to stop Joe Biden from becoming president.
Minutes after his alert, Rhodes informed a contingent of Oath Keepers that rioters were "pounding on the doors," per the Post, and had a minute-long call with two of his co-defendants, Kelly Meggs and Micheal Greene, at 2.32 pm. Shortly thereafter, a group of Oath Keepers, led by Meggs, marched up the stairs in a "single file 'stack' formation," Drew told Jurors, the Post noted in its report.
The Oath Keepers gained entry with a crowd of rioters after the door was forced open from the inside five minutes later, the Post wrote.
"We are in the mezzanine. We are in the main dome right now. We are rocking it," Jessica Watkins, the leader of the Oath Keepers' Ohio chapter and co-defendant in the trial, declared into a digital walkie-talkie mobile application, seemingly giving a blow-by-blow account of the assault on Congress.
"Were storming the Capitol," Greene wrote to an anonymous individual at 3.06 pm, reported the Post.
Rhodes' former lawyer and lover, Kelly SoRelle, described the chaos wrought by the angry mob as "what happens when the people are pissed and when they rise up" in a four-minute-long Facebook livestream at 2.12 pm on that day.
"That's how you take your government back. You literally take it back," SoRelle, on the east side of the building, said to her viewers. One minute after SoRelle ended the livestream, Drew said, the team of Oath Keepers led by Meggs arrived close to SoRelle's location.
In another video, SoRelle could be seen strolling across the ransacked Capitol grounds with Rhodes as she cheered the mob breaching Capitol police lines and referred to the attack as "the storm," a QAnon phrase used to describe the moment in which former President Trump defeats his enemies, according to the New York Times.
Rhodes' defense attorney, James Lee Bright, blasted the government for perpetuating allegations of criminal intent against people whose words were mere "rhetoric and bombast" as they, as the Post put it, blundered "around the Capitol grounds, confused and unable to connect by phone or in person."
Prosecutors have long since labeled the actions of Rhodes and his band of extremists on January 6 as an "armed rebellion."
"Their goal was to stop, by whatever means necessary, the lawful transfer of presidential power, including by taking up arms against the United States government," a federal prosecutor said during their opening statement. "They concocted a plan for armed rebellion to shatter a bedrock of American democracy."
During a presentation on Thursday, prosecutors showed the jury text messages from Rhodes anxiously deliberating over what Trump and then-Vice President Mike Pence would do to stop Biden from taking office.
"It's nut cuttin' time," Rhodes wrote in one message. "Does Trump have balls or not? We're about to find out." Before the Capitol was ransacked, the Times reported, Rhodes assailed Pence, as Trump and his inner circle members had, for refusing to overturn the election.
"Pence is doing nothing. As I predicted," Rhodes wrote to the encrypted group chat.
"[News] has spread like wildfire that Pence has betrayed us, and everybody's marching on the Capitol," Watkins had said on her digital walkie-talkie. "All million of us. It's insane."
Rhodes and the other four co-defendants — Meggs, Watkins, Kenneth Harrelson, and Thomas Caldwell — are among about 900 rioters who have been charged in connection with January 6.
Rhodes and his cohorts face up to 20 years behind bars if found guilty.