Amid National Crisis, Trump Is Still Taking Cues From Fox News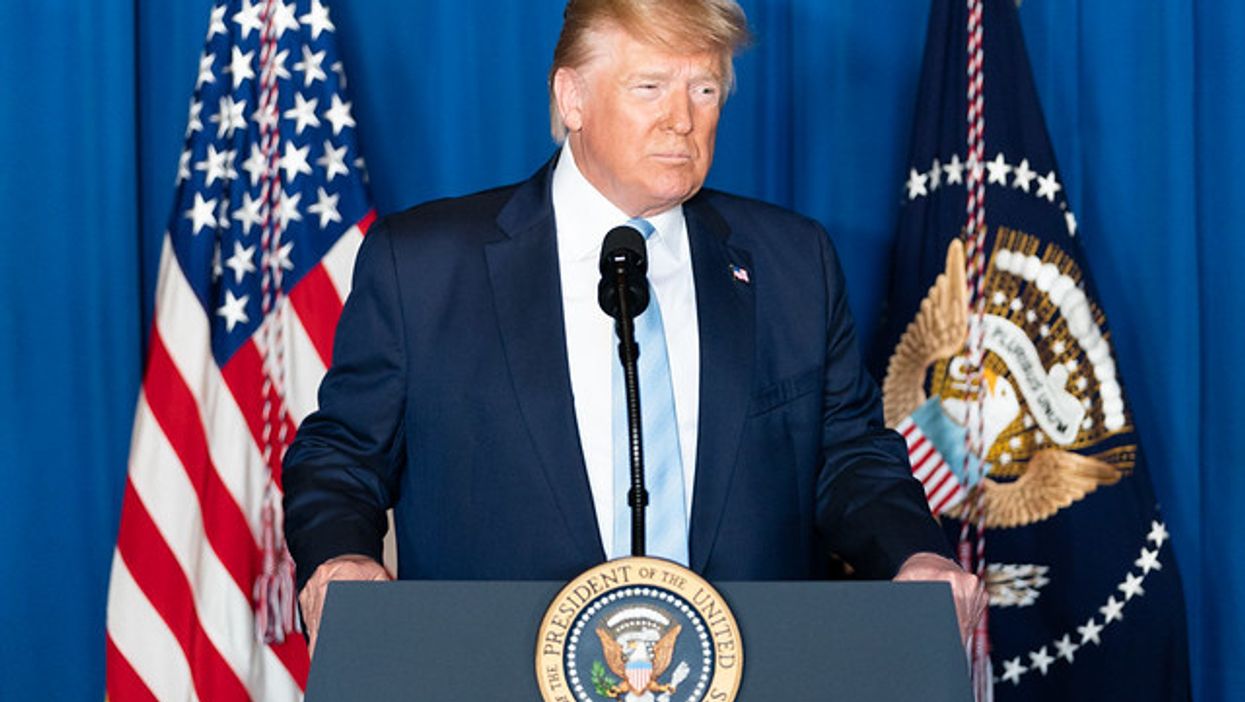 Reprinted with permission from MediaMatters
You can't disaggregate President Donald Trump's unnervingly aggressive tweets over the past few days in response to nationwide protests from the context of the cable news coverage he's been watching. American cities are burning, and Fox News is encouraging Trump to pour fuel on the fire.
Protests are ongoing in cities across the country in response to police violence and racism, sparked by the recent police killings of George Floyd in Minneapolis, Minnesota, and Breonna Taylor in Louisville, Kentucky. Those overwhelmingly peaceful protests have spurred an eruption of police violence toward protesters and journalists alike, as well as rioting, arson, looting, and vandalism from a small minority acting out of anger or opportunism.
---
Trump did not give a public address to the nation over the weekend about this crisis, reportedly because he had nothing to say. Instead, he spent that time doing what he usually does: watching Fox News and using Twitter to lash out at the enemies its hosts identify, whether they be Democratic state and local officials supposedly keeping the police from doing their jobs or purported antifa "domestic terrorists." The network's hosts and guests are calling for law enforcement to respond with extreme levels of force and the president is parroting their demands for further escalation, risking an even more disastrous conflagration.
Trump's most inflammatory responses to the protests have come in response to Fox coverage. His warning to protesting "THUGS" a little after midnight Friday saying "when the looting starts, the shooting starts" -- which was restricted by Twitter because it violated the platform's rules against "glorifying violence" -- came in reaction to a rerun of Tucker Carlson's Fox show, as The New York Times' Ben Smith noted:
In the midnight hour on Friday, a rerun of Mr. Carlson's show appears to have grabbed hold of the president's brainstem, as Mr. Carlson intoned that "rioters are continuing to destroy one of this country's great cities, unimpeded." A little after 12:50 a.m., the show panned to a Minneapolis in flames, and at 12:53 a.m., Mr. Trump tweeted that he "can't stand back & watch this happen." He concluded, echoing an utterance in 1967 from a bigoted Miami police chief, "When the looting starts, the shooting starts."
On Friday morning, Trump live-tweeted Fox segments in which network personalities complained about the treatment he had suffered from Twitter. Later that day, however, he claimed that his "looting leads to shooting" comment was "spoken as a fact, not as a statement" and had been misinterpreted by "haters."
That night, all three Fox prime-time hosts denounced former President Barack Obama for worsening race relations during his tenure, with Carlson terming Obama "America's chief racial arsonist." Carlson also delivered an insane rant in which he described the violence as an "ancient battle" between "normal people" and "thugs" who "destroy what the rest of us have built."
Elsewhere on Fox, Laura Ingraham hosted Fox contributor Mark Fuhrman, the former Los Angeles Police Department detective infamous for his racist involvement in the O.J. Simpson investigation, to discuss the protests. Fox Business host Lou Dobbs, meanwhile, lashed out at "Black churches" and "Black teachers and leaders" of Minneapolis for not being sufficiently "engaged with the city council."
Trump reportedly took shelter in the bunker underneath the White House as protests raged around it that night. The next morning, he issued a slew of tweets that seemed geared toward further escalation.
Saturday afternoon, Trump live-tweeted cable news coverage of the protests. After Fox emphasized a portion of Attorney General William Barr's statement that it is a federal crime to cross state lines to incite violence, Trump repeated that point and then threatened to deploy "the unlimited power of our Military" to respond to the protesters. In the evening, he appeared to watch the network's coverage as he lashed out at officials in Minneapolis for not summoning the National Guard early enough and those in New York City for purportedly tying the hands of the city's police.
On Sunday, Fox and Trump escalated again. On Fox & Friends Weekend, co-host and sometime Trump adviser Pete Hegseth asked "what quells" the violence: "Is it leaders stepping up and police being allowed to take the actions necessary to take on antifa, domestic terrorist groups like that?" A few hours later, Trump tweeted, "The United States of America will be designating ANTIFA as a Terrorist Organization."
Trump's announcement doesn't make sense -- the diffuse movement of antifascist activists sometimes known as "antifa" does not constitute an actual organization, and the federal government has no legal authority for designating a group as a domestic terror organization. But the president's rhetoric nonetheless provides law enforcement with justification to use increasingly violent tactics by urging them to treat violent protestors as terrorists.
Sunday night brought more Fox exhortations for Trump himself to step in. "Today, we live in this politically correct society where I think chiefs are afraid to have their cops go out there and use force," argued disgraced former NYPD commissioner Bernie Kerik, adding that the president may need to "dispatch an enormous amount of manpower into those cities."
On Monday morning, Fox & Friendsfixated on the damage looters had done to luxury retailers while ignoring reports of rampant police violence. Steve Doocy speculated that "big money" may be backing the protestors, while Brian Kilmeade questioned whether businesses are being damaged as part of a conspiracy to "destroy the country." And their guests called for a brutal crackdown against antifa activists, who were supposedly engaged in an "insurrection."
At one point, Fox contributor Newt Gingrich called for Trump to protect "American civilization" from those engaged in a "war against America" and "do whatever it takes to put down the people who would destroy our country."
Shortly after, in his first comments about the protests of the day, Trump live-tweeted the segment.
Later that morning, he lashed out on a call with the nation's governors, berating them as "fools" and urging them to "dominate" the protesters with force rather than be "weak."
"Someone throwing a rock is like shooting a gun," Trump reportedly told them. "You have to do retribution."
Fox's coverage has influenced virtually every aspect of Trump's presidency. As civil unrest flares across the country, the president is still taking advice from his television.