Amid Theater Of Opening Ceremony, Politics Creeps In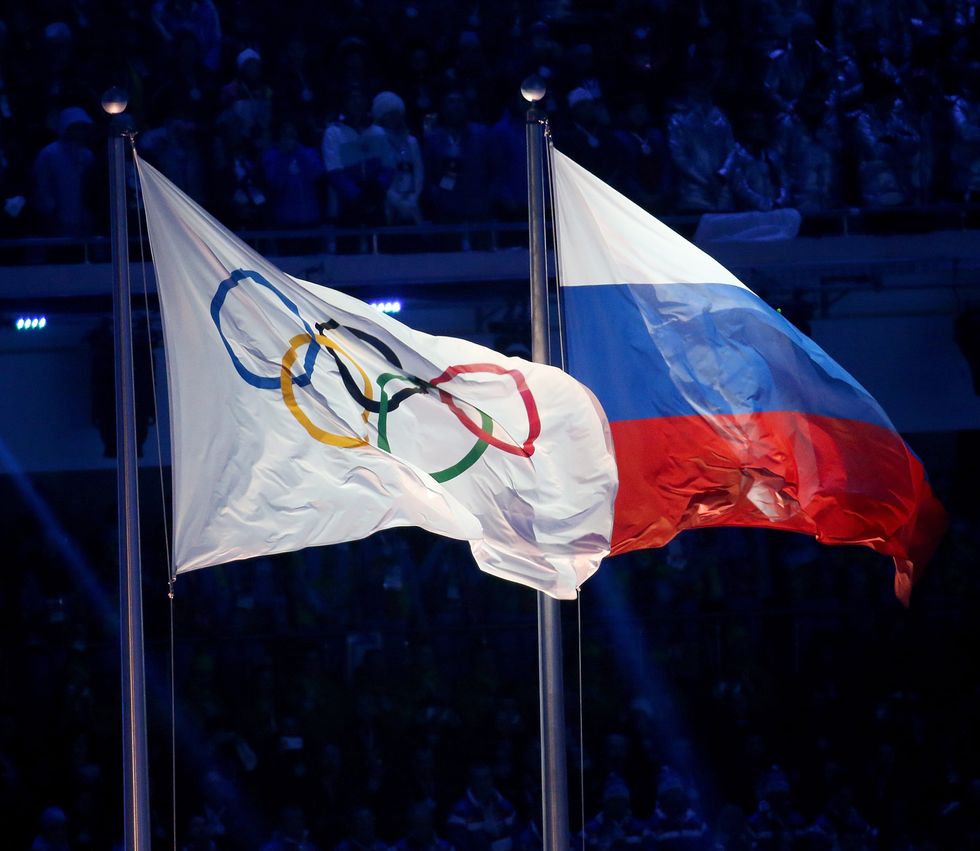 SOCHI, Russia — Athletes and politics were on parade Friday at the opening ceremony of the 2014 Winter Olympics.
The ceremony at Fisht Olympic Stadium featured fireworks, a colorful theatrical presentation of Russian history and an impressive collection of political star power on hand to bear witness to the start of the sports festival that Russian President Vladimir Putin aggressively lobbied for and lavishly built.
The controversy over Russia's anti-propaganda law –widely perceived as a hostile discriminatory measure aimed at the nation's lesbian, gay, bisexual and transgender community; charges of labor abuses and corruption in building the games' facilities; and the potential threat of terrorism didn't deter some world leaders from coming to cheer their country's Olympic teams as they marched in the parade of nations.
Italian Prime Minister Enrico Letta and Japanese Prime Minister Shinzo Abe, Putin's Group of Eight partners, were in the house. So was Chinese President Xi Jinping. And United Nations Secretary-General Ban Ki-moon appeared in a video message.
Putin held court with some of his guests in the hours before the opening ceremonies. He was seen on Russian television with Turkish Prime Minister Recep Tayyip Erdogan, whose government is in the midst of a crackdown on political opponents.
He met for 45 minutes with Dutch Prime Minister Mark Rutte, who voiced objection to the anti-propaganda law, according to Dutch television. Rutte tweeted from his official Twitter account: "Expressed the concern of Dutch government and populace about human rights and specific rights of LGBTs in Russia."
Other world leaders and heads of state arrived in force at Sochi's airport, including Prince Albert of Monaco, Afghanistan President Hamid Karzai, Belarus President Alexander Lukashenko and President Nursultan Nazarbayev of Kazakhstan
Russian Olympic organizers declined to provide a full list of foreign dignitaries who attended the opening ceremony.
However, RIA Novosti, a Russian government-operated news agency, breathlessly reported online that "The Sochi Olympics have barely begun yet already the first world record looks sure to be smashed: More than 50 heads of state and government are to attend Friday's opening ceremony."
"That's more than at the last two Games in Turin (Italy) and Vancouver (Canada) combined," the Russian Olympic organizers said in a statement, according to RIA.
But the number of world leaders who skipped the opening ceremony read like a "Who's Who of Who's Not Here."
President Barack Obama and top administration officials remained stateside. Instead, the White House dispatched a low-level delegation led by former Homeland Security Secretary Janet Napolitano. The delegation included Olympic gold medalist Brian Boitano and U.S. hockey player Caitlin Cahow, who are both gay.
First lady Michelle Obama led the U.S. delegation at the 2012 summer Olympics in London. And Vice President Joe Biden headlined the American contingent for the 2010 Winter Games in Vancouver. President George W. Bush attended the 2008 summer Games in Beijing.
"Well there is no doubt we wanted to make it very clear that we do not abide by discrimination in anything, including sexual orientation, and one of the wonderful things about the Olympics is that you are judged by your merit," Obama said in an interview with NBC's Bob Costas.
Other G8 members joined Obama in skipping the Winter Games' festivities. British Prime Minister David Cameron, Canadian Prime Minister Stephen Harper and German Chancellor Angela Merkel all steered clear of Sochi.
International Olympic Committee President Thomas Bach, presiding over his first Olympics, only alluded to the anti-propaganda law flap in his opening ceremony remarks. Bach, asked constantly about the law and its potential impact on athletes and fans in the weeks leading up to the games, has repeatedly said he has received assurances by Russian officials that the law won't pose a problem.
"Yes, it is possible — even as competitors — to live together under one roof in harmony, with tolerance and without any form of discrimination for whatever reason," he said.
He then offered a pointed message to world leaders and heads of state: Keep your politics out of the Olympics.
"Have the courage to address your disagreements in a peaceful, direct political dialogue and not on the backs of these athletes," he said.
Photo: Brian Cassella/ Chicago Tribune /MCT