An Explosion Of Substance In The 2016 Democratic Race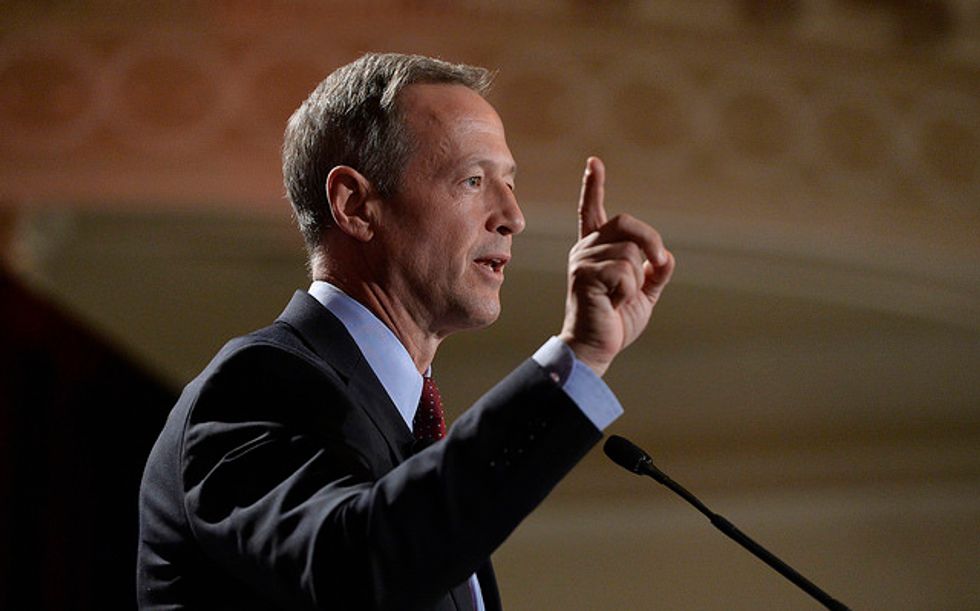 Thank you, Democratic presidential hopefuls. You've made my week.
It started out with acute candidate envy as I watched and read about the seemingly dozens of Republicans pitching themselves to everyone everywhere, from San Juan, Puerto Rico, to Las Vegas, from New York to Nashua, New Hampshire. They were interesting. They were diverse. They were, at least some of them, funny and charming. And there were so many of them! So much energy! So much crackling competition!
Hillary Clinton's anodyne op-ed Monday in the Des Moines Register didn't help. "Everywhere I went, I met Iowans with great ideas" for how to "get ahead and stay ahead," she wrote. In fact, her article was headlined "Clinton: Iowans have great ideas for a better future." Strangely, however, none of their ideas made it into her piece.
"Needs examples," I felt like writing in the margin. That was the editor talking. The political analyst was dejected. Eighteen months to Election Day and she's already running out the clock with generalizations about helping the middle class, protecting America and, wait for it, being a grandparent?
Thankfully, a shift was imminent. Vermont Sen. Bernie Sanders decided to challenge Clinton and fired his opening shot with an "expand it, don't cut it" op-ed on Social Security. It was published in (where else?) the Des Moines Register. Former Maryland governor and Baltimore mayor Martin O'Malley, cutting short a European trip to return to his city in its time of pain, found himself and his crime-fighting policies newly relevant. And Clinton gave a meaty speech on race, poverty, inequality, and the criminal justice system.
The Democratic side of the arena has finally come alive.
In her remarks Wednesday at Columbia University, Clinton harked back to her days working for the Children's Defense Fund and running the legal aid clinic at the University of Arkansas. Back then, she said, she saw a legal system stacked against the vulnerable and families shattered by poverty and prison. With the recent deaths of Walter Scott, Tamir Rice, Eric Garner and Freddie Gray at police hands or while in police custody, she said, the country needs "fresh thinking and bold action" on race, justice and "the inequality that stalks our streets."
Clinton praised bipartisan support for criminal justice reforms (a cause championed for many years by former Virginia senator and possible 2016 rival Jim Webb) and proposed making body cameras for police "the norm" in order to "protect good people on both sides of the lens." She also said that "it's time to end the era of mass incarceration" and time to make mental health a priority.
O'Malley favors body cameras for police and would require that "discourtesy, excessive force, and police brutality" be reported to the FBI just like major crimes. He made the suggestions recently in an emotional speech even more personal than Clinton's. As Baltimore mayor, O'Malley stoked controversy with crackdowns in neighborhoods that data showed to be most violent, most of them black. But the murder rate fell.
"One year we had almost a homicide a day when we hit our high. And 90 percent of the people we buried were young and were poor and were black," O'Malley said at a National Action Network Conference. "So I have been very close to a lot of loss. I have been very close to a lot of death." He described the "little caskets" of five children firebombed in their sleep by drug dealers, speaking at police funerals, a toddler shot through the skull while he sat in a barber's chair getting his birthday haircut. "He didn't die," O'Malley said. "I saw him about a year later. He was lying on a mat in a special education class."
O'Malley, who has not officially declared a bid, has focused to this point mostly on economics. He and Sanders have similar views on some issues. They both want to crack down on Wall Street and special interests, expand Social Security and revamp the tax code. Sanders, however, is a self-described socialist who pines for a single-payer health care system. O'Malley, a generation younger, is a Democratic Party mainstay with a data-based management approach that has brought him national recognition.
Clinton lived in Arkansas for many years and later represented Wall Street as a senator from New York. In between she served as First Lady in a centrist administration miles away from the Sanders-O'Malley-Elizabeth Warren axis. Where she will alight is one of the known unknowns of the 2016 election.
For now, it's enough that a Democratic debate is starting.
Follow Jill Lawrence on Twitter @JillDLawrence. To find out more about Jill Lawrence and read features by other Creators Syndicate writers and cartoonists, visit the Creators Syndicate website at www.creators.com.

Photo: Maryland governor Martin O'Malley delivered a keynote presentation at Canada 2020 on November 26, 2014 and sat down in conversation with Justin Trudeau, Leader of the Liberal Party of Canada. (Canada 2020/Flickr)