Analysis: Voter Engagement Gap Hits At GOP Turnout Edge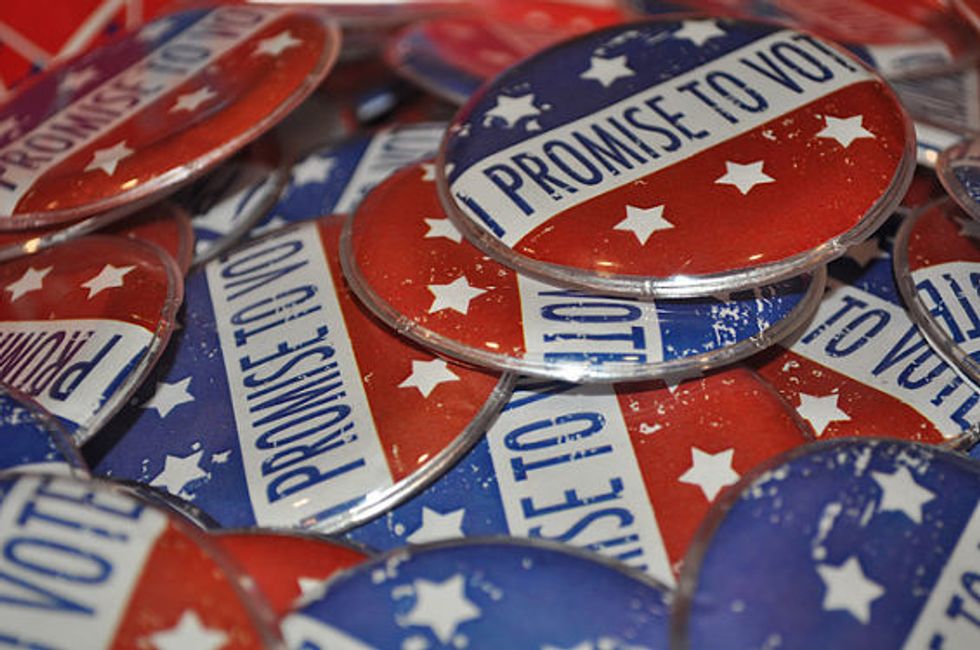 By David Hawkings, CQ Roll Call
WASHINGTON — Twenty days out, and the sum of all the polling, computer modeling and intangibles says that both Senate storylines are still possible. The headline defining the midterm elections could end up being written by a few thousand people scattered west of the Mississippi and east of the Rockies — voters who may not decide until the afternoon of Nov. 4 whether to head to the local library or school cafeteria to cast the decisive ballots.
The Democrats can still retain their majority by holding their losses to five seats — the number of turnovers currently projected by the Rothenberg Political Report/Roll Call race ratings. But the GOP can still realize a decisive takeover; if all our current tossup races end up falling to the Republicans, their net gain would be eight seats, two more than the six they need to reclaim control.
Turnout will drive the outcome. And polling in the past couple of weeks has sent strong signals that Republicans are more motivated to get to the polls and so will show up in potentially dispositive numbers.
Democratic voters are less interested in the elections than Republicans, according to survey results released over the weekend by the Wall Street Journal, NBC News and the Annenberg Public Policy Center. The poll found that while all registered voters prefer a Democratic Congress by a narrow 48 percent to 43 percent, the number is more than reversed when it comes to the voters who say they're very interested in the elections: 51 percent are hoping for a GOP sweep, while just 44 percent are rooting for the Democrats.
Similar, albeit more detailed, numbers were reported a week ago by Gallup. It found that, overall, voters have thought less about the elections, are less motivated to vote and are less enthusiastic about their choices than in the previous two midterms. But the Republican numbers on all three fronts are much better than for the Democrats: 12 points higher on attention paid to the campaign, 19 points higher on motivation to vote and 18 points higher on excitement about voting. "As a result, even if overall turnout is depressed compared with prior years, Republicans appear poised to turn out in greater numbers than Democrats," Gallup concluded.
The Democrats are keenly aware of this voter engagement gap, which the pollsters say is about what it was before the GOP won control of the House in 2010 — then, just as now, voters were casting ballots to show their dissatisfaction with the job performances of Congress and President Barack Obama.
Hoping to minimize this troublesome shortcoming in enthusiasm, the Democrats have started investing substantially in get-out the-vote efforts in states with the closest Senate contests, including Iowa, Colorado and Louisiana. And the president is using his limited time on the stump this fall to underscore the problem. "Democrats have a congenital disease: We do not vote in midterm elections," he said at an Oct. 7 fundraiser in New York. "In state after state, what ends up happening is, is that we have more folks who agree with us, but all too often, (Republicans) end up winning some of these elections."
What the Democrats are banking on is that the GOP enthusiasm advantage is at least partly attributable to Republicans' expectations of victory, which could still get tamped down in the campaign's closing act. Many are motivated to vote more than anything by the prospect that they're going to punch the ticket for the winning candidate. (Conversely, many decide to stay home once they're convinced pulling the lever for their guy is a lost cause.)
So both sides will be working in the final weeks to cultivate the notion that Senate momentum has swung irreversibly their way. Republicans will be promoting the perception that state Sen. Joni Ernst of Iowa and Reps. Bill Cassidy of Louisiana and Cory Gardner of Colorado are accelerating through the finish, while the Democrats will be insisting that Rep. Bruce Braley and Sens. Mark Udall and Mary L. Landrieu have applied the necessary brakes well before the finish. (The dynamic is different in the fourth tossup, in Kansas, where Sen. Pat Roberts is out to show he's stopped his slide in time to save his seat for the GOP while independent businessman Greg Orman tries to keep his boomlet aloft.)
Almost three in five adults eligible to vote did so in the past two presidential elections (57 percent in 2008 and 58 percent last time), but only two in five voters showed up in the most recent midterms (40 percent in 2006 and 41 percent in 2010). Mathematically speaking, that means ballots cast for Congress in a midterm have more impact than in a presidential year.
In the five states that featured competitive Senate contests in each of the previous two elections, turnout was fundamentally greater in 2012 than in 2010. The smallest growth, 35 percent, was in Nevada, where Majority Leader Harry Reid eked out his 2010 re-election with just 363,000 votes but Republican Dean Heller needed 458,000 votes to survive two years later. In Florida, 8.2 million votes were cast in Democrat Bill Nelson's 2012 re-election race — a whopping 52 percent more than the number of ballots cast when Republican Marco Rubio had won his seat two years before.
Low congressional approval ratings usually foreshadow a relatively high-turnout midterm, but this time could be different. That's because there's no chance that a surge of anti-incumbent sentiment would end divided government. Since the House is sure to remain Republican and the presidency Democratic for the next two years, the stakes in the 2014 battle for the Senate can't plausibly be labeled as historic. And so the urge to get to the polls in Galena, Kan.; Greeley, Colo,; Grinnell, Iowa; or Gretna, La., might be easy to resist.
If this isn't going to be a change election, what's the point in changing your routine on Election Day?
Photo: Neighborhood Centers Inc. via Flickr