Is Andrew Wiggins The Next Big Thing In The NBA?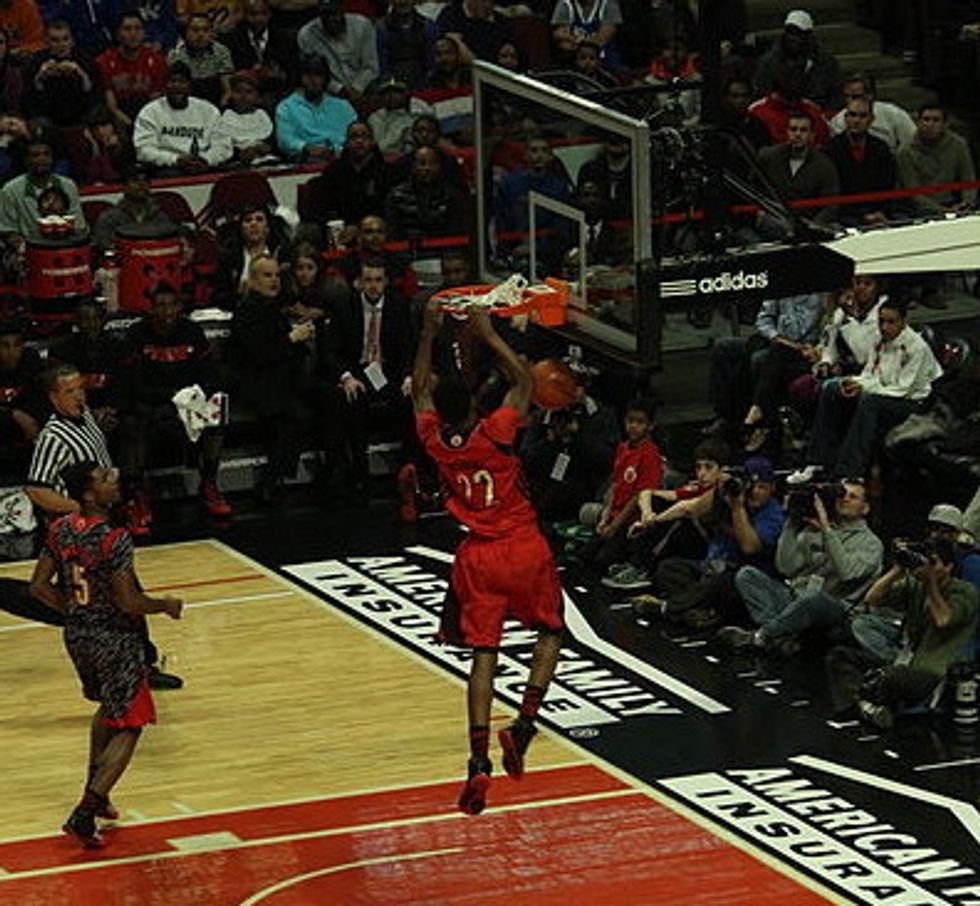 By Kent Youngblood, Star Tribune (Minneapolis)
They were at the NBA rookie symposium recently, ready to pose for a photo shoot, when it just happened. An impromptu slam-dunk contest.
Memphis' Jarnell Stokes did a reverse. Meh.
Then the Timberwolves' Glenn Robinson III did a 360. Nice.
Fellow Wolf Zach LaVine bounced it off the wall, took it through his legs and put it down. Impressive.
And then: Andrew Wiggins. He casually dribbled into the lane, jumped, did a 360 while moving the ball behind his back, and dunked.
Wow. This is what Wolves fans should look forward to this fall.
Wiggins was wearing a Cleveland Cavaliers jersey during all this. Go ahead and watch … it's on YouTube, of course. In the digital age you can watch young stars grow up on video.
Certainly that's true for Wiggins, a Toronto native whose nickname is Maple Jordan. He had a dunk highlight tape at 13. It's not hard to find video of him at the Nike Peach Jam in 2012, where he dominated Julius Randle, becoming the top high school recruit in the nation. Or his appearance at LeBron James' skills camp that same year, when he brought James himself to his feet.
Was it kismet that had Robinson, LaVine, and Wiggins playing around? Maybe not. With the word that the Wolves will send Kevin Love to Cleveland for a package that includes Wiggins — the top pick in June's draft after a strong freshman season at Kansas — Wolves fans should get to know the 6-8, 200-pounder with the 7-foot wingspan and 44-inch vertical jump.
According to Kansas coach Bill Self, Wiggins is the best natural athlete who has ever played for him.
"Ben McLemore was a freak," Self said. "Brandon Rush was unbelievable. But when Andrew is turned up? He can do things athletically nobody else can do."
The Wolves, rebuilding again, will likely give him all the room and opportunity he needs to grow.
"That's the way he sees it," Self said. "He's happy. Don't anybody feel sorry for him. I'm not saying he hasn't been in limbo and that it hasn't, at times, been frustrating. But he told me, 'Coach, I'm good with this.' He told me that two weeks ago."
So when the trade is officially announced, Wiggins will arrive in Minnesota, aware of the hype that will come along for the ride. But he's used to it.
__
Wiggins, 19, was born into a very athletic family. His father, Mitchell, played six years in the NBA before extending his career overseas; indeed, it was in Greece that a very young Andrew fell in love with the game, able to accompany his dad to practices and games.
His mother, Marita Payne-Wiggins, won two silver medals at the 1984 Olympics as part of Canada's 400- and 1,600-meter relay teams. She still holds national records in the 200 and 400.
His older brother, Nick, played at Wichita State.
Wiggins decided to play at Kansas in large part because he would be close to his brother, who was a senior last season. Raised in a religious home, Andrew Wiggins and his siblings still get inspirational texts almost daily from their mother.
If Wiggins fell in love with the game in Greece, it was when the family moved back to suburban Toronto that the ball really got rolling. Noting his son was getting his best competition during family games in the driveway, Mitchell moved Andrew to Huntington (W.Va.) Prep to finish his high school career. By then he was already highly touted, but restrained.
In fact, Wiggins has always had an interesting combination of confidence and humility. He grew up admiring Vince Carter and in high school talked about being able to score like Kevin Durant and get to the hoop like James.
At the same time, he kept college recruiting low key. It finally came down to Florida State (where his parents met), North Carolina, Kentucky, and Kansas. When he chose Kansas, he first told a reporter for his high school newspaper.
"He's the most humble great player I've ever seen," said Kansas assistant Kurtis Townsend, who did much of the recruiting of Wiggins. "He is not phony."
When Wiggins left Huntington Prep, he wrote an open letter thanking everyone from teachers to coaches to classmates to the school janitor. Townsend remembers the day Wiggins landed in Lawrence for his first summer camp to find thousands of fans waiting. He spent more than an hour signing autographs. After his last college home game, he walked out of the locker room to find thousands more fans waiting to say goodbye. For hours, he signed his name for anyone who asked.
"Those fans were four and five deep," Townsend said. "Lined up, down the hallways. I went out to try to save him. But he said, 'No. They waited a long time for this, I'm going to sign every one.' "
—
Wiggins is making a big jump, one he might struggle with. Self knows this. When asked what the Timberwolves were getting, Self said: "An untapped athlete with a skill set that's going to be tremendous in a short period of time. His skill set hasn't quite caught up to his athletic ability. But when he gets more consistent, he's going to be terrific."
Wiggins scored more points than any freshman in Jayhawks history. He was Big 12 Freshman of the Year, on the all-conference first team, an All-America. But there were questions.
Even Self admitted that, at least to begin with, Wiggins was too nice. Certainly too deferential to teammates. To this day the most flamboyant thing Self ever saw Wiggins do was don the gaudy suit he wore to the NBA draft.
But, pushed relentlessly by Self, Wiggins got better as the year went on. "Coach Self really, at the end of the year, brought out the dog in me," Wiggins said in a predraft interview with ESPN. "He made me get focused."
Said Self: "He absolutely was too nice. And he's still too nice. Flip [Saunders] will have to get more of that dog in him. He's just young."
The tools are undeniable. His quickness, lateral movement, and reach make him a strong defender. Townsend says Wiggins' second jump is the most impressive he's ever seen. Wiggins shot 44.8 percent overall at Kansas, 34.1 percent on three-pointers, and averaged 17.1 points and 5.9 rebounds per game.
Self said Wiggins needs to work on his ball-handling and passing: "As he gets better at ball-handling, he'll get to the basket more."
Former NBA coach and current ESPN analyst George Karl is skeptical that Wiggins' skills will catch up to his ability. "He's in the top 10 percent of the league athletically," Karl said. "But where are his skills?"
ESPN college analyst Jay Bilas remembers watching a game when Wiggins jumped out of bounds but got back in and to the rim in one move. "It's like watching a cat," Bilas said. "That's natural ability, and it serves him well. But his ball skills have to improve. … I think he's got a chance to be very good, an elite-level defender. The one question mark: Does he have the motor and drive to be a great player?"
Not surprisingly, both Self and Townsend say yes.
If there is one constant in Wiggins, both say, it is that he gets motivation from every perceived slight. After a loss to Texas in February, he was called scared. Three weeks later, the day before he turned 19, he scored 21 points in a victory over the Longhorns. After playing poorly in a late-season loss to Oklahoma State, Wiggins scored 30 against the Cowboys in the Big 12 tournament.
And what could be bigger motivation than being traded away by Cleveland before even wearing that Cavaliers jersey in an NBA game?
"I would love to be at that first game they play against Cleveland," Townsend said. "He's going to put on a show."
Photo via WikiCommons
Interested in sports news? Sign up for our daily email newsletter!