Anger Erupts In Ferguson After Grand Jury Votes Not To Indict Police Officer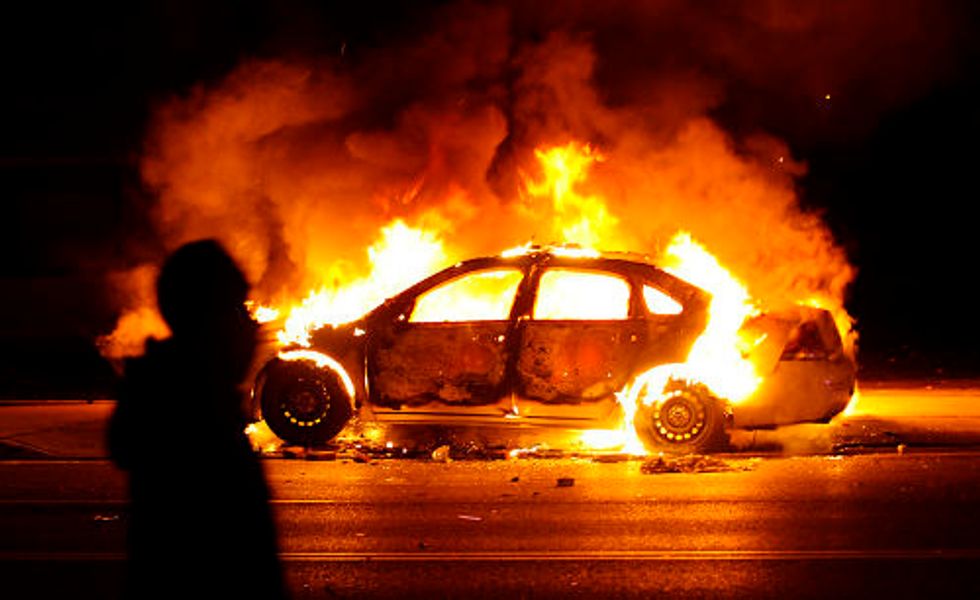 By Doug Moore, St. Louis Post-Dispatch (TNS)
FERGUSON, Mo. — Anger spilled over into violence Monday night throughout the region after it was announced that Ferguson Police Officer Darren Wilson would not be indicted in the death of Michael Brown.
At least two St. Louis County police cars were set on fire along with at least six businesses, including a Walgreens and a Little Caesar's pizza, both on North Florissant Road in Ferguson. An elderly man was run over when carjacked outside a pizzeria.
And in south St. Louis city, protesters shut down Interstate 44 at South Grand Boulevard.
Police, dressed in riot gear, used tear gas to clear the crowd outside the Ferguson Police Department, at 222 S. Florissant Road, and several hundred people began fleeing the area as gunshots were heard in the distance.
As the night grew later, more reports of fires, vandalism and looting were reported.
Delores Blue, 40, of Florissant, came to be in the crowd outside the Ferguson Police Department and listen to the announcement. She did not seem hopeful. When word came that Wilson would not be indicted, Blue gasped, then walked away.
"This just hurts," she said.
Marsha McGee of Florissant, a frequent protester since shortly after Brown's shooting, said justice was not served.
"I am mad as hell. I feel like he should have went to jail because he killed that young man," McGee said of Wilson.
Tracy Sheffield of Kansas City, Mo., said he wanted to be in Ferguson when the announcement was made.
"This is heartbreaking. It just shows that in the 21st century, you can get away with murder if you are wearing a badge and a blue uniform."
In Clayton, the racially mixed crowd outside the St. Louis County Justice Center numbered about 100 at its peak. Inside is where St. Louis County Prosecuting Attorney Robert P. McCulloch said Wilson would not be indicted.
At times, some chanted "Hands up, don't shoot" but generally the gathering was peaceful. The news of Wilson's fate quietly worked its way through the crowd.
"I'm surprised," said Darryl Booker. "Only because Michael Brown did not have a weapon. I don't see how it was equal."
In the Shaw neighborhood, site of the shooting death last month of VonDerrit Myers Jr., 18, by an off-duty police officer, the crowd grew to about 300, and marched down South Grand Boulevard, shutting down I-44. At the time of the announcement there were less than 20 listening to the announcement on a car radio parked in front of a memorial to Myers on Shaw Boulevard.
Two members in the audience were sisters, Natalie and Cynthia Hill, who live in the neighborhood.
"You'd rather go to war than hold one cop accountable," said Natalie Hill loudly after the no indictment announcement was made.
The Hills and others in the small crowd shook their heads throughout the announcement, but remained silent.
Later, Natalie Hill added: "I'm 64 years old, and I was in the streets (in the 1960s). I feel everything I fought for has been taken away. Our young people are still being killed in the street."
When asked if she had expected such a verdict, Hill said, "I'm not surprised. And this isn't over."
About 50 people gathered around car radios in the Canfield Green apartments in Ferguson, where Brown was shot. After McCulloch's announcement, some chanted: "No justice, no peace." Several young people jumped into cars and sped off, apparently toward the larger gathering near the Ferguson Police Department.
An angry crowd went nose-to-nose with a police line across South Florissant Road, cursing and taunting the officers. Some protesters broke away and surrounded a police car, which they began rocking and smashing with rocks. Some officers moved toward them with shotguns marked "non-lethal," but they had to retreat as a larger crowd almost surrounded them.
Rioters, mainly young men, smashed the front window of the Ferguson Fire Station and windows of several nearby businesses.
Brown's mother, Leslie McSpadden, was standing on the hood of a car a few blocks from the Ferguson Police Station when the announcement was made. She began weeping and two people held her up and walked away from the crowd. She was surrounded by 15 to 20 people.
___
(Jesse Bogan, Elisa Crouch, Nancy Cambria, Samantha Liss, Ken Leiser, Joe Holleman, Steve Giegerich, Lilly Fowler, Paul Hampel, Jennifer Mann, Tim O'Neil, Doug Moore and Nick Pistor, all of the Post-Dispatch, contributed to this article.)
Photo: A protester walks by a St. Louis County police car that was set on fire along South Florissant Road in Ferguson following the announcement of the grand jury decision on Monday, Nov. 24, 2014. (Wally Skalij/Los Angeles Times/TNS)