Another Republican Candidate Wants To Impeach President Obama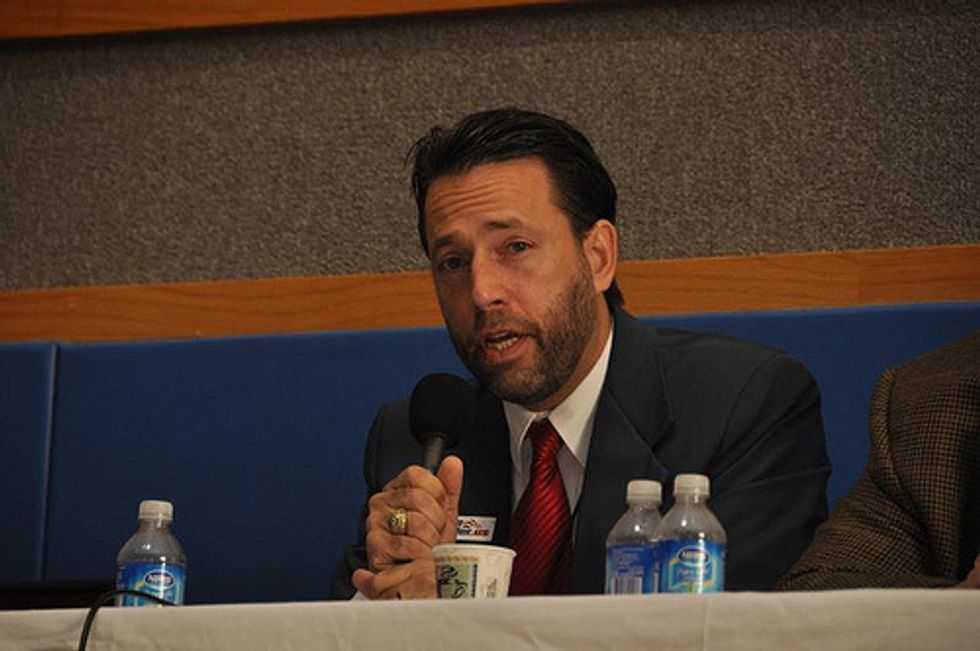 Alaska Senate candidate Joe Miller reminded Republicans of why they desperately hope he fails to capture their party's nomination, when he joined the growing chorus of Republican candidates calling for President Barack Obama's impeachment.
Miller weighed in on the subject during a Chamber of Commerce forum with fellow candidates Mead Treadwell and Dan Sullivan. The Alaska Dispatch Newsreports:
In the mix of anti-federal and anti-Obama statements, Miller went beyond Sullivan and Treadwell, calling for impeachment of the president.

"I think we all agree that Obama's out of control," Miller said, adding that the president is acting almost like a dictator.

When it was Miller's turn to question Sullivan, he asked the former attorney general what it would take for him to support impeachment. Sullivan did not answer the question directly but said that if articles of impeachment reached the Senate, he would take them seriously.

Under the Constitution, the House of Representatives has the power to vote for articles of impeachment, while the Senate serves an adjudicatory role. Sullivan said he agrees "110 percent that this administration is out of control" but argued that an Alaska senator has to use influence to accomplish what the state needs, citing votes to confirm Cabinet secretaries that Begich should have used for leverage on such issues as the King Cove road request.
Although GOP leaders have insisted that the threat of impeachment has been manufactured by Democrats for their own political gain, Miller is just one of many Republican politicians to openly declare his desire to remove the president from office.
That's not to say that Democrats aren't making political gains from the threat; polls suggest that Americans strongly oppose impeachment, and Democratic fundraising has gone through the roof since the party began seizing upon the GOP's impeachment talk. There's a reason that the Democratic Congressional Campaign Committee keeps a running list of Republicans who have broached the subject.
Miller himself could be a political boon for Democrats. The Tea Party-backed attorney demonstrated in 2010 that he is unelectable in a statewide race; after edging incumbent Senator Lisa Murkowski in the Republican primary, his hard-right politics and a series of controversies (most notably an incident in which his security guards handcuffed a journalist at a town hall event) opened the door for Murkowski to topple him with a write-in campaign in the general election. Accusing President Obama of dictatorial behavior is nothing out of the ordinary for him (indeed, the resurgence of impeachment talk was started by Miller's highest-profile supporter, Sarah Palin).
In 2014, he's once again a serious longshot to win the general election. Although incumbent Democratic senator Mark Begich barely leads Sullivan and Treadwell in the polls, he's up by 14 percent on Miller.
Sullivan is generally considered to be the narrow frontrunner for the Republican nomination, with Treadwell in second and Miller in third. But, as Miller proved in 2010, anything can happen in a low-turnout primary.
Photo: Ryan McFarland via Flickr
Want more political news and analysis? Sign up for our daily email newsletter!